7 Sneaky Ways to Get Your Kids to Eat Their Veggies
A whopping 9 out of 10 kids don't eat the recommended 1 to 3 cups…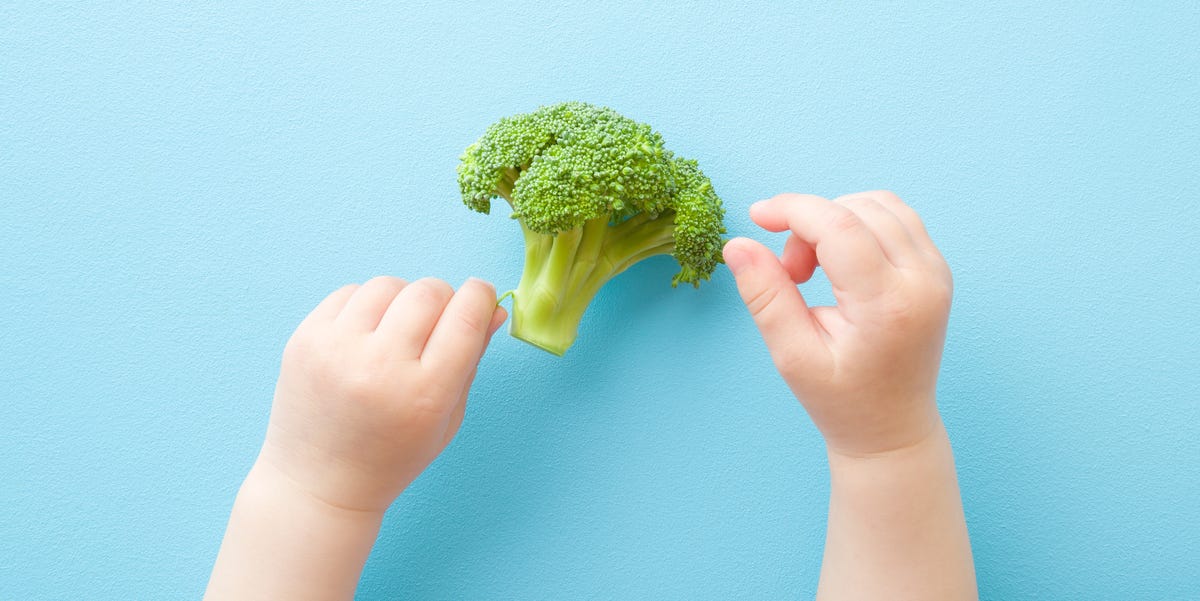 A whopping 9 out of 10 kids don't eat the recommended 1 to 3 cups of vegetables per day, the Centers for Disease Control and Prevention (CDC) reports. And a full one-third of the veggies they do eat are white potatoes, most often French fries.
"There are so many benefits to eating enough produce in a diet of any person of any age, but especially in kids who are growing and developing. The fiber, antioxidants, vitamins, and minerals in veggies help with brain development, building and strengthening their immune system, aiding in digestion and other important body processes," says Stefani Sassos, M.S., R.D.N., the registered dietitian for the Good Housekeeping Institute.
Start them young with healthy habits and don't give up on inspiring your little one to love veggies if they don't immediately chow down on a big pile of celery or kale. Try, try again—and include little ones in meal planning and cooking. And don't feel bad if you have to resort to more sneaky ways, Sassos says. "They need the nutrition any way you can get it in them."
Here are a few of her favorite under-the-radar ways to help your picky eaters get their produce fix.
1. Bulk up mashed potatoes with cauliflower.
If your child is getting the majority of their veg from spuds but is not so fond of other veggies, disguise them inside their current go-to. "Cauliflower in general is very easily masked. Mash cauliflower in mashed potatoes to add volume and nutrition," Sassos says.
To veggie-fy your dinner side, trade half of the spuds in your mashed potatoes recipe for steamed, riced cauliflower. Once you add garlic, herbs or other flavor boosters and smash or mash, the color, texture and flavor will be practically identical to the full starch version.

2. Try veg-based snacks similar to treats they already love.
For when fresh produce isn't within reach, a veggie-boosted bar like ZENB can be a great option—especially if your mini me enjoys other snack bars.
With flavors ranging from corn and carrot to beet and bell pepper, your kids will enjoy sampling them all and selecting their faves. It can be our little secret that veggies are the first item on each ingredient list—meaning they're the most-used ingredient in the recipe—so they're scoring a solid dose of fiber, and a bit of potassium and iron.
"ZENB sticks are an easy lunch box addition that's plant-based and a good source of fiber. Plus, they're free from artificial flavors or colors, so it makes a great swap for the usual lunch box staples," Sassos says.
3. Grate zucchini or carrots into meat mixtures.
Sassos snagged this sneaky veggie trick from her own mom: "She would always grate carrots and zucchini really finely and add them into turkey or beef mixture for meatballs, burgers, or meat loaf. They add a nice moistness and fold right into the meat," she says.
Grate or shred ½ cup of any summer squash or carrots to incorporate into each pound of ground meat—or plant-based meat substitute—for juicy, vitamin-boosted results. (Psst! This grated veggie trick can also work well in baked goods like cakes or quick breads. Bonus: It keeps them uber-moist!)
4. Make them incognito in sauces.
Produce-pack pasta night by swapping half of the beef in any bolognese or meat sauce with finely-chopped sautéed mushrooms. Or for mac and cheese, steam, purée, and stir in a cup or so of butternut squash (canned pumpkin also works wonderfully for a shortcut) right in the mix with the cheese sauce. Craving Alfredo? Add in ½ cup of steamed and mashed cauliflower into the creamy mixture. Any of the above work well because they match the color and texture of the standard noodle topping, while effortlessly boosting the nutrition.
5. Try half zoodles, half noodles.
"If your child loves pasta, sneak in some vegetables with the real pasta so they can enjoy both," Sassos says. Mix half spiralized noodles and half regular noodles, and for really picky eaters, you can even peel the zucchini so they look almost identical to spaghetti.
6. Blend them into smoothies.
Riced cauliflower, cauliflower florets, spinach, and baby kale (which is less bitter than regular kale) all practically disappear taste-wise when you add them to smoothies.
"The spinach and baby kale may turn the color green, but you won't taste it," Sassos says.
Find several veggie-boosted smoothie recipes here, or simply add 1 cup of greens or ½ cup of cauliflower rice or florets to your favorite mix.
7. When in doubt, air fry.
Since fries are often among a kid's favorite foods, cooking potatoes and other veggies in an air-fryer is a nice way to tip-toe out of hidden territory to, "Hey, how about that?! You actually like butternut squash in fry form!" The high heat of the mini convection oven crisps them up in a similar way to deep-frying—minus most of the added fat.
"Nearly any veggie comes out great, even something as simple as Brussels sprouts cut in half with oil, salt and pepper. This completely changes the texture, taste and presentation," Sassos says.
This content is created and maintained by a third party, and imported onto this page to help users provide their email addresses. You may be able to find more information about this and similar content at piano.io