A Peek Into What A Top Dietitian Eats In A Day
Valerie Agyeman, RD, registered dietitian and founder of the wellness website Flourish Heights, was 15…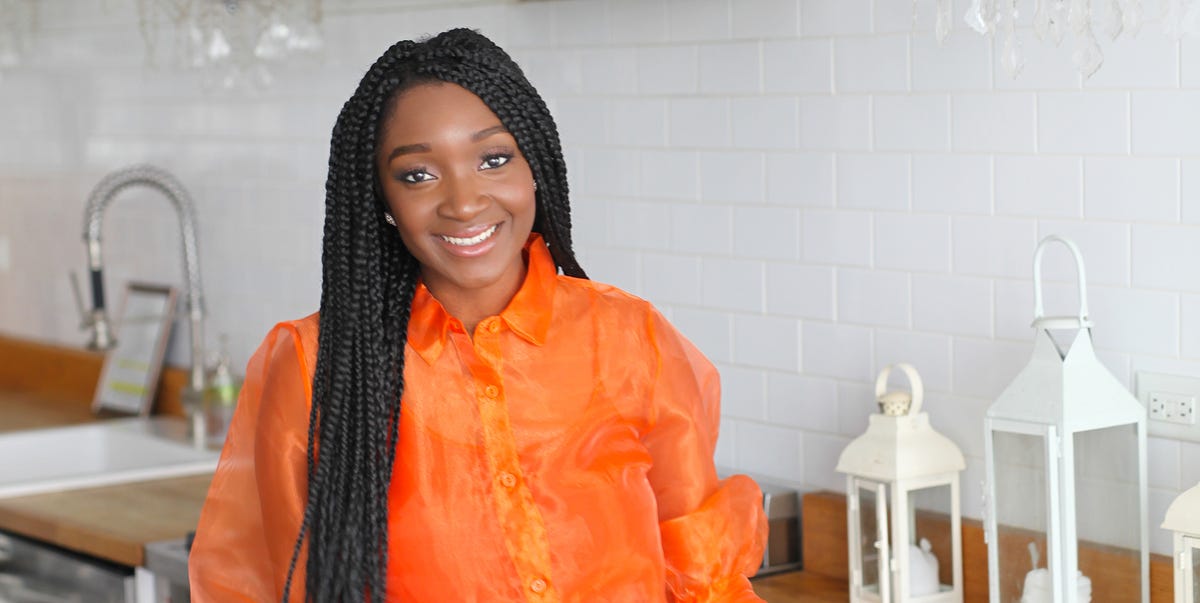 Valerie Agyeman, RD, registered dietitian and founder of the wellness website Flourish Heights, was 15 when she knew she wanted to do something professionally related to nutrition. "Growing up, I struggled with my body image and didn't have a good relationship with food," she tells Women's Health. "I wanted to change my hair, skin complexion, and body size to 'fit in' with my peers," she says.
To do this, she exhausted herself physically and mentally. "I was working out excessively, eating less than what my body needed and desired, and searching for ways to change my natural hair texture and skin. I was never satisfied." So she began to research nutrition and the connection it has to the body. She found she was intrigued by how food impacts how you feel, look, and function. "Nutrition is a science, and I was craving to learn more," she says.
A decade later, she's providing credible advice to people in a world filled with nutrition and health misinformation. "One of the biggest misunderstandings women have when it comes to nutrition is thinking that there's a one-size-fits-all approach. Each woman is unique and has specific nutritional needs. Just because something worked for someone else doesn't mean it will work for you."
With that in mind, here's what Agyeman typically eats to feel like her best self and fuel her busy days. (Spoiler: She loves Epic beef bars and gelato.) Consider it inspiration to find the right balance of foods to help you feel great, too.
Breakfast
Agyeman regularly switches up her morning meal. Some days it might be leftovers from dinner the night before or a drinkable yogurt. Other mornings she may scramble up two eggs with mozzarella, sautéed vegetables, and sliced, sea salt-topped avocado. "The combo of protein and fats helps keep me feeling satiated," she explains.
Lunch
Now that she's working from home, Agyeman loves to make pizza for lunch. To help get it on the table quickly, she relies on a pre-made whole grain crust. "Pizza with mozzarella cheese, tomato sauce, vegetables, and herbs always does it for me!" she says. "It hits the spot and keeps my body energized thanks to the nutrient-dense toppings and fiber-rich crust. I layer on all the toppings, pop it in the toaster oven to bake, and after a few minutes, it's ready to go."
Dinner
When it comes to dinner, Agyeman enjoys experimenting with flavors and recipes, but salmon is generally her protein of choice. "If you know me, you know that I love salmon! It's versatile and I love how it tastes," she says.
She's also a fan of salmon's nutritional profile. Agyeman points out that it serves up omega-3 fatty acids, which have been shown to reduce inflammation, lower blood pressure, and decrease risk factors for disease. She also calls out that salmon is high-quality protein and has an abundance of nutrients like B vitamins, potassium, and selenium.
Agyeman typically pairs the fish with pasta or vegetables, a spicy rice dish, or yams and spinach stew. "I love experimenting with ingredients and recreating them in my own unique way. It's fun!"
Snacks and dessert
For Agyeman, eating between meals is an opportunity to deliver what her body needs in terms of both taste and nutrition. "Sometimes I crave something salty and crunchy, something filling and flavorful or all of the above," Agyeman says. One of her go-to combos is an EPIC Beef Sea Salt + Pepper bar paired with plantain chips. "I love this EPIC bar because it serves up 11 grams of protein, and is filling and flavorful. When I pair it with plantain chips, it's a force to be reckoned with. Flavor bomb in my mouth, seriously."
For dessert, Agyeman is all about what tastes great and feeds her soul—which is just as important as the nutrients her diet provides, she says. "I have a sweet tooth! Gelato tastes amazing and puts me in a good mood."
This content is created and maintained by a third party, and imported onto this page to help users provide their email addresses. You may be able to find more information about this and similar content at piano.io