All About the Congressional Diabetes Caucus
Share on PinterestTwo U.S. Senators look on as a diabetes advocate speaks. Getty Images, May…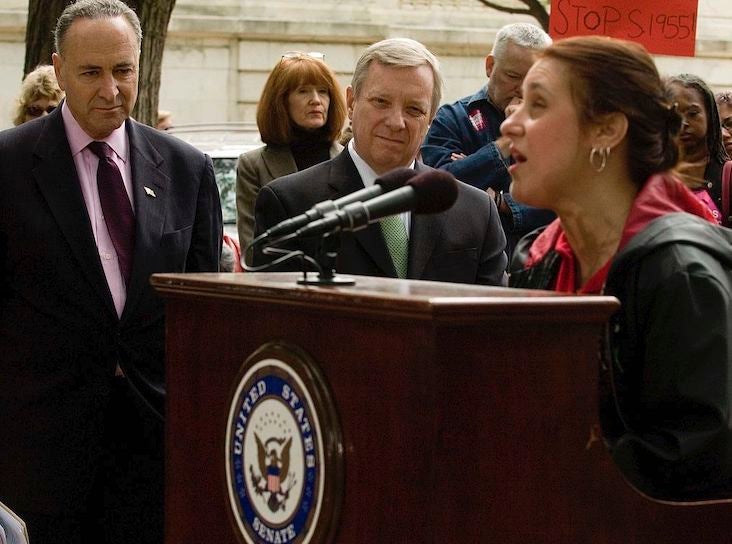 A few years back we were hearing a lot about the Congressional Diabetes Caucus, a large, powerful, bipartisan group of lawmakers whose members pledged to focus on issues of diabetes care.
But where have they been lately, in the midst of the healthcare reform and insulin pricing crises in America?
A House Energy and Commerce Subcommittee hearing in April of 2019, led by longtime co-chair of the Diabetes Congressional Caucus Rep. Diana L. DeGette (D-CO), actually called executives from the major insulin manufacturers and pharmacy benefit managers (PBMs) together and put them on the spot to explain the high list price of insulin.
Congressional subcommittee meetings can be sleepy fact-finding missions, but this one was different.
DeGette knew the history of insulin pricing both as a policy matter and as a personal matter: She had been buying insulin for her daughter with type 1 diabetes (T1D) for some two decades. During the hearing, she was prepared and pointed in her questioning, even interrupting pleasantries from one pharmaceutical executive to demand answers. The year before, she and Congressional Diabetes Caucus co-chair Rep. Tom Reed (R-NY) had issued a report on what she described in the hearing as a "smoke and mirrors" pricing system for insulin.
"What we found was a system with perverse payment incentives and a complete lack of transparency in pricing," she says.
She put the executives on notice that Congress was paying attention to this issue and advised them to work diligently to lower the list price of insulin.
"We're not interested in finger-pointing or passing the buck, we're interested in finding a solution to this problem," she says.
This hearing and others like it, along with increasing pressure from diabetes activists and barbed rhetoric on drug pricing from President Donald Trump, likely combined to push the insulin makers to announce new programs to lower out-of-pocket costs for insulin in 2020.
So even though it may seem like just another over-bloated congressional subcommittee that doesn't accomplish much, the Diabetes Caucus may be more important to your future than you think.
A caucus, in general, is a group of lawmakers who form a group or faction based on a shared interest. The caucus need not necessarily be members of the same party; in fact, they are more effective if they don't adhere to the traditional boundaries of the political landscape. Caucuses have been a part of U.S. political history for some time, but they started to become more popular among Congressional lawmakers in the 1970s, according to Daniel Palazzolo, a professor of political science at the University of Richmond in Virginia who studies coalition building in Congress.
The Diabetes Caucus is actually made up of the Congressional Diabetes Caucus in the House of Representatives and the Senate Diabetes Caucus. Combined, it is the largest caucus in Congress, with over 300 members, according to DeGette.
The Congressional Diabetes Caucus is the more organized of the two, with a dedicated website and a history of regular newsletters. Caucuses in the Senate tend to be more informal by nature, much like the Senate itself, according to Palazzolo.
Three of the four chairs of the caucuses have a personal connection with T1D. Like DeGette, Reed has a child with T1D. Senate Diabetes Caucus co-chair Senator Jeanne Shaheen (D-NH) has a granddaughter with T1D. Fellow co-chair Senator Susan Collins (D-ME) represents a state with the oldest average population, which would mean that issues of diabetes care would be of prime importance to her constituency; she also revealed in 2019 that she now has a niece-in-law who has T1D.
With such a large caucus, it would be natural for some members to be more engaged with diabetes issues than others, according to Stewart Perry, vice-chair of Diabetes Patient Advocacy Coalition (DPAC) board of directors. However, if a lawmaker is a member of the caucus, that politician automatically counts as an appropriate target to lobby on diabetes-related issues, he says.
"Not every member of the caucus is active at everything the caucus does, but it's a way for congressional members to show that they do care about diabetes," Perry says.
Most standalone diabetes-related legislation is championed by members of the Diabetes Caucus, particularly the co-chairs. Their legislation often centers on championing access to new diabetes therapies within government-funded insurance programs like Medicaid and Medicare. The caucus is also instrumental in earmarking funds for diabetes research.
In the current session of Congress, Shaheen and Collins co-sponsored two bills: One establishing a task force to look into improving Medicare access for innovative diabetes technologies and another to allow Medicare recipients better access to diabetes self-management training.
DeGette and Reed co-sponsored a House version of the Medicare diabetes self-management bill and two additional bills to reauthorize the Special Diabetes Program funds for prevention and cure research, and diabetes programs through Native American health programs. DeGette also sponsored an act to include podiatrists (foot care specialists) in the Medicare program. The act also revises Medicare rules for coverage for therapeutic shoes for people with diabetes.
Most recently, the co-chairs and others in Congress have taken more direct aim at trying to bring down the price of insulin and other prescription medications, according to Cynthia Rice, JDRF's senior vice president of advocacy and policy. In the last two years, for example, caucus members signed on to sponsor bills to make legal the importation of more affordable drugs from Canada, to upend the rebate system that can lead to high list prices for insulin, and to cap the amount of money certain Medicare recipients must pay out of pocket for prescription drugs like insulin.
Passing laws is often compared to sausage-making; it is a messy process that often melds many competing interests together. Julie Babbage, CEO of DPAC, says that diabetes legislation is often folded into bigger legislation, and often at the last minute. That was the case with the newest extension of funding for the Special Diabetes Program, which was included in a COVID-19 relief package passed in March 2020, according to a Beyond Type 1 report. The funding will be up for renewal again in November 2020.
On June 29, 2020, Shaheen and Collins appeared together at an event in New Hampshire to tout a proposed bill to reduce the price of insulin, according to a WMUR-TV report. If passed, the bill would have a huge impact on reducing out-of-pocket costs for many with diabetes. The joint event also was important because it signaled a rare thing in U.S. politics: Bipartisanship.
Eli Gerber, policy manager at the nonprofit advocacy group T1 International, says that the size and durability of the Congressional Diabetes Caucus is a good indicator that there is a willingness to work across party lines to get things done to help people with diabetes. The bipartisan nature of the insulin affordability bills are also encouraging, he says.
"We're hopeful that in the new Congress, [with] whatever party has control… drug pricing will still be a priority, and the parties will be able to find a middle ground that will still make insulin affordable," Gerber says.
Being an active participant in the Congressional Diabetes Caucus may also help lawmakers take stances that may prove contrary to the wishes of their political parties. For example, in 2018, Reed announced he opposed some Republican-led efforts to do away with the Affordable Care Act if that meant doing away with protections for those with pre-existing conditions. On a syndicated news talk show, he explained his opposition in stark, personal terms.
"You know, if you're going to wipe the protections of pre-existing conditions off the book, you're going to impact people like my son," he says.
It is a sobering fact that less than 6 percent of proposed bills have been enacted into law in each 2-year Congress cycle in the 21st century, and that percentage has gone down further in recent years. Palazzolo, who is studying Congressional coalition building, says that even bipartisan legislation is no guarantee of a bill's success. Congressional leaders decide what bills will be put on the floor for a vote, and political unity among the parties ensures that no bills can be brought to a vote without their say-so, he says.
"There's a lot of issues that have sponsorships across party lines, they just never see the light of day," Palazzolo adds.
Given this state of affairs, recent presidential administrations have turned increasingly toward executive action to break the stalemate on a range of issues. In late June 2020, for example, Trump signed executive orders that seem to accomplish many of the goals of recently proposed legislation to bring down the price of insulin and other costly prescription drugs.
The orders seek to explore ways to import cheaper drugs from Canada, curb rebate schemes that drive up list prices, and cap out-of-pocket drug pricing for some Medicare recipients. Trump then took the unusual step of holding the executive orders to see if drug companies would be willing to negotiate with the threat of executive action hanging over them.
The only problem? No one really knows exactly what these orders will do or if they become legal, and they're certain to face a lawsuit because they bypass Congress, whose job it is to make laws for the president to enact. They also can be undone by the next occupant of the Oval Office. All of this is to say that executive orders may sound good on paper, but they may not have a lasting impact, according to DPAC's Babbage.
"The challenge [with executive orders] is that they can be challenged legally very quickly," Babbage says. "Congress still has the power of the purse, so they can refuse to provide any of the funding that would be critical to carrying out certain executive orders."
Another perennial concern about all lawmakers is that they may be influenced by intense lobbying efforts and donations to their campaign by the pharmaceutical industry. According to the OpenSecrets Center for Responsive Politics, the pharmaceutical and health product industries combined to spend $228 million lobbying members of Congress in the first three quarters of 2019, making it the top lobbying group among the leading industries in the U.S. economy.
Combining OpenSecrets data on key leaders of the Diabetes Caucus, it appears they received a combined total of $327,000 in donations in 2018 and 2019 from Political Action Committees (PACs) connected to pharmaceutical companies and health product companies. (When asked, none of the representatives from diabetes advocacy organizations interviewed for this story suggested that the four lawmakers were compromised in their work by such donations or lobbying.) These figures are not surprising given the relationship between money in U.S. politics, says Gerber.
"The pharmaceutical industry has done an excellent job over decades of building up a really, really potent lobbying and campaign finance operation," he says.
Such a powerful lobbying effort may cause some lawmakers in the Caucus to waiver from efforts to rein in out-of-pocket costs. Therefore, the missing ingredient for ensuring the Caucus takes action to help people with diabetes is political pressure from constituents, advocates agree. Gerber believes, for example, that it was constituent pressure on insulin pricing from the #insulin4all movement and others that caused this issue to become a front-burner topic this election cycle.
"I think a lot of it has come from the activists who have told their stories, and stories of their loved ones who have died or suffered because of insulin rationing," he says. "And then people deciding that this is a problem that needs to be addressed."
In other words, the Congressional Diabetes Caucus cannot, by its existence, cure the ills of the U.S. political system. However, it is a group of lawmakers who have declared their intention to work together to meet the needs of people with diabetes. It needs continual pressure from constituents to empower it to do what is best for those with diabetes.