American Legion helps veterans feel less alone | News
Chaplain Clarence Floyd and Chuck Sobieck give veteran Roman Burton a card thanking him for…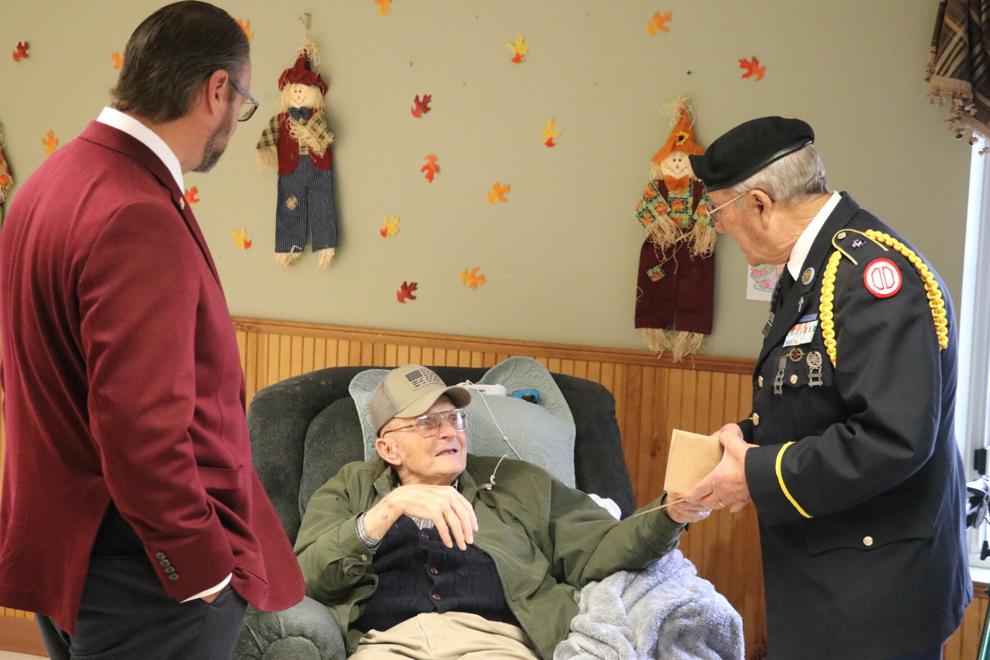 The American Legion Post 38 does a lot for veterans around the community. Yesterday, the American Legion took its time to tell veterans across Pulaski County that their service is appreciated and they are remembered.
One stop was taken by Chaplain of the American Legion Post 38 Clarence Floyd at the Neighborhood. He was helped by Somerset citizen Chuck Sobieck who contributes to and volunteers with the American Legion when he can.
"We get the names of each veteran that's in the nursing homes, and there are six nursing homes," explained Floyd.
The American Legion has an auxiliary that Floyd says is mainly staffed by wives of veterans. These women make cards for each veteran which are then delivered by the people of the American Legion.
At the Neighborhood, Floyd and Sobieck were lead from room to room by an Aide who had the master list of every veteran housed in the nursing home. Each veteran that they met with, Floyd and Sobieck gave them their card and shook their hand and did their best to let the veterans know how much their service meant.
"Every year, the American Legion honors our veterans on Veteran's Day and also at Christmas," said Floyd. "At Christmas, we always take them a monetary gift. Normally, those gifts are donations that people have given us for that purpose. And on Veteran's Day we always deliver them a card and thank them for their service and let them know, as a veteran, they're still being remembered. And that's exactly what we did today."
And what does Floyd get out of this? Seeing and talking to the veterans is his main reward, he says. But he also sees it as part of his duty.
"I serve as chaplain for the American Legion, and the responsibility of a chaplain is to maintain a spiritual life for the membership, and that also includes our veterans," said Floyd. "They only thing we get out of it is just the joy of serving our veterans."
This sentiment was evident Friday. As Floyd, talked to each veteran he listened to stories they told and asked questions of their experience or even just their day-to-day. Each veteran got their card and were reminded for a moment the appreciation that the working people of Pulaski County have for those who laid down their lives for American freedom.
While many Americans today think of these conflicts as just a point in the history books, Floyd says the commemoration of these events still holds value today.
"Let's go back to World War II. When the war was declared, there was an automatic draft. You were drafted for the duration of the war. They took people from the farms and the factories and from the streets. All over the United States. Hundreds of thousands went to war," said Floyd. "Those men paid a terrible price, and thousands of them didn't come back."
Floyd said that the service of those who fought and died in World War II and other conflicts helped stop the spread of fascism, and work that was done by veterans are the reason America still exists.
"Those men didn't just win the war, they saved our world," said Floyd.
Floyd finished giving out all his cards at the facility, but stayed a little while to catch up with the veterans. Before he left the facility, Floyd took a stop in the dayroom to sing a hymn with the residents and share a few laughs.