'Battlefield Medicine' During COVID-19 | AHA
Photo credit: @UMMCnews COVID-19 is putting intense pressure on caregivers at many hospital emergency departments….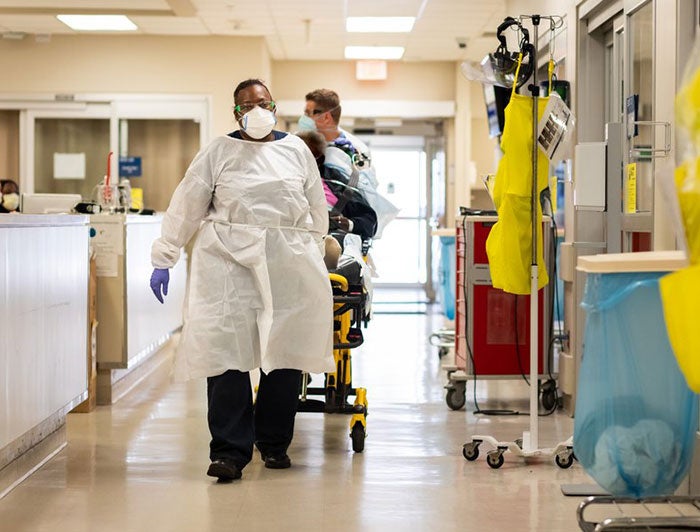 Photo credit: @UMMCnews
COVID-19 is putting intense pressure on caregivers at many hospital emergency departments. A typical day in the ED at University of Mississippi Medical Center (UMMC) in Jackson means that all COVID-19 designated rooms are occupied, and more patients — either known COVID-19 positive or unknown — keep arriving to get care.
Kendall McKenzie, M.D., chief of emergency medicine at UMMC, says it's a "logistical challenge of finding a space" to start treating new patients. "Those are the most anxiety-provoking times," he said. "You want to limit that person's exposure to patients and employees, and to be as safe as possible, but there are physical limitations when we are so full."
Hundreds of patients seek care every day at UMMC's adult and pediatric EDs and at Women's Urgent Care, the latter mostly for obstetric emergencies. And compared to several months ago, patients with COVID-19 are waiting as long as possible, and their symptoms are severe before coming to the ED. Many are having difficulty breathing, say UMMC providers. At the same time, other patients are arriving with different illnesses or injuries.
While the challenges during COVID-19 are enormous, ED staff are accustomed to working in a stressful environment. And there's a plan in place for every scenario one could imagine: If a patient is too sick to describe symptoms or the ED reaches capacity or a tornado would touch down in Jackson—there's a plan for it.
Dr. McKenzie, a veteran military surgeon, sees similarities between caring for patients during the pandemic and "battlefield medicine." "You put your head down and do the job, and your main focus is the execution of the mission. I see health care workers in this institution with the same attitude. … It's a rough ride, but people are going to finish the mission."
Read more about ED teams on the front lines during the pandemic in this UMMC article.