Call to Action for Screening, Early Treatment of Diabetes
People with type 2 diabetes derive benefit from earlier detection and treatment, suggests a decade-long…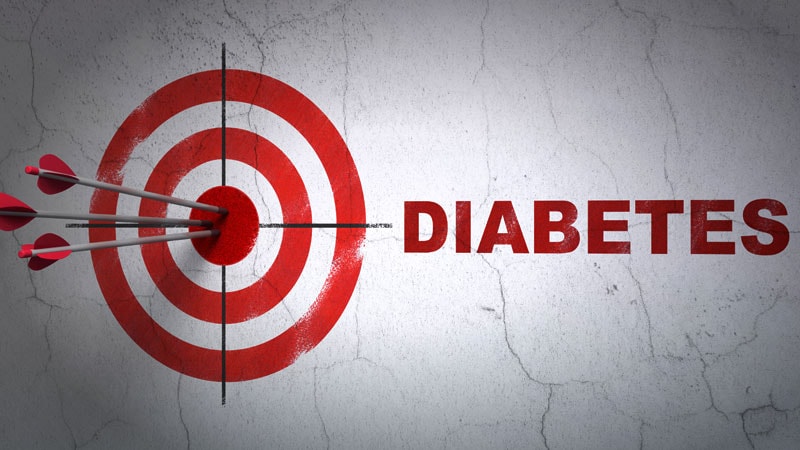 People with type 2 diabetes derive benefit from earlier detection and treatment, suggests a decade-long follow-up of the Anglo-Danish-Dutch Study in General Practice of Intensive Treatment and Complication Prevention in Type 2 Diabetic Patients Identified by Screening (ADDITION-Europe).
"The 10-year follow-up findings support the use of intensive treatment of type 2 diabetes soon after diagnosis and have implications for policy relating to early detection and subsequent management of type 2 diabetes in primary care," said Simon Griffin, MD.
Griffin, the study lead from the University of Cambridge, UK, presented the findings at the virtual European Association for the Study of Diabetes (EASD) Annual Meeting 2020. 
Although the difference in the primary outcome between the intensive treatment and routine care groups favored the former, the difference was not statistically significant.  
Still, "It looks like early intensive treatment of multiple risk factors soon after diagnosis is safe and seems to lower cardiovascular events and mortality…patients benefit from early detection, and in turn, early treatment," Griffin emphasized.
Asked to comment, Andrew Boulton, MD, told Medscape Medical News that these results highlight the importance of recognizing type 2 diabetes not simply as a metabolic disease but as a cardiometabolic problem.
"The nonsignificance of these outcomes should not detract physicians in both primary and secondary care in their quest to achieve optimal control of not only diabetes, but also cholesterol, triglycerides, blood pressure, and body weight…and to avoid therapeutic inertia, which is frequently reported," said Boulton, of University of Manchester and Manchester Royal Infirmary, UK.
The 10-year results from ADDITION-Europe were also published in Lancet Diabetes & Endocrinology. And in an accompanying editorial, Takayoshi Sasako, MD, a diabetologist from the University of Tokyo, Japan, and colleagues say the effects of an intensive treatment program on cardiovascular outcomes and mortality seen at 5 years were largely sustained for an additional 5 years.
"Despite the lack of statistical significance — probably partly due to improvements in clinical practice when the study was done — these findings lend support to early multifactorial intervention in type 2 diabetes," they stress.
Sasako and colleagues add that it will be interesting to see whether the postulated benefits from intensive multifactorial treatment in ADDITION-Europe will become more evident in the next decade or whether they will fade, as in the Veterans Affairs Diabetes Trial (VADT).
"It will also be important to follow-up the ADDITION-Europe study cohort for the incidence of diabetes complications and mortality in the next decade and beyond, because such a prospective cohort in which patients are exposed to good control of risk factors in the first decade after diagnosis is rare," they add.
Multifactorial Treatment Soon After Diagnosis of Type 2 Diabetes
ADDITION-Europe aimed to assess the long-term effects of guidelines, education, and training on outcomes for people with diabetes detected by screening, and to quantify the effect of differences in treatment and risk factors in the first 5 years following detection. The 10-year results looked at any effects, including lasting effects on cardiovascular events, after the intensive intervention was stopped at 5 years.
"Most intervention studies informing the management of people with type 2 diabetes focus on treatment of individual risk factors, but in practice, patients receive lifestyle advice and simultaneous pharmacological treatment of several risk factors," explained Griffin.
"Most studies that have looked at multifactorial treatments tend to have been in patients with long-standing disease, whereas here we looked at whether multifactorial treatment given early after diagnosis would make a difference," he explained.
Primary care practices from Denmark, the Netherlands, and the UK used stepwise screening to identify people with previously undiagnosed type 2 diabetes.
A total of 3057 patients with newly diagnosed type 2 diabetes, according to 1999 WHO criteria, took part in the trial.  
Patients were randomized to intensive management (n = 1678) and given lifestyle advice on diet, physical activity, and the importance of medication adherence and smoking cessation. Appropriate treatment was begun if A1c was ≥ 6.5%, blood pressure was ≥ 120/80 mm Hg, and/or total cholesterol was > 3.5 mmol/L. There were also educational materials for patients and practice-based educational meetings for physicians. 
Routine care (n = 1379) was based on national guidelines, and decisions around medication use were made by the individual treating clinician. The very few exclusion criteria make the study highly generalizable.
After 5 years of the intervention, there were no further efforts to encourage primary care teams to continue intensive treatment.
Patient characteristics between groups were similar. There were slightly more men than women, mean age was 60 years, around 95% were White, mean BMI was 31.6 kg/m2, approximately 6% had a history of myocardial infarction, and 28% were current smokers. Median A1c was 6.5% and 6.6% in the routine and intensive groups, respectively, mean systolic blood pressure was 149.8 and 148.5 mm Hg, and mean cholesterol was 5.6 and 5.5 mmol/L.          
At 10-years post-randomization, participants were not recalled, but data on mortality, cardiovascular events, laboratory and clinical measures were collected from national registers and national audits, as well as electronic and manual searches of general practice and hospital medical records.
The primary endpoint was a composite of first cardiovascular event including cardiovascular mortality, nonfatal myocardial infarction, stroke and revascularization, and nontraumatic amputation.
Legacy Effect of 5 Years of Intensive Treatment
Medscape Medical News reported the 5-year results from ADDITION-EUROPE in 2010. Although those in the intensive multifactorial treatment group were less likely to suffer events than those in the routine care group, the difference between groups was not statistically significant in terms of the primary endpoint.
At the time, Griffin said this likely reflected the fact that routine care of diabetes had been improving in the three countries that the patients were from. The results nevertheless illustrate that "intensive treatment in people with screen-detected diabetes is feasible," he emphasized. 
For the 10-year analysis, 14 patients were lost to follow-up and 12 withdrew. Primary endpoint data were available for 99% of 3057 participants, and mean duration of follow-up was 9.6 years.
"By 10 years, the significant differences in treatments and [individual] risk factors [seen at 5 years] had largely attenuated except [those] from blood pressure medication and aspirin, which were still significantly different between groups," said Griffin at the virtual EASD.
Regarding treatment, overall, 85% of patients were prescribed antihypertensive medication, 78% statins, and 76% glucose-lowering medication (most commonly metformin).
Aspirin was used by 30.4% of the routine care group and 42.3% of the intensive treatment group. Antihypertensive agents were used by 82.4% in the routine care group and 86.4% in the intensive treatment group.
The primary endpoint at 10 years had occurred in 15.3% of patients in the routine care group versus 13.8% in the intensive treatment group.
"The small differences in treatment and risk factors seen in the first 5 years after diagnosis were associated with a nonsignificant 13% reduction (hazard ratio, 0.87; P = .14) in risk of cardiovascular disease events [composite primary endpoint] over 10 years," said Griffin when reporting the main finding.
There was also a nonsignificant 10% reduction in risk of all-cause death over 10 years (hazard ratio, 0.90); 219 patients (15.9%) in the routine care group died compared with 246 (14.7%) of those receiving intensive treatment.
"It looks like the 13% and the 10% were related to the small differences in treatment and risk factors after 5 years, suggesting a potential legacy effect," asserted Griffin.
"The UK Prospective Diabetes Study has found that if you lower glucose early in disease it can have a lasting effect, whereas the effect for blood pressure, for example, only happens while on treatment. Effectively, treating people earlier will make a difference," he said.
Screen for Type 2 Diabetes?
The results overall suggest that identifying people with type 2 diabetes earlier and starting treatment promptly is beneficial, Griffin emphasized.
Also reported at the virtual EASD meeting was a study from the UK Biobank that found that 1% of individuals in the UK have undiagnosed type 2 diabetes, and that it can take more than 5 years for people to be diagnosed.
Reporting those findings, Katherine Young, PhD, College of Medicine and Health at the University of Exeter, said the study shows "that population-level screening could identify cases of type 2 diabetes far earlier and potentially reduce complications."
Griffin said: "There is a question of how to find people and whether to do a national screening program. I suggest inviting highest risk people for screening. In the UK, the Health Checks [over 40 years] and risk assessments are sensible as long as they're being done systematically, and acted on."
Griffin has reported receiving fees from Novo Nordisk, Napp, AstraZeneca, and Eli Lilly. Sasako has reported receiving fees from Astellas, AstraZeneca, Daiichi Sankyo, MSD, Mitsubishi Tanabe, Nippon Boehringer Ingelheim, Novartis, Ono, Sanofi, Sumitomo Dainippon, Taisho Toyama, and Takeda; and grants from MSD, Nippon Boehringer Ingelheim, and Novo Nordisk. Boulton has reported no relevant financial relationships. 
EASD Annual Meeting. Presented September 23, 2020.
For more diabetes and endocrinology news, follow us on Twitter and Facebook.