Chesapeake Bay Sight Foundation to expand operations | Local
ST. MICHAELS — When she was just 18, Colleen Sheehan was diagnosed with a rare…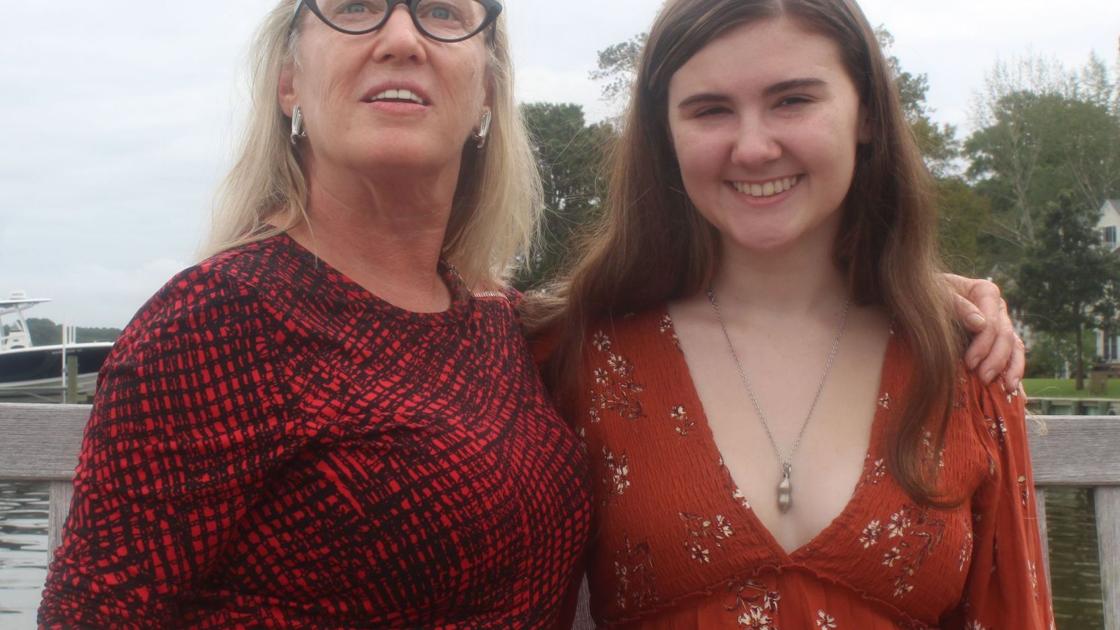 ST. MICHAELS — When she was just 18, Colleen Sheehan was diagnosed with a rare but severe eye disorder: retinitis pigmentosa. The disease affects one in 4,000 people.
Until she hit her 50s, the inherited, degenerative condition didn't affect her. Sheehan lived a relatively normal life. She traveled the world, established her own accounting business, and bought a home in St. Michaels.
But her mother struggled with retinitis pigmentosa, and as she approached her 50s and beyond, Sheehan struggled to see her affected by the same genetic condition she had. The disease usually impacts people later in life.
In 2000, Sheehan took her mother with her to travel the world. She wanted her to see as much as possible before she would lose most of her vision. Two weeks after the trip, her mother had a stroke and went blind. She would die in April 2020, losing the will to live and starving to death, according to Sheehan.
Sheehan was glad she had taken her mother on that trip.
"Watching my mother then was the greatest gift I ever had," she said.
Eventually, Sheehan began losing her vision, too. It started off small, but over time, she was only able to see through a small window of vision — directly in front of her, up and down. Everything else was black.
"You lose the vision down here, below you first, and then the sides are the last to go," she said. "You keep banging into things. And it's scary because you're so dependent on people."
Sheehan lost her license after colliding with a police vehicle, and then she became legally blind in 2017. She now relies on a cane and her 17-year-old assistant, Lily Ball, as well as friends and family, when she leaves the house.
Over time, Sheehan realized herself exactly what her mother had gone through.
Yet, she remained hopeful.
As she went through research trials and doctor's visits, Sheehan saw how much was being done to find a cure for severe eye diseases such as retinitis pigmentosa and the more common macular degeneration, which destroys the macula and reduces vision clarity.
Inspired by the ongoing research and the promise for a cure, Sheehan created the Chesapeake Bay Sight Foundation in 2011, the year her vision began disintegrating. Its sole goal: to assist in finding a cure for blindness and all severe eye diseases through a powerful funding effort toward the Johns Hopkins School of Medicine's Wilmer Eye Institute.
The Chesapeake Bay Sight Foundation began small, but it is now growing into a full-fledged nonprofit that will heavily fund such research. With its Sept. 1 induction into the Mid-Shore Community Foundation, an organization that hosts a network of nonprofits, the Sight Foundation has finally found a home.
Buck Duncan, the president of Mid-Shore Community Foundation, said the community would benefit from an expanded Chesapeake Bay Sight Foundation.
"Chesapeake Bay Sight's mission is to raise funds for vision research in hopes of developing innovative methods of preventing, treating, and curing visual impairments," he said in a statement, adding its mission will "enhance the quality of life for Mid-Shore citizens."
The foundation, with total assets of $93.4 million in 2019, has connections, resources and a reputation that dominates in the region. Sheehan contacted Duncan to tap into those perks, knowing that with research so close to being completed, more funding would be crucial to the effort.
"The Mid-Shore Community Foundation is so well-respected. I knew getting my foot in the door with him was my answer," Sheehan said of Duncan. People would also trust her organization more. "This removes the question mark, it removes any doubt."
As part of its expanded services, Chesapeake Bay Sight Foundation will look to move out of its current office (now in a building next-door to Sheehan's house) and hire more employees.
Ball, the assistant, is the only employee working under Sheehan. Ball has worked with her since May, both as a personal assistant and a secretary for the nonprofit. She helped design the website and a new logo for the foundation after its inclusion in the Mid-Shore Community Foundation.
Ball said she wanted to join the organization to help people like Sheehan.
"I see how it affects her and her everyday life," she said. "It's so important to find a cure."
The foundation will also expand the famous "Dining in the Dark" fundraiser, which forces customers to wear a blindfold for an entire dinner; help seed clothing for the blind; and establish a "Dine for the Blind" gift card system, in which customers purchase a gift card from her foundation that offers discounts at several restaurants.
The foundation's expansion comes at a critical time. With the rise of a retired, senior population in the United States, severe eye diseases such as macular degeneration are expected to soar. According to the National Institute of Health's website, "by 2050, the estimated number of people" with macular degeneration "is expected to more than double from 2.07 million to 5.44 million."
At John Hopkins' Singh Lab, headed by Dr. Mandeep Singh, vital stem cell research to cure eye diseases has been ongoing for years, with the team narrowing in on real, unprecedented results for a cure, Sheehan said. She wanted in on contributing to that.
"No one was doing anything for retinal degenerative disease but my doctors (in 2011). Our money raised is going there because they have 17 researchers and are working 24/7," she said. " We're funding that research to make sure it happens and it happens quickly."
Research through Singh Lab could cure macular degeneration, retinitis pigmentosa, and other genetic diseases such as Usher syndrome, which causes a loss of central vision and deafness in every 17 per 100,000 people. All are incurable and have very limited treatments available.
Ophthalmologists are studying one specific method of treatment: replacing the damaged photoreceptors in the retina through stem cell replacement.
"The transplanted photoreceptors are left to mature, make connections with the recipient's remaining retina, and restore vision," researchers wrote on their website.
Sheehan said Singh Lab scientists began with mice, succeeded, and have now worked their way up to pigs — animals with the closest eye topography to humans. This means a cure is close, she said.
"I can say within the next two years there will be a cure for blindness," she said, adding that a cure is so important because it will save those with eye diseases from constant challenges. "For people that have my disease, they have no support system. What do I do when my electricity goes out and I don't have my guide dog and I'm living by myself? Or if I fall down and trip over something and I can't get up? It's so frustrating."
While her mother will never see the day a cure for retinitis pigmentosa is found, Sheehan sees this foundation as a monument to her mother's memory and a way to help people like her.
"With my mother passing in April," Sheehan said, "this is just my honor."