Chrissy Teigen Shouldn't Be Judged For Grieving in Public
When I saw the first Instagram image shared by Chrissy Teigen that announced the loss…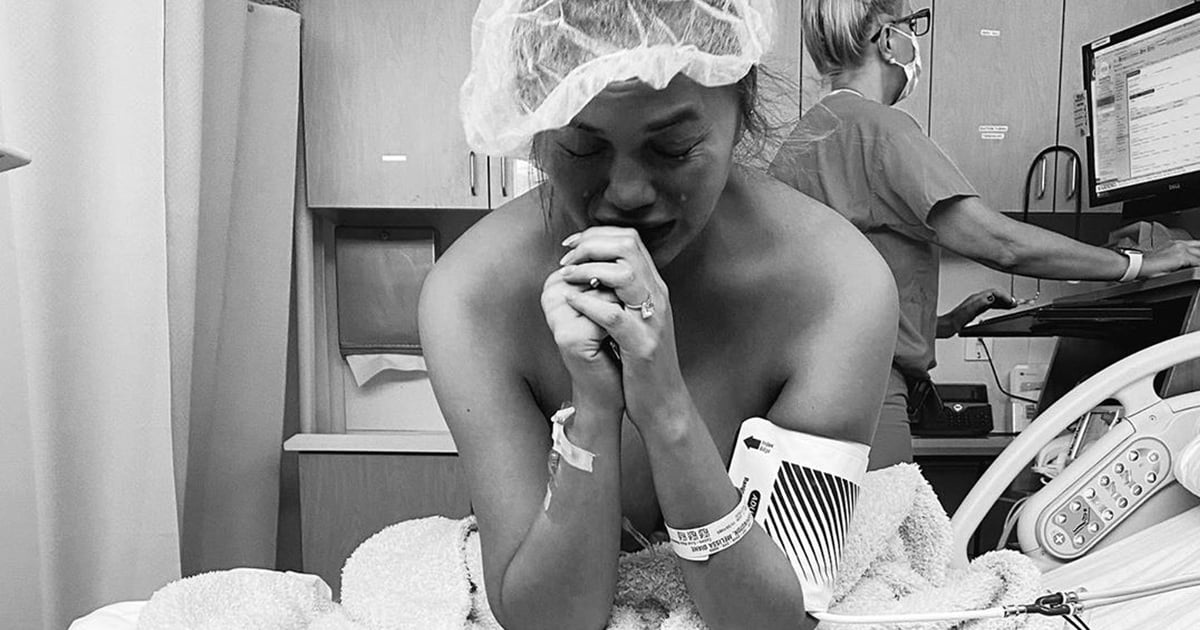 When I saw the first Instagram image shared by Chrissy Teigen that announced the loss of her pregnancy — the black-and-white photo that showed her bent over on a hospital bed, sobbing — I was overcome with two distinct emotions. First, I felt a deep sympathy for this woman who — in having to say goodbye to her baby boy just as she met him — was going through the unimaginable. Second, I felt a sudden concern for the social media "shaming" that was destined to befall her for sharing such raw, intimate images of those moments when she and husband John Legend were overwhelmed in, as she called it, "the kind of deep pain you only hear about."
I've spent years covering celebrity births — and celebrity pregnancy losses — and, unfortunately, I know too well how the internet works.
It didn't take long before comments filled Twitter and Instagram expressing judgment for how Chrissy, a sometimes-celebrated "oversharer," chose to grieve. "This should have been kept private," one said. Another: "Why does the world need to know?"
How did this narrative begin, that we were supposed to feel only quiet guilt and silent shame in our own bodies?
Of course, thousands more offered support. They commended her for normalizing losses such as these, the ones that are often unnecessarily kept private, whether a miscarriage, a premature delivery, or a still birth. Thankfully, it is this protective camaraderie that appears to be the resounding message.
My fear, however, is that as long as there are the "I don't want to see that" contrarians policing how strangers manage their broken hearts and broken families, there will continue to be women afraid to do the one thing they may very well need to do more than anything else: grieve openly.
And whoever said we can't grieve our babies in public? How did this narrative begin, that we were supposed to feel only quiet guilt and silent shame in our own bodies? Who does it benefit that we keep a stiff upper lip while we bleed, while our breasts fill with milk for a baby who won't ever drink it? Who does it serve to hold women and mothers hostage with this trauma?
I then read a recent Instagram post from Kate Beckinsale — another celebrity who, like Chrissy, lost a baby at 20 weeks. She too lamented the way the general public has felt emboldened to say how John and Chrissy should be handling this time, and she wrote that "it's an honor to be allowed into another person's grief."
It is an honor to be offered a pathway into another person's pain, and when it's given, we should not avert our eyes. We should not change the subject or ignore what they are trying to say. We should look, and we should listen.
Maybe then we would better see the one in four known pregnancies that end in miscarriage or the 26,000 children who are stillborn each year in the United States. Maybe we would see this celebrity not as an oversharer, but as someone revealing a reality that isn't shared publicly enough. Maybe I'd no longer see a fellow mother reaching out to her community at her lowest point and instinctually worry about backlash and retaliation. Maybe someday, when a woman shares her grief, we'll all simply stop and listen to her.