Covid-19 wrecked our mental health. This woman left her corporate career to do something about it.
At the height of the Covid-19 pandemic, ad executive Dana Griffin was hunkered down in…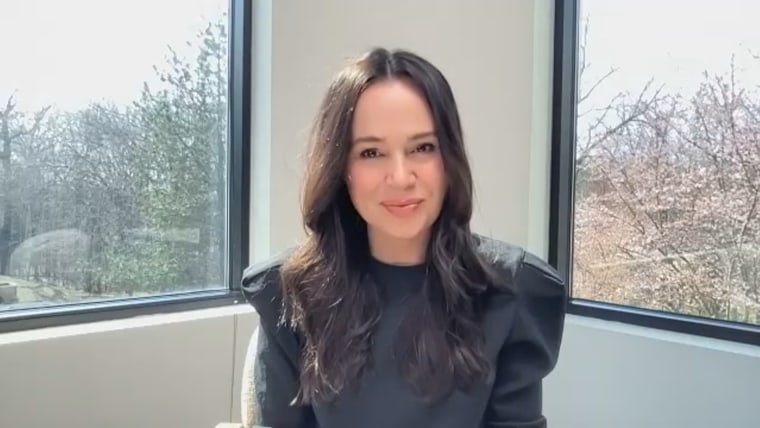 At the height of the Covid-19 pandemic, ad executive Dana Griffin was hunkered down in her New York City apartment – and like many women – was considering a major career pivot.
Initially, Griffin, 40, didn't quite know what industry she wanted to work in. But as she witnessed the country slowly shut down, and the negative effects isolation was having on millions around the world, she decided to do something about it.
Griffin decided to quit her corporate job to create Eldera.AI – a platform that would eventually offer young individuals the opportunity to connect with older counterparts over video calls.
At a time when Covid-19 isolation was leading to increased anxiety, depression, and loneliness, Griffin viewed her company as an answer to the dire mental health crisis sweeping across the country.
The first Zoom call took place in March of 2020, between 82-year-old Jackie Merrill from Aspen, Colo., and a young girl based in Brooklyn, New York.

"The gifts of Eldera to the world are twofold: one, it underscores the important role of Elders in cultures worldwide, as guardians of the stories and keepers of the wisdom," Merrill told Know Your Value. "Two, it offers children the joys and guidance from adult mentors other than from their families!"
Griffin said that after that first virtual meetup, both Merrill and the young girl wanted to keep their conversations going. The two eventually started having regular check-ins, which led to a friendship.
"This is when we realized something really special is going on here," said Griffin. She hopes the platform will teach young people about resilience, social and emotional skills and foster mentorship connections. As for their older counterparts, Griffin said the mentors reported an increase in a sense of purpose, a decreased feeling of loneliness and increase in feeling social connection.
Since its founding, Eldera.AI has connected thousands of members in over 27 countries. The mentors on the platform are 40 percent men and 60 percent women, while mentees are 60 percent boys and 40 percent girls. Griffin noted that 72 percent of all participants still talk weekly a year after being matched.
The platform uses data-driven algorithms to recommend mentor-mentee pairings that will drive the strongest long-term bonds. "Our algorithm does not aim to pair by race, color, religion, sex, origin, or disability," Griffin explained. "We have found superior outcomes in bonds created between two profiles of varying demographics with equitable differences, driving higher curiosity and self- confidence."
Meeting a need that started in her youth
Griffin knows firsthand that cross-generational relationships can leave a lasting, positive impact. She grew up in Transylvania, Romania, and was raised by her grandparents. Griffin said she learned to navigate her entire life by the wisdom and guidance of older adults.
For example, her grandfather taught her Romanian and introduced her to the Greek legends while her grandmother spoke to her in Hungarian and educated her about the fictional worlds of Hans Christian Andersen and the classic Brothers Grimm fairy tales.
"We'd have comparative conversations, and they really taught me so much about what it is to be human," she recalled. "And they gave me a perspective … that everything kind of has a solution when you've lived long enough."
While Eldera.AI was created during the pandemic, the initial idea came in 2017, when one of Griffin's advisors and closest friends – several decades her senior – passed away from brain cancer.
"I started thinking about, how we could use technology to unlock the time and wisdom of older adults," she said.
While today we have, for the most part, made a return to in-person interactions, demand for Eldera has grown. In fact, there is a waitlist of parents and kids waiting for Eldera mentors. "With the ubiquitous use of social media and recently chat GPT, young people ask for access to a kind and caring older adult to listen and provide perspective on the human experience more than ever," Griffin shared.
And the benefits of cross generational interactions extend beyond the Zoom screens, she added.
"The parents started emailing the [older] mentors and thanking us because they said that they can already see the results at the dinner table. The kids are more open, more curious, more interested in human connection with their own families, and that now translates into how they deal with their communities and society," she said.
Building an intergenerational, global community
Fostering intergenerational relationships was also a key component at Know Your Value and Forbes' second annual 30/50 Summit in Abu Dhabi, which brought together several honorees from Forbes and Know Your Value's "50 Over 50" list and Forbes' Under-30 cohort. Griffin was also an attendee.
"It really was the highlight of my year," she said. "I left Abu Dhabi with friends for life of all generations where we are now bonded in supporting each other in creating our own legacies and our own impact on the world."