Decatur native writes book about mental health journey | Top Stories
DECATUR, Ill. (WAND) — Central Illinoisans may know Lynn Eldridge as the daughter of Decatur's…
DECATUR, Ill. (WAND) — Central Illinoisans may know Lynn Eldridge as the daughter of Decatur's Ray Eldridge owner of the former Ray Eldridge Jewelers. She's also the granddaughter of the founder of K's Merchandise. Now she's forging her own path, publishing a book sharing the journey of her mental illness.
The child of successful businessmen, Eldridge had everything money could buy.
"I could have anything I wanted outside of me," Eldridge told WAND News.
But she said there was a darkness in her family behind closed doors.
"Critical words destroy children. It's not because they were mean, they just didn't know any better," Eldridge explained.
She struggled with depression as a child, and said her home life only made things worse.
"I remember my father asking me one day why I was so unhappy and I didn't have words for depression in grade school. So I figured it's because I need a dog, I want a dog," Eldridge said.
But that started a cycle of looking outside to fix her inner struggles.
"I started using drugs. I didn't know how to be happy, but all of the sudden I found a fake joy," Eldridge told WAND News.
Years of living in Minnesota, Chicago and Decatur all ended the same: using cocaine, drinking and partying. Eventually she landed in rehab.
"I wasn't diagnosed until I went to a treatment center when I was about 34 years old," Eldridge said.
She finally detoxed and was diagnosed with bipolar disorder. But she said the medication wasn't fixing the underlying problems, so she fell into a dark hole again.
"I had a gun to my head and I had everything the world could offer," Eldridge shared.
Finally, after a stint at a mental institution in Texas she was out of options. Her cousin suggested she visit a church with him.
"I'd been told that God was angry, but what I found is that God is a God of love," Eldridge said.
She found faith and tools to finally turn her life around.
"What I learned is when I start to think positive thoughts— be careful with my words, don't attack you or insult you, you're not my problem, I take responsibility for my happiness or lack thereof— my brain started to heal," Eldridge said.
Reframing her mindset, and taking radical responsibility for her thoughts, Eldridge found peace and joy for the first time.
"Nobody had to do this for me. I had to meditate on good things. I had to make sure I stopped assaulting you with my tongue. I had to take authority over my own thoughts and make different choices," Eldridge said.
Now, she's sharing her message in the book "Bipolar to Beloved".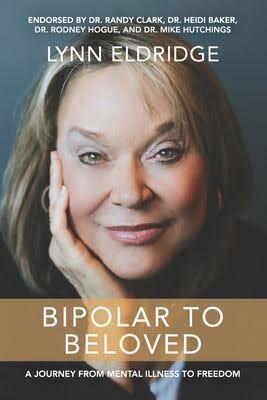 "Today I want my voice to be heard. If he'll do it for me, he will do it for you. How bad do you want it?" Eldridge challenged.
She also offers online courses and mentoring programs, click here to learn more.
Copyright 2023. WAND TV. All rights reserved.