Decatur woman warns of misdiagnosis due to mental health condition | Top Stories
DECATUR, Ill. (WAND) — A viral Facebook post in central Illinois described a near death…
DECATUR, Ill. (WAND) — A viral Facebook post in central Illinois described a near death experience at a local hospital.
"As I'm laying on the ground telling you- and actually dying in front of you- and trying to explain to you that I need help… I'm being threatened to be kicked out," Heather Mendenhall told WAND News.
Mendenhall warned how she was treated after health care professionals learned about her previous anxiety diagnosis.
"If you have a mental health diagnosis, it may change the way you're going to be treated," Mendenhall explained.
She said that diagnosis led EMTs and nurses to dismiss her ruptured fallopian tube as an anxiety attack. She believes that mistake almost cost her life.
"If I hadn't made the decision to lay on the ground, I would have waited on the ground in that emergency room until I was dead," Mendenhall told WAND News.
In late January, Mendenhall ended up on the floor of St. Mary's emergency room, struggling to breathe.
"At the time I didn't know why, but it was because my abdomen is full of blood," Mendenhall explained.
She was suffering a medical emergency, but said staff failed to recognize her condition.
"At one point is when I realized, they think that I'm throwing a tantrum," Mendenhall said.
It all started on a Thursday afternoon, when Mendenhall was eight weeks pregnant.
"I was cleaning my kitchen and I felt, what I knowingly can describe as a contraction," Mendenhall added.
She immediately called her sister and partner, thinking she was having a miscarriage.
"I had a lot of pain, it was starting to get hard to breathe," Mendenhall said.
She was actually suffering with an ectopic pregnancy.
"We want a pregnancy to grow inside the uterus. If it's outside the uterus, it's considered ectopic. The vast majority of those are in the tubes, but they can be in other locations as well," Dr. Derin Rominger explained.
Dr. Rominger is an OBGYN with Women's Health Care Specialists, an affiliate of Decatur Memorial Hospital. He said ectopic pregnancies can cause a fallopian tube to rupture.
"Pregnancy causes a big increase in blood supply to the area. So a ruptured pregnancy can become life threatening very quickly," Dr. Rominger added.
But at the time, all she knew was that the pain was unbearable, so her sister called 911.
"Many times the ectopic pregnancy may not have symptoms in the beginning but ultimately pain begins to develop. That may be more generalized and then later begin to localize to the left or right side," Dr. Rominger told WAND News.
EMTs soon arrived to take Mendenhall to St. Mary's hospital. But at some point, she said paramedics asked if she suffered from anxiety.
"I had been diagnosed with anxiety in 2015. I said 'yes' and after that it was kind of like a change in the tone of the room," Mendenhall said.
Mendenhall said paramedics then suggested she might actually be having an anxiety attack.
"He told me to transfer myself from the gurney to the wheelchair, and I told him I couldn't sit up because I couldn't breathe," Mendenhall told WAND News.
Once at the hospital, Mendenhall said she was placed into a wheelchair and brought into the ER waiting room.
"I was like 'I cannot sit upright for 4 1/2 hours. I'm thinking minutes at most is where I'm at'," Mendenhall explained.
She decided to lay down on the floor, where she could finally catch her breath. But that's when she said staff threatened to call security.
"Another nurse said that I couldn't just come into the emergency room and throw myself on the ground to be seen before all the other people that also need to be seen," Mendenhall said.
Afraid of what would happen if she wasn't seen by a doctor, Mendenhall said she tried to pull herself up off the floor.
"I tried to pull myself into a wheelchair. I just kind of like got my elbows up on it and tried to pull, and that's when I lost consciousness," Mendenhall said.
After her collapse, she was immediately seen and her vitals were taken. She was then given an ultrasound and her OBGYN was paged for emergency surgery.
"Typically, once the tube has ruptured, we need to do surgery. Sometimes we can save the tube and do a tube-sparing procedure and just remove the pregnancy tissue itself. Sometimes if there's sufficient damage then the tube needs to be removed as well," Dr. Rominger explained.
Mendenhall's right fallopian tube was removed and she is still healing.
Now, she's concerned about any future medical treatment being affected by her anxiety diagnosis.
"Now that I have a mental health diagnosis, is my medical treatment always going to be based on whether or not I have that diagnosis?" Mendenhall challenged.
In the end, she thinks patients should feel free sharing their medical history and believes it's up to medical providers to improve their training.
"They need to be aware that people have these diagnoses, a lot of people, and it doesn't change the fact that your body can also have a medical emergency," Mendenhall explained.
After complaining to HSHS, Mendenhall received this letter from CEO Theresa Rutherford: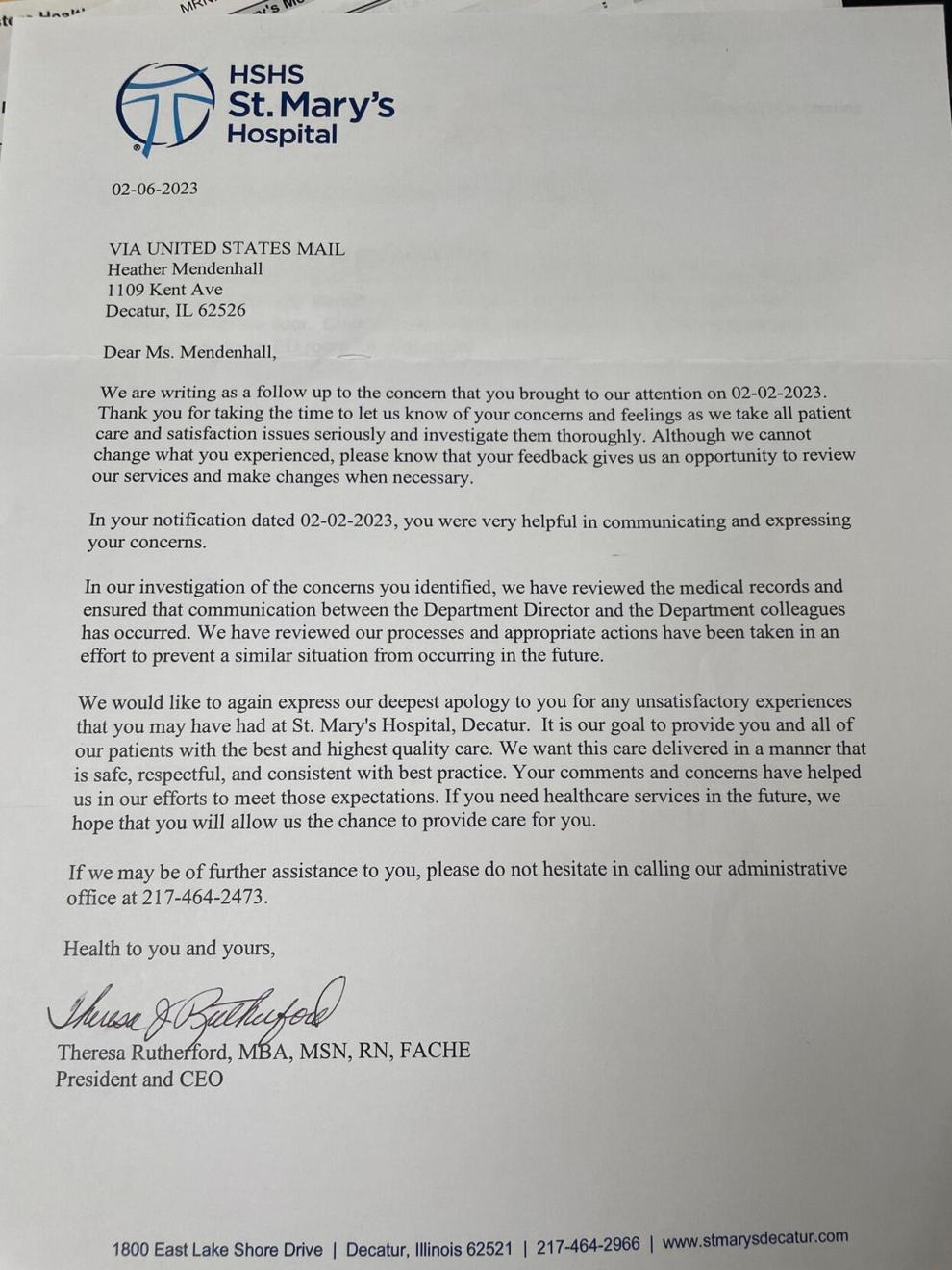 WAND News reached out to HSHS for more information about Mendenhall's case. A spokesperson released the following statement:
"HSHS St. Mary's Hospital respects patient privacy and adheres to all protected health information laws, so we cannot comment on a specific patient's care. The hospital provides appropriate medical screenings to everyone who enters our emergency department and strives to deliver care with respect and competence, no matter the diagnosis."
Copyright 2023. WAND TV. All rights reserved.