Emerging Data on Type 1 Diabetes and COVID-19 Reassuring
Editor's note: Find the latest COVID-19 news and guidance in Medscape's Coronavirus Resource Center. Most…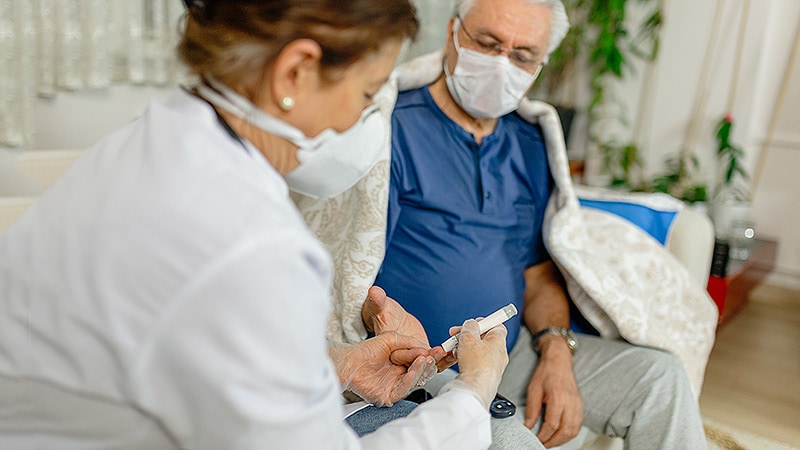 Editor's note: Find the latest COVID-19 news and guidance in Medscape's Coronavirus Resource Center.
Most people with type 1 diabetes do not appear to be at increased risk for hospitalization or death from COVID-19 compared to the general population, new research suggests.
Two retrospective studies of type 1 diabetes and COVID-19 were published in the October issue of Diabetes Care.
One, by Roman Vangoitsenhoven, MD, PhD, of University Hospitals Leuven, Belgium, and colleagues, found no evidence of increased hospitalization for COVID-19 among people with type 1 diabetes during the first 3 months of the pandemic in Belgium.
The other, from Maria Vamvini, MD, of the Joslin Diabetes Center, Boston, Massachusetts, and colleagues, showed that age and glycemic control didn't differ significantly between adults with type 1 diabetes hospitalized for COVID-19 and those hospitalized for other reasons.
Previous data from the UK Biobank and the Type 1 Diabetes (T1D) Exchange support these findings.
Altogether, these results suggest that although the risk for death from COVID-19 is higher overall among people with type 1 diabetes, that increased risk is mostly limited to a subset of particularly vulnerable patients, said Catarina Limbert, MD, PhD, during a press briefing at the virtual annual meeting of the European Association for the Study of Diabetes (EASD).
"Those with type 1 diabetes dying from COVID-19 were a specific population," stressed Limbert, of the University Center of Central Lisbon and Hospital Dona Estefania, Lisbon, Portugal.
"They had hemoglobin A1c levels above 10% and were over age 50 with a long diabetes duration. They were the more fragile, who couldn't survive the severity and aggressiveness of the virus. Good glucose control is a good sign and protective," she added.
Checklist for All With Diabetes During Pandemic
Daniel Drucker, MD, of Mount Sinai Hospital, Toronto, Canada ― who spoke at the EASD press briefing regarding potential mechanisms involved in COVID-19 morbidity in diabetes ― reiterated the importance of glycemic control.
He showed a slide with the following advice for patients with both types of diabetes during the pandemic in addition to the general and now-familiar physical distancing, personal hygiene, hand washing, and wearing of masks:
Prepare a list of all medications, written and on the phone.

Consider supplies of medications, test strips, and continuous glucose monitoring equipment.

Don't neglect exercise, diet, and blood glucose and blood pressure control.

Use telemedicine and devices to communicate with healthcare professionals.

Maintain appropriate levels of hydration, exercise, and glucose and ketone monitoring.

Optimize glycemic control whenever possible.

In hospitalized patients with type 2 diabetes, medications may need adjustment. Insulin is often the preferred glucose-lowering prescription.
No Evidence of Increased Hospitalization
In the Belgian study, medical records were analyzed for a total of 2336 patients with type 1 diabetes who received care at two specialist diabetes centers. The hospital admission rate was compared with national population data.
Overall, 0.21% (n = 5) of the patients with type 1 diabetes were admitted to the hospital with COVID-19, similar to the 0.17% (n = 15,239) of the general population, as of April 30, 2020 (P = .76).
During the same period, 127 individuals with type 1 diabetes were hospitalized for reasons other than COVID-19, including poor glycemic control (22%), diabetic ketoacidosis (8%), planned surgery (21%), diabetic foot problems (5%), and delivery (5%).
"It is noteworthy that the number of hospitalizations for reasons other than COVID-19 exceeded by far the number of COVID-19–related hospitalizations," Vangoitsenhoven and colleagues write.
"Interpretation of adverse outcomes of people with type 1 diabetes during the COVID-19 epidemic should therefore be performed cautiously, as overinterpretation of the impact of COVID-19 itself on adverse outcomes in people with type 1 diabetes is likely," they conclude.
Glucose Control Similar in Those Admitted for COVID-19, Other Reasons
The Boston study, which was smaller, involved retrospective chart reviews of seven patients with type 1 diabetes hospitalized with COVID-19 and another 28 patients hospitalized for other reasons, all during the period from March to May 2020. The groups didn't differ in outpatient insulin doses corrected for weight or in glycemic control in the months preceding admission.
Diabetic ketoacidosis (DKA) occurred in one patient with COVID-19 and in two of the non-COVID patients. Both groups had significant preexisting diabetes-related complications, including nephropathy in more than half of each group and receipt of an organ transplant with immunosuppression in 14% of each group.
The composite outcome ― intensive care unit (ICU) admission, intubation, or death ― occurred in two COVID-19 patients (both cases involved ICU admission without intubation, and both patients recovered) and in four non-COVID patients, of whom two died.
The two groups showed "remarkable" similarity in age and glycemic control, although the COVID-19 patients were more likely to be Black (four vs two), consistent with other retrospective studies.
None of the patients had new-onset type 1 diabetes, which contrasts with the 15% seen in the T1D Exchange study.
Just 1 of the 7 patients with COVID-19 (14%) had DKA, compared with 30% of the confirmed and probable COVID-19 patients in the T1D Exchange study.
The significant difference in age ― about 52 years in the current study vs 21 years in the T1D Exchange study ― might explain those differences, Vamvini and colleagues say.
Limbert has received grants and personal fees from Abbott, Ipsen, and Sanofi. Vangoitsenhoven has disclosed no relevant financial relaitonships. Vamvini was supported by the National Institute of Diabetes and Digestive and Kidney Diseases. Drucker receives research support, consulting fees, and/or lecture fees from Novo Nordisk, Merck, Pfizer, and Intarcia.
Diabetes Care. 2020 Oct;43:e118-e119. Vangoitsenhoven et al, Full text; 2020 Oct;43:e120-e122. Vamvini et al, Full text
For more diabetes and endocrinology news, follow us on Twitter and Facebook.