Ginny and Georgia season 2 fixes the show's mental-health blunders
Ginny and Georgia season 2 spoilers below Ginny and Georgia has always been progressive in…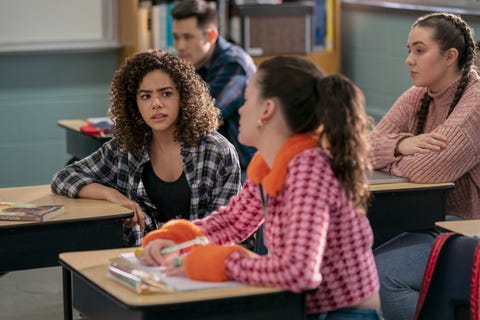 Ginny and Georgia season 2 spoilers below
Ginny and Georgia has always been progressive in its storytelling. The teen dramedy pushes the bounds when it comes to conversation surrounding race (including the exploration of mixed-race identity) and sexual experimentation. It's also deft at embracing queerness and gay relationships in an authentic way that feels commonplace to the point of mundanity.
Where it let itself down in the past was with the content surrounding mental health.
In season one it was established early on that Ginny (Antonia Gentry) was using self-harm as an unhealthy way to cope with her overwhelming feelings.
By episode two she, not for the first time, burned herself with a lighter which we later discovered was her method of dealing with instability in the home as a result of Georgia's chaotic parenting.
While we applaud Ginny and Georgia's attempt to go beyond entertaining us with Georgia's sensational antics by showing the ramifications of her behaviour, Ginny's trauma was little more than a footnote, swept under the narrative rug in, a 'kids do the darndest things' manner.
Maybe the creators weren't that flippant about it, but they didn't take the time to explore Ginny's mental health in much depth. Self harming was just something she did; a very big deal but secondary to the story at hand.
This was a mistake. Any time self-harm or mental health crops up in a show, central to the story or not, it should be addressed adequately.
The creators owe it to those viewers who may be suffering to not just handle the act with care (which they do) but to leave room for the feelings and thought process that surround it to be explored.
Throughout much of season one, Ginny's self-harm remains a secret act, unaddressed until the final arc of the season when Marcus Dawson's Creeks his way into her bedroom and catches her, lighter to thigh.
This leads to a blow up between the two which results in Marcus' near-fatal accident. The issue of her self-harm therefore becomes the vehicle to move their love-story further along, break them apart before mending them.
The two do reconcile and Marcus (Felix Mallard) confides in her about his own struggles with depression after the loss of his friend. He then encourages her to lean on him.
It is a beautiful moment, one that allows Ginny to open up about her anguish, but it's just a pocket in what should have been a much larger conversation threaded throughout.
Fast forward to season two and the creators made up for this tenfold by giving the delicate topic of mental health struggles the attention it deserves.
"Everyone's fighting a battle you can't see," showrunner Debra J Fisher said during an interview with Variety. "It's really hard to human overall, which I think really translates into a lot of our arcs this season."
Ginny's battle has been pushed to the forefront of the season though it hasn't necessarily been well received.
In fact there has been a bit of a Ginny backlash on Twitter with fans of the show struggling to digest Ginny's volatile behaviour towards Georgia (Brianne Howey).
This content is imported from Twitter. You may be able to find the same content in another format, or you may be able to find more information, at their web site.
However, no matter how much we root for Georgia (and we do) Ginny's extreme rebellion makes sense.
Georgia's aggressively protective nature and lack of boundaries is the root cause of Ginny's trauma and those feelings are spewing out like acid. However instead of depicting just the fallout of her emotional turmoil the show digs deep, unearthing her issues during her therapy session with doctor Lily.
Firstly, Ginny and Georgia's decision to move away from the damaging ideology that 'Black people don't need therapy' is the kind of representation we need. In fact it is Zion (Nathan Mitchell), Georgia's Black father, who puts the suggestion to her while Georgia is the one to sniff at it.
The importance of his proactive and encouraging attitude towards seeking help reinforces the idea that getting professional help is not shameful or indicative of weakness.
"We always wanted to have Zion be much more a part of the conversation," Fisher told Variety.
"We didn't want to fall into a trope of him being a bad dad. We also wanted Ginny to get into therapy and those were really important to [psychologist] Dr Taji [Huang, who they consulted], as well as us just to show that other parts of mental health with her being supported in that way."
It is during Ginny's therapy sessions that we learn that Georgia's behaviours triggered her self-harm and though Ginny's healing process involves a lot of lashing out it also allows room for exactly that: healing. The Thelma-and-Louise mother-daughter duo learn to understand one another.
Through Ginny's boyfriend Marcus we also see the other side of the mental-health spectrum. While Ginny is putting the work into getting better Marcus isn't as far along on his journey when it comes to facing his depression demons. Instead he retreats sinking into drugs, alcohol and solitude to cope.
Ginny and Georgia gives us focuses more intrinsically on his psyche during the episode 'Hark! Darkness Descends!'
The Marcus-centric episode breaks down what it's like to suffer from depression but does so in a very Marcus way, meaning it's a deeply poetic, darkly beautiful and haunting episode.
From his stark explanation of depression being slow and creeping progression to the fake smiles barely masking its presence (until they no longer mask it) it's emotive.
The heaviness is in his voice, the way he lacks the energy to even talk, how each word is weighted all do justice to what it's like to suffer; if only to give a window into the experience.
Marcus may not be fully ready to receive the help he needs and Ginny and Georgia doesn't always have to provide a solution for their characters. That's not life.
However what this season does effectively is to give insight into the pain of someone struggling with mental health.
When Marcus tells Ginny he doesn't have room for anyone else's pain, it is a chord that strikes and one that hopefully will ring true to loved ones of sufferers. It isn't a rejection of you (as Ginny initially feels), merely a notification that there is no room for you in the eye of the storm.
Ginny's eventual acceptance of this fact also shows growth for her character. She is used to Marcus shouldering her pain but now she must show up for him. Not in the way she wants to but the way he needs her to be.
Often seeing a loved one in this amount of pain triggers the outsider to seek a solution, to try to fix it but she learns that he doesn't need her to fix him. Sometimes it's necessary to start with just being there, and that can be as simple as a hug.
Fisher admits that she always had a long-term goal when it came to how they handled mental health among teens.
"It was always about the long game, and just being able to approach mental health, self-harm and depression in a really realistic, grounded way that we hope really resonates with the kids."
In this Fisher and her creative team have succeeded with season two, balancing the needs of the overall story while justly leaving scope to explore mental health.
Ginny and Georgia is now available to watch on Netflix.

---
If you've been affected by the issues raised in this story, organisations who can offer support include Samaritans on 116 123 (www.samaritans.org) or Mind on 0300 123 3393 (www.mind.org.uk). Readers in the US are encouraged to visit mentalhealth.gov.