Houston flooding: Rain from Beta floods roads and freeways
Here is the latest on the ongoing flood threat from Tropical Storm Beta, including the…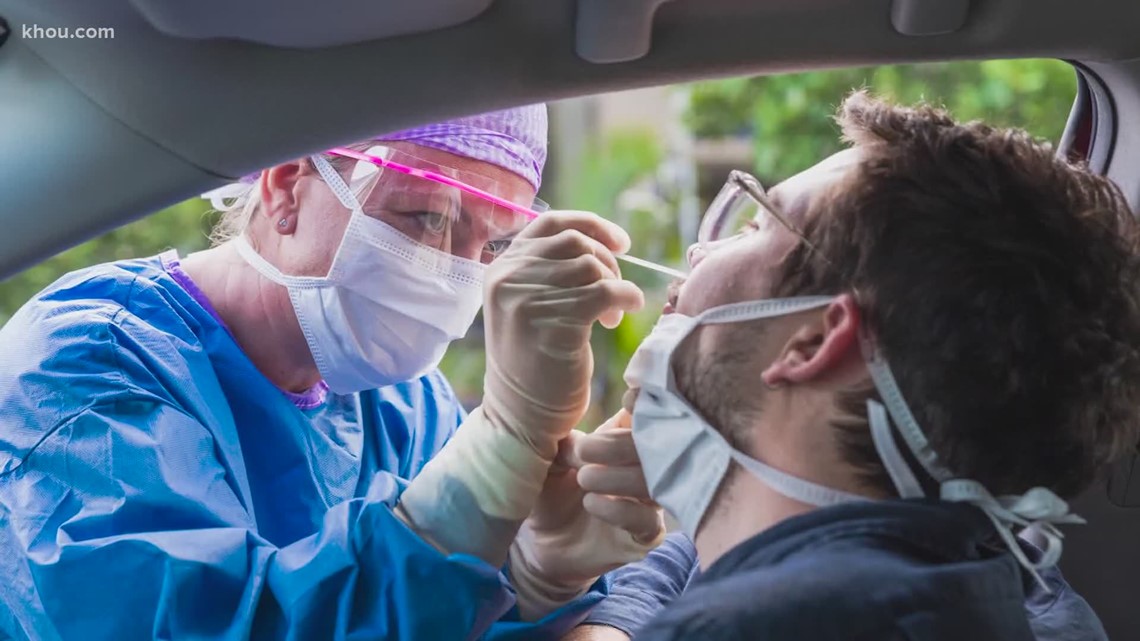 Here is the latest on the ongoing flood threat from Tropical Storm Beta, including the forecast, school closings and road closures.
HOUSTON — Tropical Storm Beta made landfall over the Matagorda Bay Peninsula late Monday, but as of Wednesday, it is no more. Downgrading from a tropical depression to mere remnants, Beta is expected to cause light rain across southeast Texas as it moves eastward.
In Houston, flash flood warnings have expired and the city continues to rebound from standing water on key freeways brought in from the intense rain over the past two days.
Some of the city's largest school districts— such as Houston ISD and Galveston ISD— will continue to operate a hundred percent remotely Wednesday, but most have reopened campuses. Click here for a full list of school closures.
8:35 a.m. Wednesday The city of Houston has deactivated its Emergency Operations Center, which was activated in response to Tropical Storm Beta.
8:08 a.m. Wednesday Harris County Public Health said its two stationary testing sites will be open Wednesday from 1 p.m. – 7 p.m. at the M.O. Campbell Education Center in Aldine and the San Jacinto Central Campus. Please call 832-927-7575 to register.
However, all mobile testing sites will be closed due to street flooding. They're expected to reopen Thursday.
7:24 a.m. Wednesday Houston Health Department announced the following COVID-19 test sites will be open Wednesday with modified hours after being closed due to inclement weather conditions during Tropical Depression Beta.
Butler Stadium, 13755 S Main St.: Drive-thru | 1 p.m. – 7 p.m. | No appointment required.
Delmar Stadium, 2020 Mangum Rd.: Drive-thru | 1 p.m. – 7 p.m. | Call 832-393-4220 for an access code.
LeRoy Crump Stadium, 12321 High Star Dr,: Drive-thru | 1 p.m. – 4 p.m. | Appointment required via txcovidtest.org.
Kashmere Multi-Service Center, 4802 Lockwood Dr.: Walk-up or Drive-thru | 1 p.m. – 7 p.m. | No appointment required. 
Sunnyside Multi-Service Center, 9314 Cullen Blvd: Drive-thru | 1 p.m. – 7 p.m. | Appointment required via txcovidtest.org.
Multicultural Center, 951 Tristar Dr, Webster: Drive- thru | 1 p.m. – 7 p.m. | Call 832-393-4220 for an access code.
Northeast Multi-Service Center, 9720 Spaulding St: Drive-thru | 1 p.m. – 7 p.m. | Appointment required via txcovidtest.org.
Southwest Multi-Service Center, 6400 High Star Dr.: Drive-thru | 1 p.m. – 7 p.m. | On-site registration available but online registration via doineedacovid19test.com may be faster.
Holy Ghost Catholic Church, 6921 Chetwood Dr: Drive-thru | 1 p.m. – 7 p.m. | No appointment required.
6:07 a.m. Wednesday SH-288 is now open in both directions after the freeway was shut down from early Tuesday and into Wednesday morning. Overnight, crews were working to restripe the lanes and other safety preparations. 
5:23 a.m. Wednesday The northbound lanes of SH-288 are finally reopened after being shut down all day Tuesday due to severe flooding. Sources said southbound lanes of the freeway remain closed but are expected to reopen sometime Wednesday morning. 
5 a.m. Wednesday Houston ISD says their facilities and offices will remain closed on Wednesday, Sept. 23. At-home instruction will continue as scheduled as long as internet connectivity and power remain intact. Digital Learning Centers will be closed.
4:40 a.m. Wednesday Waller ISD, Cypress-Fairbanks ISD and Tomball ISD schools and offices will return Wednesday to their normal schedule and operations, according to district officials.
4:30 a.m. Wednesday Houston METRO will resume regular service Wednesday morning for buses, Park & Ride and METRORail for Red, Green and Purple lines. Riders should expect some delays and detours on certain routes. 
HOV/HOT lanes will also go back to normal hours of operation. However, the I-45 North HOV/HOT lane is blocked downtown at Milam and Smith streets due to high water. Traffic will be detoured to the Quitman exit.
——————————————————————————————————–
11 p.m. Tuesday The flash flood warning for Harris County has expired, but the National Weather Service has issued an Areal Flood Warning for much of Houston until 2 a.m. Wednesday. This means areal flooding is in progress or very likely in low-lying and flood prone areas.
KHOU 11 Chief Meteorologist David Paul said the heavy rain band is lifting north and weakening as it does. The rain is expected to exit the Houston area completely by early Wednesday afternoon.
7:32 p.m. Tuesday  I-10 Katy eastbound at Houston Avenue still has high water on several lanes, according to TxDOT. The westbound side has one lane with high water. Stay off the roads if possible. More high water spots
7:20 p.m. Tuesday The Galveston Ferry is going out of service for the evening. No nighttime operations will be attempted due to forecasted high tide levels and safety concerns. They will check conditions in the morning to determine if we can safely resume operations.  
6:55 p.m. Tuesday Several Houston-area school districts will be closed again on Wednesday. Here's the full list.
6:30 p.m. Tuesday Mayor Turner says 288 will remain closed tonight even though the high water has drained. He says the water washed away the stripes so TxDOT crews need to restripe before it's reopened sometime tomorrow.
6:15 p.m. Tuesday The flash flood warning for Harris County has been extended through 11 p.m. 
4:55 p.m. Tuesday A kayaker was spotted taking advantage of the fast-moving water on Brays Bayou. He could have left the paddles behind and kept moving. 
4:20 p.m. Tuesday The flash flood warning for Harris County has been extended until 7 p.m. Live radars here
4:15 p.m. Tuesday By 8 p.m. tonight, METRO will temporarily suspend operations of transit ser6:vices due to the severe weather caused by Tropical Storm Beta. Some rail services will make their final departures at 7 p.m. and METRO HOV/HOT lanes did not reopen Tuesday afternoon.
METRO will work with customers to help them reach their final destinations. Those who are impacted by the suspension of service can contact METRO Customer Service at 713-635-4000 until 10 p.m. for assistance.
3:45 p.m. Tuesday After a break from the rain this afternoon, Our KHOU 11 weather team says new bands of rain are moving in and they could bring trouble.
3:22 Tuesday God bless our first responders who are helping stranded drivers all over the Houston area. An HCSO High Water Rescue Team stopped to check on this submerged car on Groschke Road. Fortunately, no one was inside.
2:50 p.m. Tuesday  Conditions from Tropical Depression Beta have temporarily improved at TxDOT's Galveston-Bolivar Ferry Office with the tidal level dropping and allowing for a window of ferry operations to resume. The ferry will temporarily resume service this evening until approximately 5 or 6 p.m. while conditions along the Texas coast allow. No nighttime operations will be attempted due to forecasted high tide levels and safety concerns.
Ferry services will continue to resume and pause as conditions change. This could last throughout the next few days as Tropical Storm Beta makes its way through the Gulf of Mexico and brings high winds and changing tidal conditions to the Texas coast.
2:30 p.m. Tuesday Drone 11 shot this video of a Pearland neighborhood off Yost Blvd. KHOU 11 News reporter Jason Miles also found mailboxes underwater on Sleepy Hollow Dr. in Pearland.
2:20 p.m. Tuesday Houston drivers who had to leave their car in floodwaters, can find them at FindMyTowedCar.com #TurnAroundDon'tDrown.
1:55 p.m. Tuesday This video of a massive fire ant raft is one of the many reasons you shouldn't wade into floodwaters! These ants linked together and trapped air under their bodies to create the "raft." Thanks to League City for the video. Send your weather snaps and video directly to us by clicking on the Near Me section of our app. Stay safe everyone! 
1:11 p.m. Tuesday Jeff Lindner, with the Harris County Flood Control District, confirmed there is flooding in structures on both sides — Harris and Galveston counties — of Clear Creek. These flooded homes are along Scarsdale.
Lindner said they're keeping a close eye on Brays Bayou but it's stayed in its banks, so far. Harris County Judge Lina Hidalgo credits Project Brays with helping to keep the water down.
The midday break in rainfall helped lower the levels of Buffalo and Keegan's bayous.
VIDEO: Rushing water at Brays Bayou near McGregor
1:02 p.m. Tuesday Biggest problem areas are in the southeast where 9 to 14 inches of rain have fallen — most of it in the last 24 hours. Clear Creek is out of its banks through Pearland and Friendswood, according to Chief Meteorologist David Paul. Harris County Judge Lina Hidalgo said they have received preliminary reports of water in homes near Clear Creek.
12:55 p.m. Tuesday Flash Flood Warning for Brazoria, Fort Bend, Galveston and Harris counties extended until 4:45 p.m. Tuesday. Live radars
12:40 p.m. Tuesday  KHOU 11 News Chief Meteorologists Chita Craft and David Paul say a "dry slot" from the Gulf is giving us a break from the heavy rainfall. However, the threat of more heavy rain continues Tuesday afternoon into Wednesday morning. There are blue skies and sunshine in Kemah and other areas south of Houston, but warmer temperatures could increase our chances of more rain. 
12:20 p.m. Tuesday Water was over the sidewalks near Milam, Travis and Commerce where Buffalo Bayou and White Oak Bayou come together, Houston Police Chief Art Acevedo said.
11:28 a.m. Tuesday Houston Police Chief Art Acevedo confirmed the department has completed at least 27 rescues since 6 a.m. Tuesday morning. They're prepared with eight boats and 16 high-water rescue vehicles. Most rescues have been in the southern parts of the city, including four high-water rescues and 24 vehicles towed in downtown.
Houston Fire Chief Samuel Pena said his department has completed 60 rescues, mostly street-level assignments. Firefighters haven't had to use any of the 32 watercrafts that are prepared for deployment.
Both officials urged residents to stay off the roads if possible.
"It just takes one foot of water to grab your vehicle and sweep it away," Pena said.
11:09 a.m. Tuesday Mayor Turner said city of Houston employees, with the exception of essential workers, will not be reporting to work Tuesday due to the inclement weather.
11 a.m. Tuesday Mayor Sylvester Turner and emergency management officials discuss the city's response to Tropical Depression Beta, which has caused flooding throughout parts of the Houston area.
10 a.m. Tuesday Beta has been downgraded to a tropical depression with max winds at 35 mph, according to the National Hurricane Center.
9:41 a.m. Tuesday The City of Bellaire has suspended several services due to flooding and other severe weather. Officials said there will be no solid waste and recycling pick-up Tuesday and Wednesday. In addition:
City Hall, the library and pools are all closed
Municipal Court dockets are canceled Tuesday and court services windows are closed
9:10 a.m. Tuesday Trae tha Truth and his band of volunteers, known as the Relief Gang, were out helping Houston residents stranded in floodwaters from Tropical Storm Beta.
8:40 a.m. Tuesday Harris County Public Health has closed all testing sites due to severe weather from Tropical Storm Beta. Visit www.hcphtx.org for more information.
8:34 a.m. Tuesday National Weather Services has issued a Flash Flood Warning for the south and southwestern parts of Houston including Pearland, League City, Missouri City until 12:30 p.m. Tuesday.
7:30 a.m. Tuesday Drivers heading to work should avoid Highway 288 near the Texas Medical Center. It's underwater.
You can find the previous blog on Tropical Storm Beta here.