How a Lego-like shipping container is bringing the future of mobile medicine to Harris County
The future of mobile medicine is coming to Harris County, focused initially on community-based COVID-19…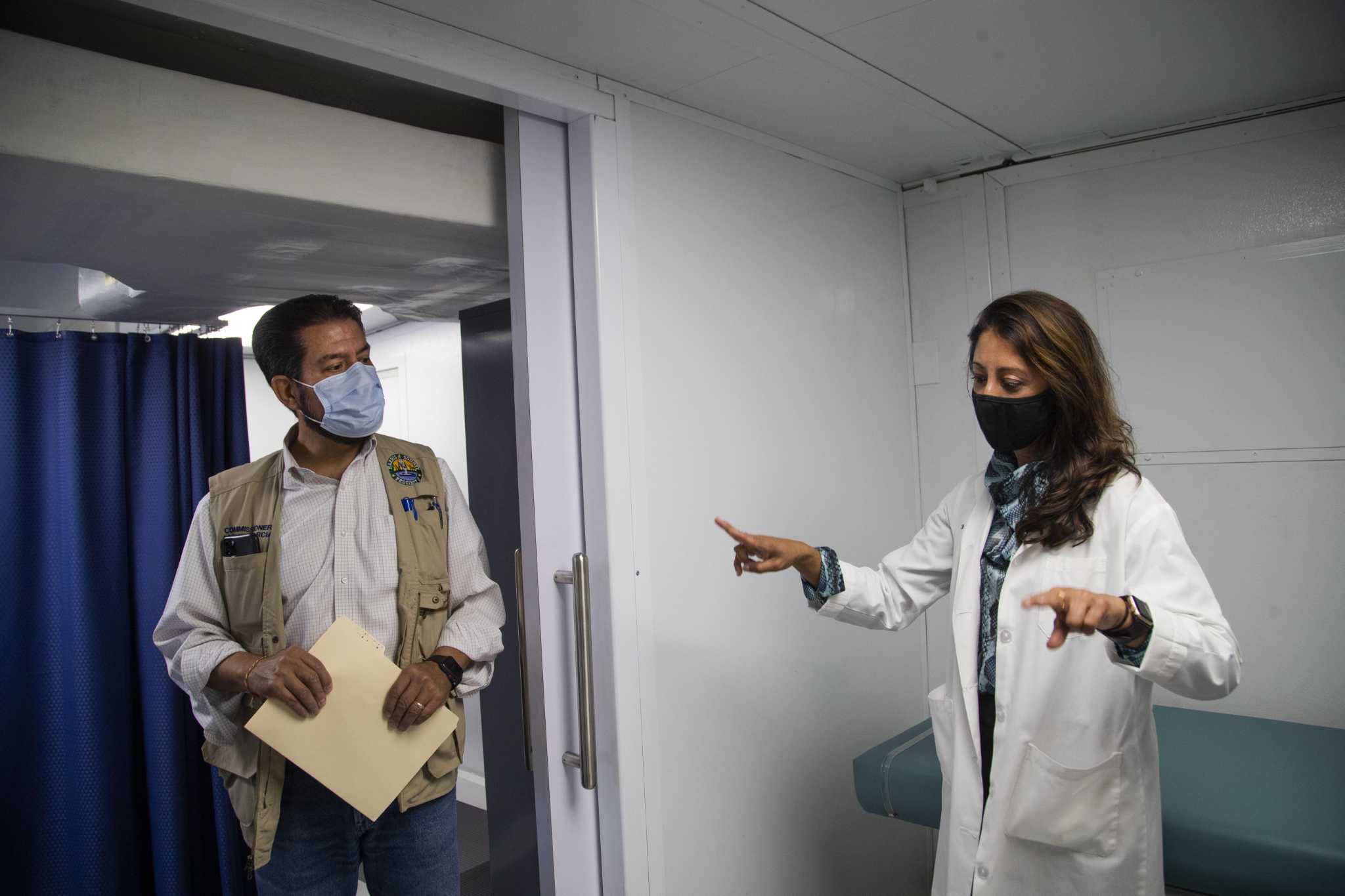 The future of mobile medicine is coming to Harris County, focused initially on community-based COVID-19 testing but available for any emergency response or disease care.
The so-called SmartPods, portable aluminum units developed by Baylor College of Medicine for the Ebola outbreak in Africa and envisioned by NASA for the Mars habitat, will be deployed in the United States for the first time in east Harris County's Precinct 2. The initiative is the brainchild of Commissioner Adrian Garcia, who sees the units as a way to increase health care access and keep people out of hospitals.
"This is the 21st century MASH unit being made available here," said Garcia. "Tents were the first phase. This is the second phase."
The first of the SmartPods opened Tuesday at Northeast Community Center in Aldine. Two more will follow, one at East Harris Activity Center in Pasadena and one at Flukinger Community Center in Channelview. Dates for their openings have not yet been set.
Each SmartPod is a modular four-room medical unit — self-contained, fully powered but capable of going off grid, impervious to outside weather conditions — inside a recycled shipping container that inventor Dr. Sharmila Anandasabapathy says is "almost like Ikea." Anandasabathy, an internal medicine professor and the director of Baylor Global Initiatives, touts how the pods can be linked like Legos, how they fold up in minutes. Though they don't travel themselves, they can be easily picked up and transported to areas of need, typically by truck but also by ship or helicopter, for instance.
The pods cost less than 5 percent of a brick-and-mortar medical unit, said Anandasabapathy. Precinct 2 is spending a total of $2.9 million in county funding on the Aldine and Pasadena units, money that covers their design, construction, transport, medical equipment and medical services. The federal Coronavirus Aid, Relief, and Economic Security Act (CARES) is expected to reimburse the money.
It is unclear if other Harris County commissioners will purchase units for their precincts, but Anandasabapathy said future plans call for the installation of two more in Precinct 2 — one for women's health, and one for mental health. The SmartPod in Channelview, on loan from Baylor, will focus on primary care.
On HoustonChronicle.com: Survey says Houston's health is fair to poor
Baylor is getting requests for the pods from other entities around the nation and globe. For now, it is able to build the units on demand, but hopes to turn the manufacturing over to a spin-off company by the end of the year.
The pods in Aldine and Pasadena, focused on COVID-19, feature respiratory isolation rooms. The hermetically sealed, negative-pressure rooms decrease the risk of airborne transmission of disease and enable doctors to treat contagious, sick patients in a safe way. Such rooms are impossible in tents and rare even in U.S. clinics.
More Information
Features of the SmartPod:
— 8 x 20 foot container that expands manually into a 400 square foot facility.
— Can withstand winds up to 116 miles per hour, designed with a life cycle of more than 15 years.
— Outfitted with a respiratory isolation room that decreases the risk of airborne transmission of disease.
Precinct 2 is one of the region's most medically underserved areas, Aldine perhaps the most of all. In a 2019 UT School of Public Health study of health disparities across 38 Harris County communities, 48 percent of Aldine respondents rated their health as fair or poor, more than any other community. The precinct runs along the west side of the Gulf Freeway before hooking north, straddling the Houston Ship Channel between Loop 610 and Beltway 8.
The SmartPods were born of frustration with the limitations of tents that traditionally house the clinics Baylor Global Initiatives doctors use in Africa and that are modeled on traditional Mobile Army Surgical Hospital units.
Dr. Paul Klotman, president of Baylor, noted at a ribbon-cutting ceremony at the Aldine pod Tuesday that, until now, MASH tent cities remained essentially the same as in 1945, when famed Houston surgeon Michael DeBakey helped developed them.
In Africa, where Anandasabapathy worked in such tents this century, the power routinely went out, and water or wind would penetrate clinic rooms when the weather was bad.
"I'd be scoping patients and the power would keep going out," said Anandasabapathy. "Because the infrastructure wasn't good, I couldn't complete my cases, couldn't do them safely. I realized we needed better facilities than a tent, something with more reliable power and water."
On HoustonChronicle.com: Baylor College of Medicine gets grant to construct pods to battle Ebola
Anandasabapathy noticed the shipping containers at the Port of Houston and other ports around the world. They offered the kind of portability and flexibility the clinics needed, she figured.
That was about 2010. She put the idea into action a few years later when Baylor won a grant from the U.S. Agency for International Development, challenged by President Barack Obama to find new methods to combat the Ebola outbreak. The resulting units were validated by NASA engineers, who conducted drills with Baylor clinicians and medical students. By 2015, Baylor was using four of the pods in Liberia.
Word of mouth about them was so good that the Southeast Texas Regional Advisory Council, the organization that oversees the region's medical emergency response, asked Baylor for one following Hurricane Harvey. The advisory council was frustrated that the construction of tent cities was taking too long. Baylor could only tell them that all of the pods were in operation in Africa.
The pods were always planned for remote areas, but when Baylor showed them to Garcia, significantly before COVID-19 emerged, "a light bulb went on." A self-described public health care baby, Garcia had come to the conclusion that the county could never support a Precinct 2 brick and mortar hospital, which he didn't think was the best way to provide health care to area residents anyway. The pods seemed a better alternative.
After all, he thought, what could be a better resource in an area where so many lack the insurance or transportation to get treatment at the Texas Medical Center? For example, given an environmental disaster near the Ship Channel and need to test people for chemical inhalation, all the precinct would need to do is fold the pod up and bring it close to the site. If the need is greater, officials can link a number of the pods together.
"We know this pandemic will end at some point, but the lack of access to care will remain," Garcia said at the ribbon-cutting ceremony. "The best part of the SmartPod is that it's adaptable — we can use it for COVID testing now, then transform it to do preventative care. With its installation, we break down one more barrier and bring access to where it's needed most."