How Sports Nutrition Companies Are Adapting to Coronavirus Outbreak
As Sam Diaz crossed the finish line of the U.S. Marathon Olympic Trials in late…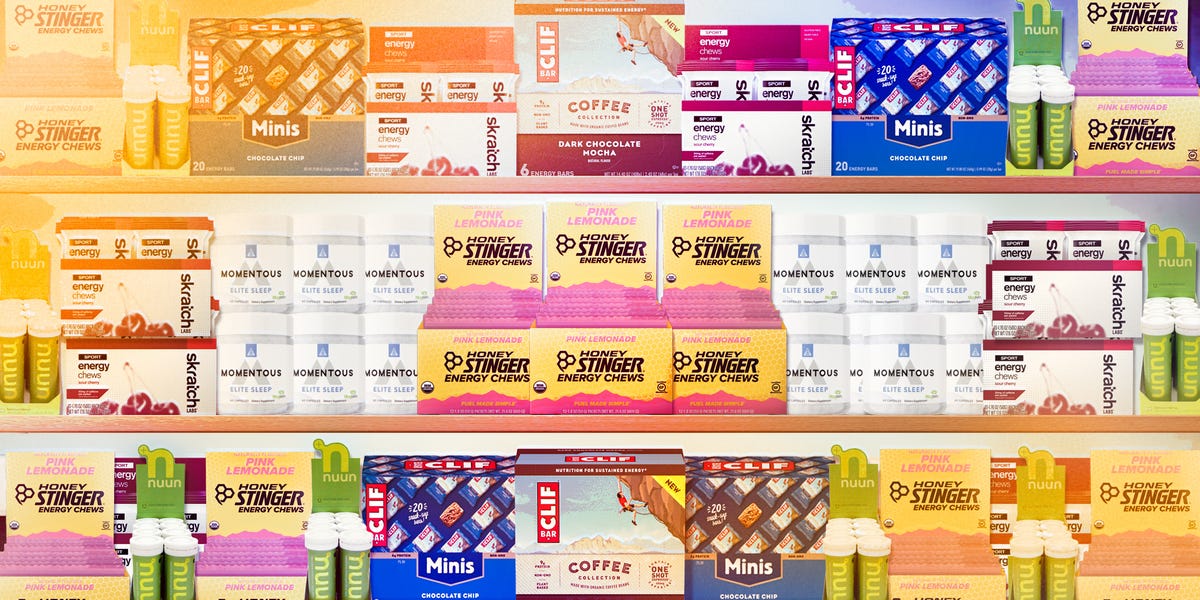 As Sam Diaz crossed the finish line of the U.S. Marathon Olympic Trials in late February–a day she had been preparing for for months–she was already plotting her next race. What she didn't expect was how fast things would change in the following weeks, nor what racing would look like come summer.
Diaz wanted a chance to redeem herself after an unfortunate "off" day at the Trials. Fast forward six months, and she's dabbled in virtual races and socially-distanced staggered starts, but says that while organizers have done a great job of balancing safety with an atmosphere of competition,"it's still not the same as toeing the line."
Back in March, changes due to the coronavirus outbreak hit the running community (and the entire world) fast. Health officials ordered lockdowns and social distancing, gyms closed, and races were cancelled. Now, as states continue to re-open safely while keeping their infection and death numbers down, the changes are ongoing, but people are still getting out to exercise.
"One thing we noticed right away was how many people were still moving, despite not having races," said Magda Boulet, former U.S. Olympian, and Vice President of R&D at GU Energy Labs who runs 60-mile weeks on her home trails around Berkeley, California. "I saw families outside together and people trying to stay active, closer to home. I started to call this the 'movement movement.'"
Boulet's observation is not off. The health and fitness tracking brand FitBit reported greater levels of activity in June versus the beginning of the pandemic in April. Even without races and events for the rest of the year, runners are still running, and many formerly non-runners have since taken up the sport. In May, Garmin reported a similar trend, publishing data that shows worldwide activities were up by 24 percent.
More people running is a good thing overall, but without races and large events that sports nutrition brands like GU rely on as a key component to their businesses, everyone in the running community has had to adapt—especially race organizers.
Tim Cole, a previous race director for the Oakland Marathon, was overseeing brand partnerships at Mascot Sports when shutdowns began spreading like wildfire. "We got the sense pretty early that this wasn't going to be a short pause," said Cole. "Wanting to be proactive, we canceled races and offered free deferrals, trying to not leave racers in limbo. The entire events community started thinking virtual almost overnight."
Cole's former colleagues at the Oakland Marathon initially postponed the race (typically run the last weekend in March), but were slow to offer a virtual alternative. "At the time it was a balancing act. Virtual racing doesn't have the same participation as live events, so the decision wasn't easy for a lot of these races," said Cole. "But it didn't take long for virtual races to gain real traction. People still want a sense of belonging, whether that's a virtual marathon or something totally new."
For many runners, virtual races filled an important role while traditional races were off the table. "Participating in virtual events has been a rewarding way to stay connected with the community and run with greater purpose," said Tim Tollefson, professional runner for Hoka One One. "During the final few miles of a virtual marathon I did, knowing others were out suffering at the same moment, helped to suppress negative thoughts that can lead to a DNF or lower performance."
Other than a handful of holdouts, most race directors followed suit, moving from analog to digital. Nutrition brands, recognizing that the old model of putting an emphasis on events and aid stations wouldn't be in the cards for a while, hopped on-board.
"Many race directors have looked to create something similar online," said Boulet, "and we're trying to meet them there, supporting virtual races by sending goodie bags to racers. We're trying to give racers a similar experience, or at least as close as it gets."
For organizers and sponsors alike, the partnership between New York Road Runners and Strava is a north star, because it was successfully running virtual races with good participation before the coronavirus outbreak hit.
"With races canceled and running stores closing so fast, we had to shift online, quickly testing ways to support athletes on platforms like Zwift and Strava," said Elliot Freeman, Vice President at Skratch Labs, "But entering this scene has been a learning process. We had to do our homework as fast as we could."
Some nutrition brands made educated guesses that turned out to be home runs. "We didn't know what was coming, but we took an early guess that at-home workouts and virtual events were the future, so we leaned in," explained Mike Keown, CEO of Honey Stinger. To date, Honey Stinger has led the way on virtual event sponsorship, participating in more than 30 online races.
"Many of our event partners got creative on how to build community through online events and we did our best to support," said Keown. "One of our marquis partnerships is with Spartan, and they've done a fantastic job with virtual races." Honey Stinger also worked with their athletes to encourage online racing.
---
---
For example, Mario Mendoza set a new 100K treadmill world record and Courtney Dauwalter ran 100 miles around her neighborhood, to simulate an ultra. "Choosing to run that far on a treadmill was definitely influenced by not having races," said Mendoza. "It was a way to go after a goal without them. Right now I'm looking at some FKTs in the mountains–and I suppose if we still can't race in the winter, I'll consider another treadmill distance, but hopefully I don't have to," he joked.
"It feels a bit different using your house as an aid station," added Dauwalter, who has taken part in two 100-mile virtual races during the pandemic. "For the Aravaipa 100, I was just running laps around my home trails here in Colorado but was amazed at the sense of community. That's what I've really missed with not racing every weekend. Community makes these big efforts much more fun."
For Bend-based amateur Alli Miles, the pandemic has offered a chance to experiment. Along with virtual races, Miles says that this race-less summer has allowed her to try different things with her nutrition–everything from different brands to being more regimented with her eating. "I knew I needed to work on nutrition, but with lots of training and no real races, I've had plenty of opportunities to get it more dialed," she said.
Miles has opened up to new opportunities, saying yes to challenges and training plans she might not have otherwise. "I've pushed mileage and overall training volume to see what my body can handle. It's been a good time to try to find out what is sustainable and what is too much," she added.
To address runners like Miles looking for more education around running nutrition, Skratch Labs started hosting webcasts for all skill levels. "We've seen participation from both ends of the spectrum–new runners just getting started and, surprisingly, pro athletes who are training more, possibly because they don't have to taper for races. This is everyone's chance to experiment with new types of training and nutrition. We're trying to offer them some education on ways to fuel the right way," said Freeman.
Representatives from Gatorade Endurance echoed this need for more information during a time in-flux. The team is focusing on practical ways to help athletes stay consistent with training through content like "Fit Libs," a series of workouts to inspire at-home activity and "Training for Life," a series about the ebbs and flows of an endurance athlete and tips to avoid burnout.
Sign Up With Runner's World+ for the Latest Training Tips and Nutrition Advice!
While some brands have prioritized education as a way to serve their community, a few have taken it a step further by giving back. Nuun has provided over 100,000 tablets to front line workers since the beginning of the pandemic and GU Energy Labs has donated care packages to more than 100 medical care facilities.
Forgetting about races entirely, Clif Bar transitioned operations almost overnight to address the looming food scarcity issue. "We saw food shortages and saw an immediate need to donate food to people who are serving our communities," said Drew McGowan, the Communications Lead at Clif Bar. Clif sent energy bars to food banks and the healthcare community, then to families and children in need.
"The bottom line is that we make food. People needed food right away, especially in places like New York. We couldn't wait two months. We used personal connections our employees had to make it happen quickly. This shifted the focus of the entire company," explained McGowan. "We saw a food scarcity issue that was exacerbated with COVID, and we knew we had to act immediately."
"Our typical consumers are athletes, adventurers, and anyone who cares about the food they put in their bodies. We go to races, sample products, and focus on fueling athletic endeavors," said McGowan, "But for now, we're focused on helping people get through this. To date we've donated 14 million bars."
The biggest trend is that no one knows what the future will hold or when races might come back. For now, virtual races, online education, and digital communities are here to stay.
"The full impact of canceled races is still to be seen, but we know we're in this for a while. I think the shift toward wellness over strict regimens is here to stay" said Boulet. "After 15 years working at GU with a constant focus on big races, I've been surprised at the community built online."
For elite amateurs like Diaz and runners like Miles, dabbling in new types of races and routines has become a unique opportunity during the pandemic. Continuing to work remotely with her coach and Idaho Distance Project team, Diaz won the local hill climb and has her eyes set on an FKT attempt later this fall.
"Any opportunity to race and push the limits no matter the distance or terrain is exciting right now," said Diaz. "I'm grateful we have something to look forward to on the weekends, and it's fun to compete with teams from all over the country. I guess we're all in this together."
This content is created and maintained by a third party, and imported onto this page to help users provide their email addresses. You may be able to find more information about this and similar content at piano.io