Hurricane Center: Chances for tropical development in the Caribbean Sea are going up | Hurricane Center
The chances of a tropical depression forming in the Caribbean Sea this week are increasing,…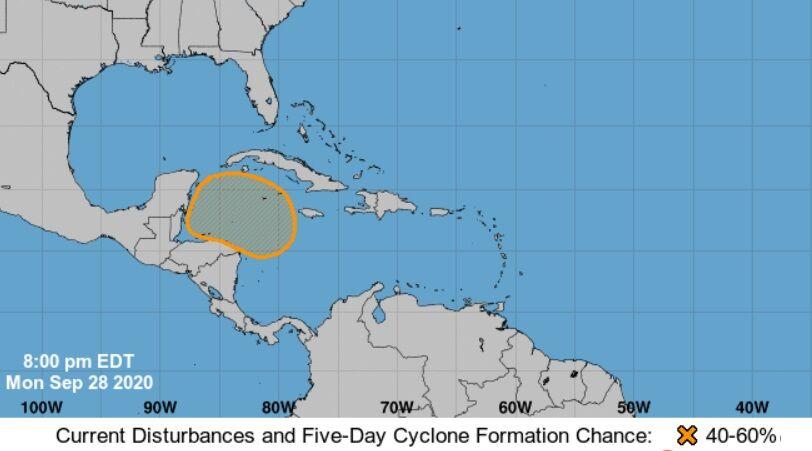 The chances of a tropical depression forming in the Caribbean Sea this week are increasing, hurricane forecasters said Monday night.
The disturbance catching the National Hurricane Center's attention has a 50% chance of developing into a tropical depression within five days.
Update: Tropical depression could form late this week in Caribbean
As of 7 p.m. Monday an area of low pressure is expected to form over the western Caribbean in a few days, NHC senior hurricane specialist Eric Blake wrote, and environmental conditions are forecast to be conducive for some development, leading to a depression possibly forming late this week or this weekend.
It's too early to tell if the system could impact the Gulf Coast. The shaded area on the graphic is where a storm could develop and is not a track. The NHC releases a track when a tropical depression forms or is about to form.
No other tropical cyclones are expected to form in the next five days in the Gulf of Mexico, the Atlantic Ocean and the Caribbean.
The threat of another tropical system continues the theme of a historically active hurricane season.
This season there have been 23 named storms, which is already roughly double the number for a normal season. The most recent storms were Alpha and Beta.
The next named storm will be Gamma.
The only other time the Greek alphabet was used was the 2005 season. The last named storm that season was Zeta, which didn't dissipate until Jan. 6, 2006.
The Atlantic hurricane season ends Nov. 30.
Don't miss a storm update this hurricane season. Sign up for breaking newsletters. Follow our Hurricane Center Facebook page.
Staff writer Carlie Kollath Wells contributed to this report.