Hurricane Center: Tropical depression could form late this week in Caribbean | Hurricane Center
A tropical depression could form late this week or this weekend over the northwestern Caribbean…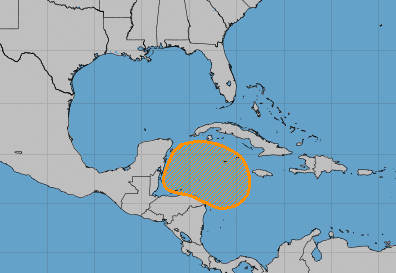 A tropical depression could form late this week or this weekend over the northwestern Caribbean Sea, the National Hurricane Center said Tuesday morning.
It's too early to tell if the system could impact Louisiana or the Gulf Coast. The shaded area on the graphic is where a storm could develop and is not a track. The National Hurricane Center releases a track when a tropical depression forms or is about to form.
As of 7 a.m. Tuesday, the forecast called for a broad area of low pressure to form over the Caribbean in a few days.
Environmental conditions are expected to be conducive for "some development" as the system moves slowly northwest, according to Richard Pasch, a senior hurricane specialist with the National Hurricane Center.
The disturbance has a 50% chance of developing into at least a tropical depression within five days.
If it strengthens into a tropical storm, it will most likely be named Gamma.
No other tropical cyclones are expected to form in the next five days in the Gulf of Mexico, the Atlantic Ocean and the Caribbean Sea.
The Atlantic hurricane season ends Nov. 30.
Don't miss a storm update this hurricane season. Sign up for breaking newsletters. Follow our Hurricane Center Facebook page.
Carlie Kollath Wells is a morning reporter at NOLA.com and The Times-Picayune | The New Orleans Advocate.