'If she had been able to talk, she would be here now': the dads calling on UK schools to teach suicide prevention | Mental health
When Mike Palmer became a dad, he did everything he could to protect his daughters….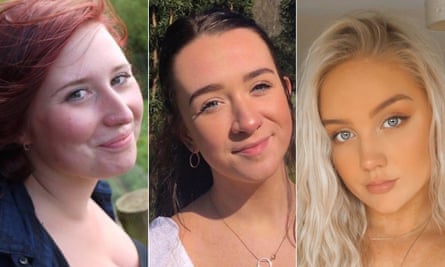 When Mike Palmer became a dad, he did everything he could to protect his daughters. From giving them lifts to doling out advice and making them do martial arts, he thought he was preparing them for life. Now, looking back, he believes he had a blind spot. "Unfortunately I was living in ignorant bliss," the 58-year-old firefighter from Manchester says.
While Mike was alive to the risks posed by drugs, knife crime and speeding cars, it was only after his youngest daughter, Beth, took her own life that he learned suicide is the biggest killer of under-35s in the UK.
Beth, 17, was an aspiring singer who was "popular and larger than life", her dad says. She had been unsettled by the first Covid-19 lockdown – the cancelled gigs, festivals and birthday plans – but her family did not know how badly she was struggling. "The biggest danger to Beth was herself, and I completely and utterly missed it," Mike says. "If I'd been more aware I would have asked the right questions, I think. And I think if she had been able to talk about her feelings earlier she would still be here now."
Three years on from losing Beth, Mike is devoted to preventing other young people from taking their own lives. He is one third of Three Dads Walking – a fundraising alliance-turned-campaign group which has already raised more than £1m for youth suicide prevention charity Papyrus through two UK-wide walks – and is now lobbying government to make suicide prevention a compulsory part of the national schools curriculum.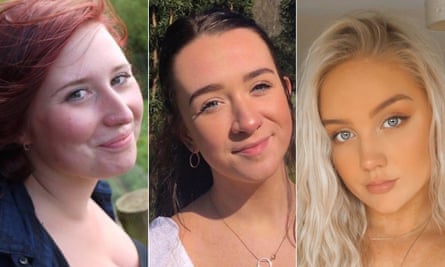 Mike's co-campaigners – Cumbria businessman Andy Airey and Tim Owen, who lives in Norfolk and is in the RAF – also lost daughters to suicide. Like Mike with Beth, they believe that had their daughters, Sophie and Emily, been able to share their problems and ask for help, there is a small chance things might have been different. "Had Em had the tools in her own toolbox to deal with it … I'm not sure it would have [saved her]. But it could have," says Tim, 53, whose daughter Emily – "a fantastic artist" who was "so kind, so generous" – died on 22 March 2020, six days before Beth.
Andy, 62, whose "lovely" daughter Sophie, 29, took her own life 15 months earlier, agrees. "We need to train people that the right thing to do is to ask for help rather than trying to solve every problem yourself," he says.
When it comes to the fine details of what compulsory suicide prevention lessons would include, the dads defer to experts. "We're not teachers, health professionals or suicide prevention professionals; we're just three dads who have lost our daughters to suicide," Tim says. But they say age-appropriate material already exists, because charities often get called into schools to deliver suicide-prevention training after there has been a death. "Why don't we allow that to be delivered before the young person takes their own life?" Tim adds.
Above all, they advocate a no-nonsense approach. Currently, schools in England are required to teach primary and secondary pupils a mental wellbeing module as part of their relationships, sex and health education (RSHE) lessons. But often the materials skirt the issues around suicide rather than tackling them head on, the dads say.
Instead they argue that children should be engaged in frank discussions within a safe, controlled environment – and they fear that failing to mention "the S word" is doing more harm than good.
"It's absolutely plain stupid," Andy says. "When someone goes into that downward spiral, if we've not talked to them about suicide in a safe and controlled manner, where are they going to go next? They'll get their phone out of their pocket and Google 'suicide'. And we know how destructive allowing people into that world without support is."
They also believe the groundwork needs to be laid young. Sessions for younger children would not include reference to suicide but could help pupils build resilience and aim to instil "help-seeking behaviours". For older pupils, the focus could be on sharing facts about self-harm and suicide, busting myths, sharing tips for spotting when they or someone they know is struggling and signposting to services that can help.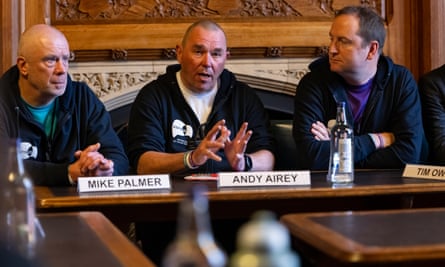 There are obvious safeguards: materials must never refer to methodology or glamorise self-harm or suicide, and any sessions should be accompanied by wraparound training for teachers and pastoral support. Chris Wood, co-founder of Every Life Matters, a Cumbria suicide prevention charity, believes it would be best for external providers to give the sessions to ensure they are safe. "We wouldn't encourage schools to do this in-house: it's easy to get the messaging wrong, and there are more risks," he says.
But the dads – whose calls are widely supported by experts in suicide prevention – believe that, if implemented with care, making such lessons compulsory could help shatter the stigma surrounding suicide for future generations. "It's about investing in our young people," says Mike. "These young people will become our mothers, fathers – they'll sit in our place one day. And if we instil these life skills in them early, they will grow up to be happier adults as well."
They also reject concerns raised by some that having frank discussions about self-harm and suicide will "plant the idea" in children's minds. In reality, they argue, children are often exposed to materials relating to self-harm and suicide online – and an estimated one in five people has suicidal thoughts in their lifetime – so talking about the issues, rather than ignoring them, is the responsible approach. A literature review by Cambridge University exploring the impacts of similar interventions suggested that acknowledging and talking about suicide may in fact reduce, rather than increase suicidal ideation.
Wood from Every Life Matters says this mirrors his own experience in schools. The charity mainly offers sessions for year 10 and 12 pupils, typically delivering three sessions spread over several weeks to give the children "time to reflect and process". However the charity recently gave an assembly for about 200 year seven pupils. "At the end we had 23 pupils come up to us and ask for more information," Wood says. "If you start the conversation, people will come forward off the back of that."
For the three dads, there are signs that campaign success may be on the horizon. In late 2022 they launched a petition calling on the government to make suicide prevention a compulsory part of the curriculum. Six months on, it has been signed more than 160,000 times.
On 13 March, they travelled to Westminster to watch as the issue was debated by MPs across the political spectrum. The Department for Education has said it will consider suicide-prevention lessons in an upcoming review of RSHE, with the dads set to meet education secretary Gillian Keegan to put forward their proposals.
Rishi Sunak has agreed to meet them on Tuesday 25 April to discuss their campaign, telling MPs last month that the government was "taking action to improve mental health services for young people and that he would be "delighted" to meet the dads to "discuss what more we can do".
Mike, Andy and Tim acknowledge that making any changes to the law would be "ridiculously slow". But they say altering the curriculum, rather than legislation, could be done more quickly – and hope ministers won't need to ponder the topic for long before taking action.
"Talking about suicide and giving people options about where to go for help will save lives," says Tim. "It's just obvious. We talk to kids about all these other risks – road safety, knife crime. Why don't we make them aware that the biggest risk to them is themselves?"