Kelli Foster, Running Coach and Fitness Blogger, Shares the Healthy Choices She Makes Each Day
Wellness is a major buzzword these days, but it can mean a little something different…
Wellness is a major buzzword these days, but it can mean a little something different to everyone. Does it stand for self-care and restoration, or is it more about strength and endurance? So, we created a series breaking down the healthy habits of local influencers and entrepreneurs, allowing them to define what wellness means on a personal level.
Fitness blogger and running coach Kelli Foster (@runwithkelz) was born and raised in Dallas. By day, she's an elementary school teacher; she's been with Dallas ISD for 16 years and is currently pursuing a Ph.D. in Educational Policy Studies. In her spare time, she shares running triumphs and struggles through her Instagram account, fosters a diverse community of female runners through her organization Sol Sisters Run, and–no big deal–trains for ultra-marathons.
Last year, Foster traveled everywhere from San Francisco to Atlanta to participate in eight races, and though running looks a little different in 2020, Foster hasn't slowed down. Here, she shares how she prepares for race days, how she stays motivated, and her advice for first-time runners.
This interview has been edited for length and clarity.
What inspired you to start running?
I was born with severe asthma. When I was younger, I had frequent episodes and would miss weeks of school while hospitalized for breathing problems. My doctor told my parents that putting me in sports would help me learn to control my breathing and lessen the severity of my asthma attacks, so they put me in soccer and track at a young age. I started running school and summer track at age 8 and raced long distances all the way until I graduated from high school.
What kind of friendships have you made through running?
If your running doesn't hurt or push your limits, you aren't living up to your full potential.
In 2015, I started running with a DFW run group called We Run Things. Shortly after joining, I became one of the run leaders. Through this group, I was introduced to 5Ks, 10s, half marathons, and marathons. In 2016, I convinced five of my fellow runners to sign up for our first marathon in Los Angeles in March 2017. We trained together, traveled together, and we all crossed the finish line. That bond and the feeling of accomplishment is one that I will never forget. My running life was ignited from there. 
Since then, I've met an awesome group of women in the running community. We all have similar goals: to train, do our best, run the six world major marathons, and encourage each other. Along the way, we became friends and lifelong sisters.
In January, we decided to create a run crew in DFW to cheer on women who are getting into running. This is how Sol Sisters Run was born; it's a movement to connect, empower, and motivate a diverse sisterhood of runners. We meet for speed workouts and run at different trails around DFW. Due to the pandemic, we haven't been able to do our group runs since March, but we hope to be able to start as soon as conditions are safe.
In addition to leading Sol Sisters Run, I am an RRCA (Road Runner Coaches of America certified run coach) with Dallas Running Club.
How do you prepare for a long run or a race?
Preparing for long runs is a weekly routine, and once you get into the habit, it sticks with you. I run at least four days a week with Friday as a rest day. My Friday nights have been dedicated to going to bed by 10 for over a year, and on Saturday mornings, I get started around 6:30 a.m. to prep for an 8- to 15-mile run. I wake up an hour early and stretch, make a peanut butter sandwich, and drink water with a NUUN hydration tablet on the way to the running location.
Preparing for a race is a little different. Whether it's a 10K, 15K, half, or marathon, the week before the race is the most crucial for rest and nutrition. I get seven or eight hours of sleep each night, increase my daily water intake, and start drinking my hydration [tablets]. I also eat one or two pasta meals daily at least three days before my race to carb-load.
I taper my runs that week so I'm not doing so much mileage and keeping my legs fresh for the race. On the morning of a race, I wake up two hours early, eat a peanut butter and banana sandwich, and drink water with Tailwind hydration on the way to the race location. I try to get there early because I am always nervous, no matter how many races I have completed.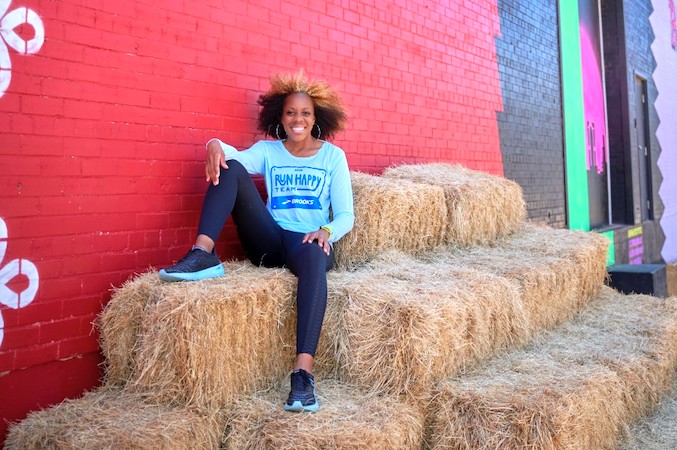 How do you modify your routine in the summer?
The summer heat makes running dreadful! It can have detrimental effects on our bodies. I won't run anything over a half marathon, and there are very few road marathons or ultras in the summer. I drink plenty of fluids all day, every day, when I know I'll be in the heat. On the run, I carry water and take frequent breaks to hydrate. Also, I try to wear a hat while running to block the sun. For long runs, I've switched over to getting up and starting these runs at 5 a.m. and on Saturdays to beat the heat.
How do you stay motivated on days when you just don't feel like running?
We all have good days and bad days, so sluggish and unmotivated days creep in every once in a while. Usually, I run with one or two other people, like my other Sol Sisters Run leaders. They serve as my accountability system. I know they will be looking for me and calling me if I don't show up.
The social aspect is key to keeping my training on track. While we run, we talk about our races, our training, our jobs, our families, and our lives. Before we know it, we've run about 10 miles. Also, I think about how good I'll feel after I finish my run and that I will have the remainder of my day to rest. If I still need a little push and distraction, I'll wear headphones to help get my mind into a better mode through music.
How do you like to unwind when you have downtime?
When I have downtime, I love to rest! I'm a homebody. I love staying in and watching movies. I'm also a foodie, so I love to go out around DFW and try different restaurants and types of food.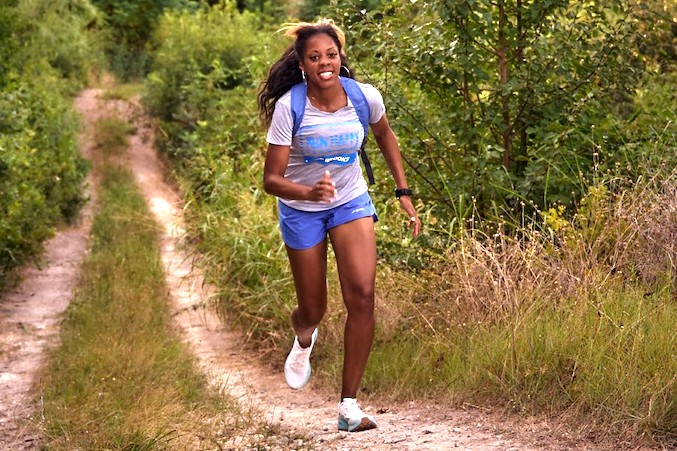 What's the best workout-related purchase that you've made recently?
I'm 100 percent a Brooks girl: bras, socks, shorts, tops, and especially shoes. My go-to shoes for marathons are the Brooks Adrenaline and Brooks Ghost. They're cushioned, durable, and keep my ligaments, feet, and legs stable and comfortable to endure the intense mileage of a marathon and ultra-marathon. Even in the pouring rain, hail, sleet, and cold, they kept me going. I recently purchased the new Brooks Hyperion Tempo; they are so light and have a carbon plate in their design, which helps spring you back up with each step and propel you forward.
Any words of encouragement for those who are intimidated to start running?
Hey, you have to start somewhere. I started out walking and got to the point where I was running a mile, then walking a mile, then running 3.1 miles nonstop and trying to increase my speed each time.
The best advice I can give is to hang in there when it gets tough. If your running doesn't hurt or push your limits, you aren't living up to your full potential. "You have to hurt before you can get to the glory," applies to running, training, and accomplishing your goals.
But the results are the best thing you could ever add to your life. Bettering your health, improving quality of life, reaching heights you never imagined, creating a community of friends, and building self-assurance and self-esteem as you crush your running goals. There's no better feeling in the world. This is one of the reasons why I keep running and keep pushing my limits–it has influenced my entire life in the best possible ways.