Ky. deputy speaks out about amputation, mental health after ambush shooting
By Sarah Calams Police1 FLOYD COUNTY, Ky. — Five months ago, three Kentucky law enforcement officers and…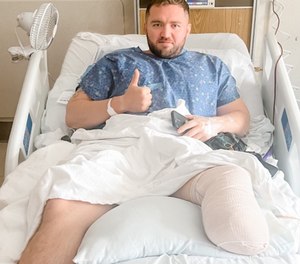 By Sarah Calams

Police1
FLOYD COUNTY, Ky. — Five months ago, three Kentucky law enforcement officers and a K-9 were killed after a man with a rifle opened fire while they attempted to serve a warrant. The incident marked the deadliest police shooting in Kentucky history. Five other officers were wounded, including Floyd County deputy Darrin Lawson.
Lawson, who was shot in the leg during the ambush of gunfire on June 30, underwent several surgeries to try to save his leg following the shooting. However, he recently made the decision to amputate his left leg below the knee.
"The doctors thought it would kind of make it worse mentally if I took it off, but it's actually been the complete opposite. I'm in a much better place now that it's gone and I don't have to see it every day," Lawson told WSAZ.com.
Lawson said he also made the decision so he wouldn't miss out on moments with his 3-year-old daughter: "I actually missed her birthday. We had a bunch of inflatables brought and put up out back. I couldn't even go outside so that day pretty much sealed the deal that it was coming off."
Lawson started therapy two months ago to work on the emotional toll the shooting took on him.
"Everyone has listened to what I had to say and they're always going to be there," he told WKYT.com. "That scar on Floyd County is always going to be there, that scar on me is always going to be here, it's never going away. You just have to do what they'd want you to do which is move on the best we can."
Lawson will soon begin the process of getting a prosthetic and will work on learning how to walk again. Ultimately, his goal is to return to the Floyd County Sheriff's Office: "I can't wait. I think about it every day."
PREVIOUS: Ky. deputy wounded in ambush shooting undergoes surgery to amputate leg