Man killed on video in St. Louis was 'brilliant' businessman with untreated mental illness
ST. LOUIS — David Saldana's mom began to notice some unusual behavior by her son…
ST. LOUIS — David Saldana's mom began to notice some unusual behavior by her son around the time he turned 33. It started with a phone call where he warned her the moon was going to crash into the Earth.
About a year later, she went to her son's home and found he'd removed all the outlets from the walls while looking for cameras. He thought his neighbors were spying on him to take pictures of the ideas in his mind.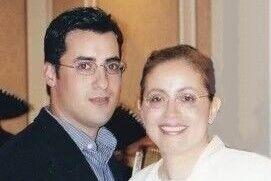 "That's when I realized the problem was real," his mom, Aurea, told the Post-Dispatch. "You know, sometimes as a parent, you want to think, 'This is just temporary. He'll get better.'"
The incidents marked the beginning of a decadelong spiral that ended with Saldana being shot and killed in the middle of the day while he sat on a curb near Tucker Boulevard and Convention Plaza.
Saldana, 46, was living on the streets of St. Louis at the time of his death. So was the suspect, 23-year-old Deshawn Thomas, who was arrested hours later.
Saldana's death gained national attention after a bystander video of the shooting circulated widely online.
Aurea requested the Post-Dispatch not use her last name to avoid online harassment.
Why Saldana, a longtime Massachusetts resident, came here in the first place — and what he did for the few weeks he was here — remains a mystery. He did not have friends or family in the area, his mom said.
Aurea emphasized her son's death could have been avoided if he had accepted help and been willing to take antipsychotic medication.
Saldana, she said, was a brilliant man with a knack for business.
He graduated from New York's Baruch College in 2003 with a finance degree and landed a job at a bank as an underwriter. He then started an online company selling residential and commercial mailboxes, and the business took off. It was successful for almost a decade, Aurea said, employing dozens of people at its peak.
Online records indicate he registered several more businesses in Massachusetts during the 2000s and 2010s, though none were as successful as his mailbox company.
Around that time, Saldana married his first wife and they bought a $500,000 home in Massachusetts, according to property records. A year later, in 2007, they welcomed his only child, a daughter. She is now 15 and lives in New York.
"She is his legacy, honestly," Aurea said, noting her family has set up a GoFundMe for the teen's education. "She is very smart, beautiful, kind and sweet."
But soon after his daughter's birth, delusional thoughts and erratic behavior began to unravel the life Saldana had built for himself, Aurea said.
Saldana and his wife divorced when his mental health struggles became too much, Aurea said. He married again a few years later, but that relationship also felt the strain of his mental illness, and it ended in divorce in 2017.
Aurea said over the years Saldana would check in to hospitals and begin treatment, but he would stop taking his antipsychotic medication when he left the facility because he didn't like the side effects. He would then slip into another psychosis, Aurea said, each lasting a little longer than the one before.
"I kept saying, 'David if you take your medication you will have clear thoughts and make good choices for yourself,'" Aurea said.
Saldana would tell her God made him the way he was and he shouldn't have to change himself.
In the months before her son's death, Aurea struggled to keep in touch with Saldana.
He was committed to a Massachusetts hospital in September. He was released in October, and Aurea thinks he then went to New York before traveling to New Jersey and Virginia.
From there, likely in early January, he took a bus to St. Louis. Whenever Saldana would arrive in a new town, Aurea said, she would look up local resources for homeless people and send them to her son, but he was never interested in receiving help.
Saldana called Aurea on Feb. 3 and told her he was staying at a hotel in St. Louis. He said he would soon run out of money and begin living on the streets. He had idealized homelessness for the past two years and thought living on the street would be "liberating."
Throughout February, Aurea said she would wire Saldana money each morning and evening to buy meals. Twice she gave him money to take a bus or train to Texas to see his ex-wife, but he told her he was refused a ticket. She said he often lost items such as his phone, wallet and identification.
Saldana would never tell Aurea exactly where he was because he didn't want her to bring him home or put him in a hospital.
Then, on the night of Feb. 27, she got the call that he was dead.
In the video, Saldana can be seen sitting on the curb as the shooter stands near him, talking on a phone and struggling to load a gun right before he shoots Saldana. Police said the two had been arguing across the street before the video began.
The shooter fires once, and the person recording the video shouts, "He just (expletive) killed him!"
"I don't think my son could tell just how dangerous this man was in St. Louis," Aurea said. "I guarantee you he had no idea the type of danger he was in even conversing with this person."
Aurea said she wanted to share her family's story to help others who are trying to help a relative struggling with mental health.
"I'm sitting here talking about this because I want to shine a light on mental illness," she said. "It doesn't have any barriers — it'll affect any race, any economic level, any gender."