Meet Ruth Bader Ginsburg's Personal Trainer, Who She Called 'The Most Important Person' in Her Life
Supreme Court Justice Ruth Bader Ginsburg, who died on Sept. 18 at age 87, worked…
Supreme Court Justice Ruth Bader Ginsburg, who died on Sept. 18 at age 87, worked hard and worked out – according to her personal trainer Bryant Johnson – even harder.
Ginsburg referred to Johnson, after her family of course, as the most important person in her life.
Meet the man who kept RBG fit.
Who is Bryant Johnson?
Although Bryant Johnson has spent a good part of his life (30 years to be exact) in the US Army, his fame of late has come thanks to his association with the late Supreme Court Justice Ruth Bader Ginsburg.
Johnson, in his mid-50s, had been working with Ginsburg, keeping her fit since 1999. At that time, the judge had been recovering from cancer and wanted to feel stronger.
In a 2019 conversation with Orrick Careers Podcast, the fitness trainer described the judge's quiet commitment to doing the work of getting stronger.
"I met her," Johnson said of Ginsburg, "sat down, talked to her for a brief moment, she's very quiet, soft-spoken. Asked me, 'How many days a week do you think I should work out?' I answered 'At least two times a week.' She looked at me, she nodded her head, I gave her some papers to fill out and then we started."
Johnson's clientele grew thanks to word of mouth
Ginsburg wasn't Johnson's only judicial client. The trainer also works with, according to The Washington Post, US District Judges Ellen S. Huvelle, Emmet G. Sullivan, and Gladys Kessler.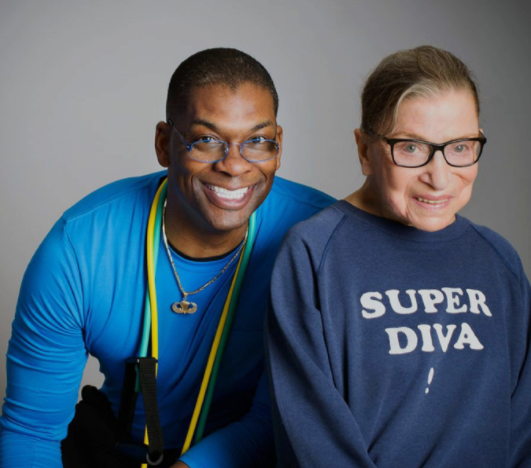 RELATED: Jennifer Lopez's Emotional Post at the Death of Ruth Bader Ginsburg: 'I Will Always Remember What She Said'
Kessler referred Ginsburg to the trainer, and Ginsburg in turn referred her Supreme Court colleague, Elena Kagan, to him as well.
The name of Johnson's business is a clever play on the professional makeup of a large majority of his clients: Body Justice.
He wrote a 2017 book called The RBG Workout: How She Stays Strong . . . and You Can Too! The illustrated how-to guide reveals the workout that gave Ginsburg a strong sense of well-being in the midst of her battles with cancer.
From "real" push-ups to full planks to medicine ball work, Justice Ginsburg's workout was not for the faint of heart.
Ruth Bader Ginsburg dead at 87
The news of Ginsburg's death at 87 shocked the world and the nation. She had been dealing with pancreatic cancer for years and the disease finally took its toll on her body.
Chief Justice John G. Roberts, Jr. said in a statement on behalf of his Supreme Court colleagues, "Our Nation has lost a jurist of historic stature. We at the Supreme Court have lost a cherished colleague. Today we mourn, but with confidence that future generations will remember Ruth Bader Ginsburg as we knew her — a tireless and resolute champion of justice."
Married to tax attorney Martin Ginsburg from 1954 until his death in 2010, Ruth was born in Brooklyn in 1933 and died surrounded by her family.