More Proof That High White Rice Intake Ups Type 2 Diabetes Risk
Consuming more than 3 cups/day of white rice significantly increases the risk of diabetes compared with…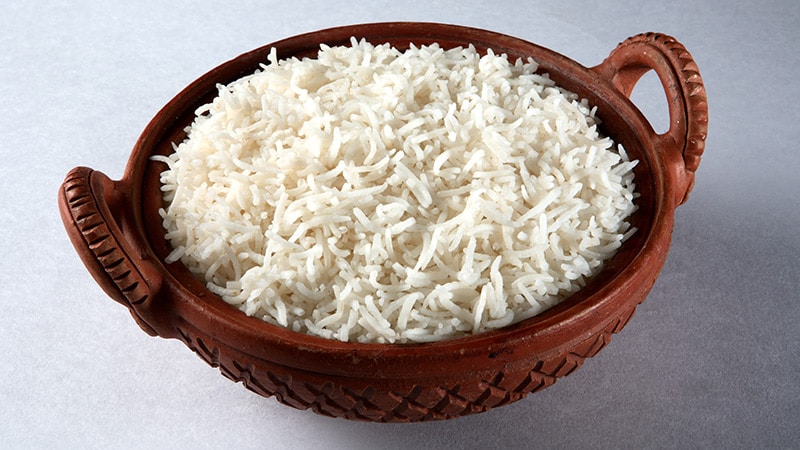 Consuming more than 3 cups/day of white rice significantly increases the risk of diabetes compared with eating lower amounts, a new analysis of the multinational, multiethnic Prospective Urban Rural Epidemiology (PURE) study suggests.
In addition, the results show that those living in South Asian countries ate the most white rice and subsequently had the highest likelihood of developing type 2 diabetes.
Compared with participants who ate less than 1 cup/day (150 g/day) of cooked white rice, those who ate more than 3 cups/day (> 450 g/day) had a 20% higher risk of developing diabetes over a mean follow-up of 9.5 years (P = .003).
However, among South Asian participants, who consumed a median of 630 g/day of white rice, the risk of diabetes was 61% higher compared to those who consumed less than 150 g/day (P = .02), Balaji Bhavadharini, MD, McMaster University, Hamilton, Ontario, Canada, and colleagues report in their article, published online in Diabetes Care.
As the authors point it, excess white rice consumption, in particular, is known to lead to postprandial glucose spikes. These spikes, in turn, trigger compensatory hyperinsulinemia to help maintain euglycemia.
"Over time, β-cells become exhausted, leading to β-cell failure and diabetes," the researchers write.
"Among people of middle and lower socioeconomic status, rice consumption is very high because other food choices — meat, fish, chicken, vegetables, and fruits — are all quite expensive," second author Viswanathan Mohan, MD, PhD, DSc, chair and chief diabetologist at Dr. Mohan's Diabetes Specialties Centre, India, told Medscape Medical News in an email.
"Hence, people make up the calories [they need] by eating 'polished' rice. What we are suggesting is that protein intake should be increased, and this can come…in the form of beans and legumes, which if consumed along with the rice, would help reduce the overall glycemic load of the diet," he added.
In South Asia, White Rice Can Make Up 75% of Daily Calories
A total of 132,373 participants aged 35 to 70 from 21 different countries were included in the new analysis, which excluded anyone with diabetes at baseline.
Cooked white rice consumption was categorized as less than 1 cup (< 150 g/day); 1 to 2 cups (150 to < 300 g/day); 2 to 3 cups (300 to < 450 g/day), or more than 3 cups/day (­> 450 g/day). In the overall cohort, the median consumption of white rice was 128 g/day.
Participants from South East Asia (Indonesia, Malaysia, Thailand, Vietnam, and Cambodia, among other countries) ate a median of 239 g/day of white rice, while those from China ate a median of 200 g/day, investigators note.
Those living in South Asian countries (including India, Pakistan, Bangladesh, Nepal, Bhutan, Sri Lanka and the Maldives) ate the most white rice, at a median of 630 g/day.
During the study interval, 6129 individuals developed incident diabetes.
Among those living in South East Asia, the Middle East, South America, North America, Europe, and Africa, the risk of diabetes was 41% higher among those with the highest levels of white rice consumption compared to those with the lowest levels (P = .01), the investigators report.
And as already noted, the risk was even higher, at > 60%, in those living in South Asia.
In contrast, the effect of consuming the greatest quantity of white rice versus the lowest on diabetes risk was minimal among Chinese participants and did not reach statistical significance, the authors note.
"There could be several reasons for this," Mohan said. "Firstly, the actual intake of white rice in China was substantially lower than it was in other countries, especially among those living in South Asia. Secondly, the type of rice the Chinese consume may be slightly different than elsewhere in that it is 'sticky,'" he speculated.
Probably more importantly, however, "in China, they do consume a lot of animal protein as well as vegetable protein," he noted.
In contrast, protein intake tends to be low and carbohydrate intake — mostly in the form of white rice — is higher in South Asia than in any other region of the world.
In fact, in South Asia white rice makes up 70% to 75% of a typical person's daily calorie intake, Mohan observed.
"Polished" White Rice Has Replaced Coarser Grain
As the authors point out, until a few decades ago, most of the rice consumed in India was pounded by hand, or "unpolished," and thus was a much coarser grain, similar to brown rice. But this fell out of favor because it's easier to store highly polished white rice than brown rice, which turns rancid more quickly.
In addition, there were only a handful of rice mills in India until the early 1970s, a situation which has now completely changed: there are now over a million rice mills in the country.
"This naturally led to increased consumption of high polished white rice," Mohan emphasized, "and in general, people like the color, taste, and smell of white rice better [than brown rice] plus brown rice takes longer to cook and is difficult to chew," he noted.
The solution to this public health conundrum is multifold. As Mohan sees it, the most obvious solution is to reintroduce brown rice as a widespread food commodity and make it less expensive than white rice.
Alternatively, food manufacturers could develop healthier varieties of white rice with resistant starch that would lower both the glycemic index and overall glycemic load, he observed.
People also need to be encouraged to increase their intake of beans, legumes, and other types of vegetable proteins or pulses, which in India include chickpeas, green gram, black gram, and thoor dal. When these are consumed along with white rice, it improves the overall quality of the diet and would be expected to reduce the risk of diabetes.
Lastly, people need to be encouraged to be more physically active, which would also help reduce obesity rates and with it, diabetes risk, Mohan emphasized.
The study was funded by a number of pharmaceutical companies including AstraZeneca, Sanofi, Boehringer Ingelheim, Servier, and GlaxoSmithKline.
Bhavadharini and Mohan have reported no relevant financial relationships.
Diabetes Care. Published online September 1, 2020. Abstract
For more diabetes and endocrinology news, follow us on Twitter and Facebook.