Nackey S. Loeb First Amendment Award: Journalism professor's 'exercise in democracy' | Education
Public records are a little more public in New Hampshire, thanks to a Keene State…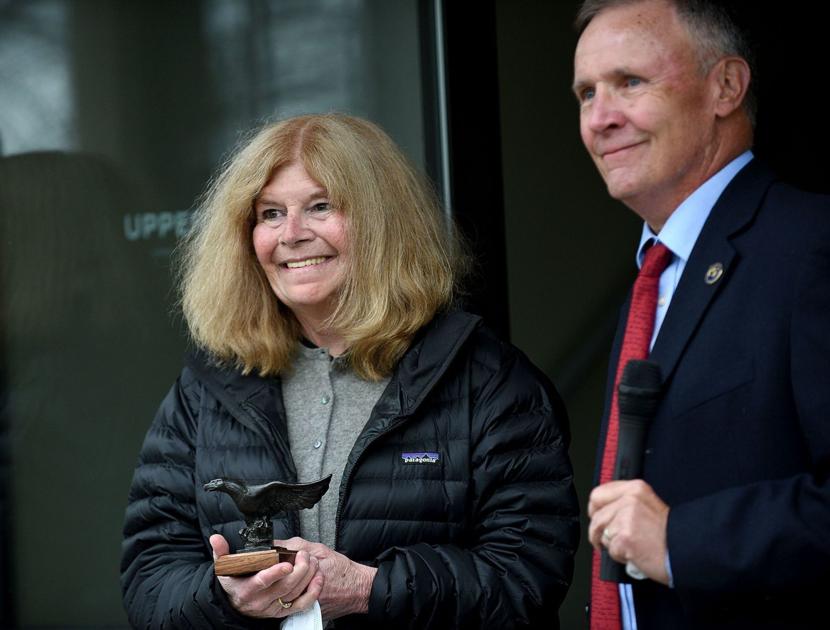 Public records are a little more public in New Hampshire, thanks to a Keene State College journalism professor who guided five students through a class assignment that turned into a three-year legal fight over the public's right to know.
Professor Marianne Salcetti is the 2020 recipient of the Nackey S. Loeb First Amendment Award for her efforts, which resulted in the release of records the city of Keene tried to avoid making public.
Salcetti almost didn't pick up her phone when she saw a call from a Manchester number in September. Probably a robocall. Maybe a pollster. But Salcetti answered anyway.
The caller was Laura Simoes, executive director of the Nackey S. Loeb School of Communications, with the news that Salcetti had been chosen as the winner of the First Amendment Award.
"I like the word 'gobsmacked.' I was gobsmacked," Salcetti said.
The award ceremony was held in the parking lot outside the Loeb School in Manchester on Oct. 2, with a handful of people straining to hear Salcetti speak over the whoosh of passing cars. In a normal year, dozens of people would have watched her receive the award on stage at the Palace Theatre in downtown Manchester and listen to remarks from a big-name keynote speaker.
Salcetti would have been in a dress, her daughter Mimi Rhines joked, not a puffy coat.
This year's ceremony lasted just a few minutes.
Editor-at-Large Joseph W. McQuaid, retired president and publisher of the New Hampshire Union Leader, wiped down the eagle-shaped First Amendment trophy before handing it to Salcetti.
She said she planned to name the eagle "Ida," after two of her journalism heroes: Ida B. Wells, who documented lynchings in the South in the 1890s, and Ida Tarbell, who wrote an expose of John D. Rockefeller's Standard Oil Company.
Salcetti, a former journalist, has been a professor at Keene State since 2003. Making "Right-to-Know" requests to get documents from government agencies is a standard assignment in the public-affairs reporting class she teaches every other fall.
"Students can pick any topic, any public entity they want," Salcetti said. Her students never had trouble getting records before; usually the government entity works with her students, she said.
But in fall 2017, when students requested records about restaurant inspections from the city of Keene and a few years' worth of alcohol possession citations and sexual assault charges from the police department, the city denied the requests. The denial was worded more strongly than usual, Salcetti said, and she felt her students were being patronized and dismissed.
This semester, Salcetti is teaching only online classes. There's less of the robust discussion she's used to, and she and her students can't go into the field the way they have in the past.
"She takes her students to where the story is," said Rose Kundanis, a retired Keene State journalism professor. Once, Kundanis said, Salcetti's students went to a New York prison to interview Pamela Smart, the woman convicted of conspiring with teenagers to kill her husband in 1990.
Although she's not in the field as much this year, Salcetti is finding joy in the new verb, "to Zoom" and the strange rituals of Zooming with students.
"They're very sweet," Salcetti said. "They wave goodbye in their little game-show squares and say thank you."
Attorney Gregory Sullivan, who represented Salcetti and her students and has represented the Union Leader, said the Right-to-Know Law that gives people access to government records is critical to the First Amendment.
"Without a corresponding right to know what the government is up to, our free speech rights and our free press rights are diminished," Sullivan said.
Salcetti said she has found that stories told with government documents obtained through Right-to-Know requests are the ones with the greatest impact.
"It's not just the public's right to know, but the public's need to know. And that's what kept me motivated through this three-year fight," Salcetti said. "This wasn't just a classroom exercise. This was an exercise in democracy."