Navonte Demison hopes changes in diet, mechanics will lead to more success at ASU | BVarsity
Navonte Demison's competitive drive can sometimes get on the nerves of the people around him….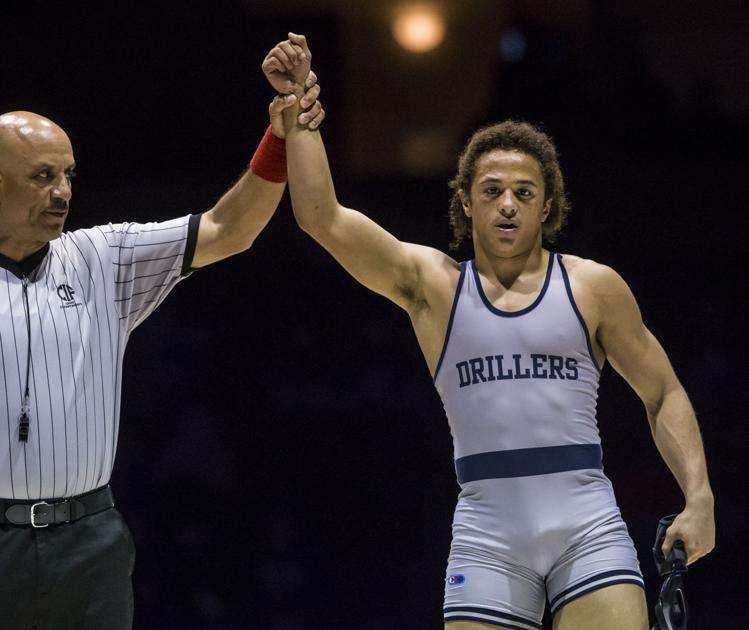 Navonte Demison's competitive drive can sometimes get on the nerves of the people around him.
"My girlfriend gets mad at me about it, but I'm a very competitive person," he said. "Whether we're playing basketball, whether we're playing Yahtzee, whether we're playing cards, I'm very competitive and I want to win."
Demison had a perfect outlet for those competitive urges at Bakersfield High School, where he became one of the most decorated wrestlers in Driller history. Demison was a 138-pound state champion as a junior in 2016 and a 145-pound state champ as a senior in 2017.
And while the same drive has followed Demison to college, his ambitions have routinely been halted during a frustrating three-year run at Arizona State.
Eager to prove himself at one of the top wrestling programs in the country, things started slow for Demison. After redshirting in his first season in Tempe,  he's since had to deal with a multitude of injuries.
Facing Northwestern's Yahya Thomas early in the 2018-19 season, he attempted to defend a shot attempt, only for Thomas to land on his leg awkwardly, forcing a tear of his right hamstring that required surgery.
An explosive athlete who'd always attacked with his right leg, Demison spent much of the rehab process adjusting his mechanics. By the time he was cleared to wrestle, he was confident he could return to form attacking with his left leg.
That confidence took an immediate hit. In his first action post-surgery, Demison tore the LCL and meniscus in his left knee in an inter-squad scrimmage. After missing additional time with the injury, he was forced to wrestle with a bulky brace upon his return to the lineup, further limiting his mobility. 
"In high school, I never really had any serious injuries, so just coming off of that and getting two pretty big injuries back-to-back … it was hard," he said. "That has probably been the hardest struggle for me."
Still navigating to the best way to utilize his adjusted mechanics, Demison is nowhere near where he hoped to be competitively. On a Sun Devil team that spent most of the 2019-20 season ranked in the top-five, he accumulated just a 3-16 record wrestling at 141 pounds.
Hoping to see a considerable improvement for his junior season, training hasn't been easy, as COVID-19 restrictions have limited the amount of work he and his teammates can do together. Though they've recently returned to practice, a positive coronavirus test at the team facility has forced the Sun Devils off campus.
While the situation appears to be another setback in a snake-bitten start to his college career, Demison says he got himself back on track both mentally and physically during the lockdown.
"I'm just trying to see the better of everything," he said. "I've had multiple injuries in the past couple of years. (I wanted to) focus on my body, focus on my mental (health). It has been hard and it has been different but I'm trying to see the positives in everything."
One of the first steps Demison took during quarantine was taking up yoga, hoping that it would help him get some of his flexibility back.
He also made a major overhaul to his diet. Saying he ate like a "college kid on a college budget," Demison has taken on a fruit- and vegetable-heavy diet thanks to his health-conscious girlfriend Katlyn Everard, who "won't let me eat like crap."
Even before he returned to the wrestling mat, Demison says he could feel the positive change his new eating habits were having on his body.
"Last year, I needed to take a nap every day," he said. "I honestly believe that was because of my diet. But now, I can wake up at six o'clock in the morning and be up for the rest of the day."
Having kept in regular contact with him after high school, BHS co-head coach Frank Lomas says Demison has handled the frustrating moments of recent years well, and is confident he's gotten himself back on the right trajectory.
"Coming out of high school I felt he had a chance to be an All-American and I think that's still his goal," Lomas said. "It's getting that confidence back on the mat, and that's a tough thing to do, especially when you have an injury like that. You can tell he's discouraged a bit because he knows what he's capable of. (But) I feel like he can recover if he does everything right."
Demison also thinks he's on the right track. 
Having struggled to cut weight in the past, Demison believes he's better suited to wrestle at a higher class and will jump from 141 to 149 pounds this season. Such a move paid off in the past, as he won a state title jumping from 138 to 145 his senior year at BHS.
Sadly, he's still months away from getting to test himself against other competitors, as Pac-12 teams are unlikely to return to action until at least Jan. 1.
As someone who always feels his competitive juices flowing, Demison admits additional time away from the mat is trying his patience.
"I miss competing," he said. "I just kind of miss having that feeling of battling on the mat, the nerves, I just miss it."