New 988 crisis line works to fill gaps in in mental health services in Missouri
ST. LOUIS — Some are desperately lonely. Others can't stop suicidal thoughts. Sometimes, a school…
ST. LOUIS — Some are desperately lonely. Others can't stop suicidal thoughts. Sometimes, a school counselor calls needing advice on helping a student. Other times, it's a concerned friend seeing ominous messages on social media.
Calls to the new 988 crisis line are evidence it seems to be working, said Bart Andrews, chief clinical officer for Behavioral Health Response, which handles the service for much of eastern Missouri.
"I see some people calling for situations on 988 that they wouldn't typically call for," Andrews said. "We are seeing more calls from people that don't have a history of severe mental illness and people calling a little sooner before the crisis has gotten full blown."
In July, the 11-digit National Suicide Prevention Lifeline made the switch to 988 with hopes that the easy-to-remember number will become as top-of-mind as 911 is for emergencies, encouraging more people to seek help.
Dialing or texting 988 connects people to crisis specialists who are trained to assess, stabilize and make referrals to appropriate care. If needed, a mobile crisis intervention team may visit in person. The specialists also will continue to make follow-up calls in certain cases.
Calls first go to the closest local crisis call center (In Missouri, there are six, plus one text line.) A nationwide backup center answers if local sites are overwhelmed.
In Missouri, contacts are already up 30% to 40% each month since before the switch, state officials say, from fewer than 3,000 in June to about 4,200 in October.
"Yes, we have the suicide calls, but we are also getting the calls from people who are just experiencing mental health crises in general, substance abuse issues and also looking for mental health referrals," said Jai Wilson, who supervises the crisis line for Provident Behavioral Health, which serves three Missouri counties and as a backup center for the state and nation. "It really does consolidate everything into one number."
Triage role
Increasing use of the crisis line is more important than ever, providers say, as the behavioral health system is stretched thin with monthslong wait times to see a therapist or psychiatrist — especially for those specializing in children — and patients languishing in emergency rooms for three to four days because psychiatric units are full.
"Is it easy for people to get services? No, it is very hard," Andrews said. "So you try to put your most energy on the folks that need it the most, and that is why crisis lines are incredibly important in that triage role."
The crisis line helps identify those most in need of immediate care and either dispatches a mobile crisis intervention team or places them in same or next-day appointments reserved for such patients at a clinic, or both.
The goal is to prevent people in need of care from ending up in jail or the hospital.
"If we are able to de-escalate, create a safety plan, provide referrals, offer follow-up to them and help them as they are getting connected to long-term services; we can divert the need to send police or to send the ambulance or to send someone to the emergency room," Wilson said.
Andrews and Wilson say it takes a lot of work and calls around to providers, but the crisis specialists are successful at getting urgent cases to appropriate care quickly.
"We will beat down doors to get people linked," Andrews said.
Still, those with less urgent needs are also encouraged to contact 988. The crisis specialists can prevent situations from getting worse, despite gaps in the mental health system.
"A large percentage of callers don't want referrals for ongoing care. They want to get their needs met via that crisis line call," Andrews said. "And very often, they do."
'Historical in so many ways'
The Federal Communications Commission staff in 2019 first proposed 988 as a nationwide dialing code to connect to mental health crisis counselors. Preparation to make the switch officially began in July 2020.
While some federal cash was available, it was left up to each state to fund and structure their local response network.
As soon as the idea of 988 was proposed, Missouri Department of Mental Health staff met with behavioral health providers to talk about what their needs would be, said Casey Muckler, who oversees the implementation of 988 for DPH.
The state quickly created a 988 task force which continues to meet monthly that includes providers, patients and law enforcement.
"All of the individuals came together to discuss what 988 needs to look like in Missouri and how we can implement it and embed it into our larger behavioral health crisis system," Muckler said. She credits the early meetings for how well Missouri was prepared for the July launch.
That meant getting funding to hire and train staff and update phone systems for a crisis line that had long been underfunded since it first began in 2005. The task force estimated the need would be about $16.7 million for the first year.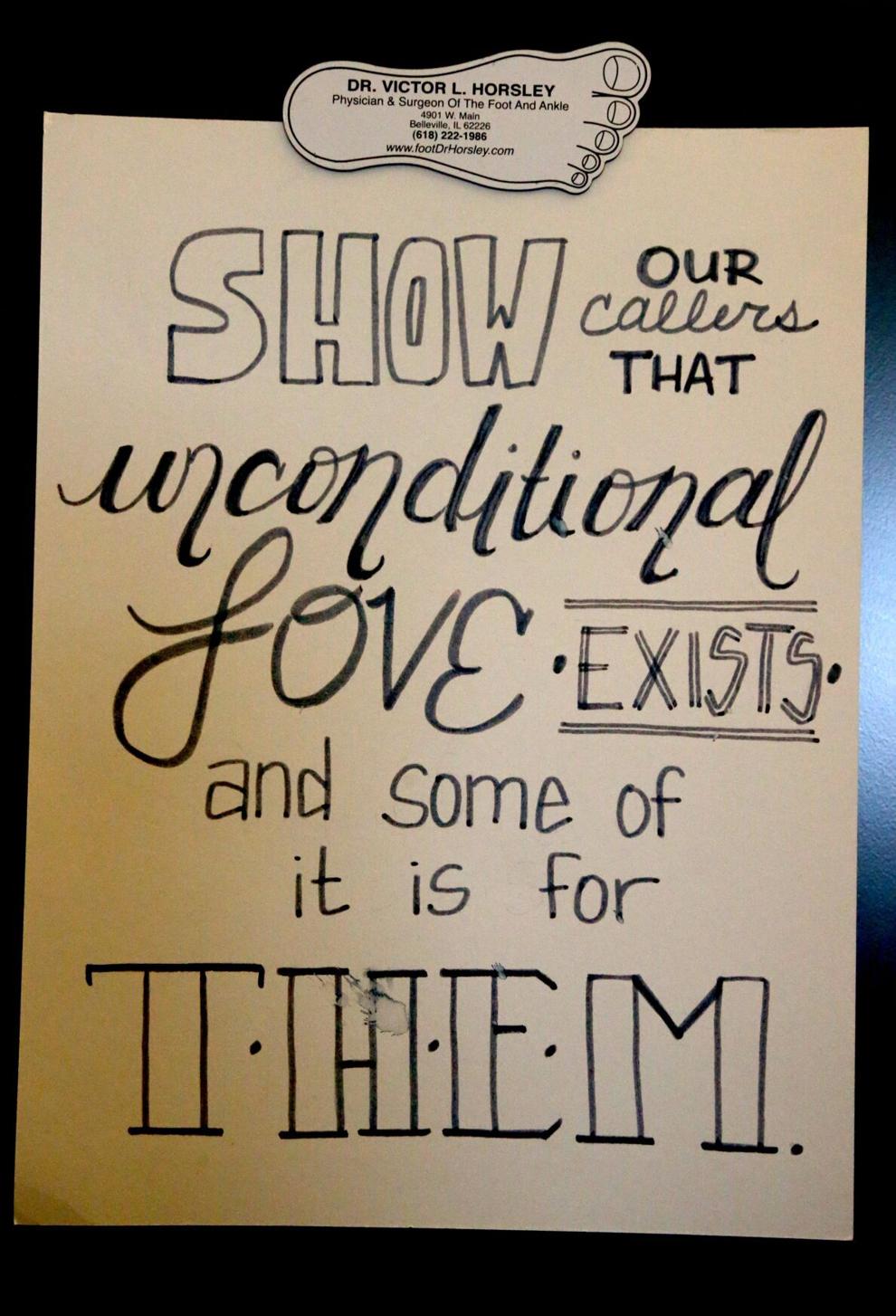 Call centers were able to get the entire amount, Muckler said, which included about $4 million in federal grants and the rest from state coffers.
That meant hundreds of new clinicians getting hired across Missouri, an effort still underway as some funding did not become available until November.
BHR is hiring between 40 to 60 people as part of its largest staff addition ever, Andrews said. Wilson at Provident said its crisis line staff went from 30 to 90 people.
"This is historical in so many ways," Andrews said. "Nothing like this has ever happened in terms of suicide prevention or crisis intervention at a national level."
Muckler said not only has the number of calls to 988 gone up since June, but the answer rate — the percentage of calls answered by centers in Missouri — went from 81% to 88%. The average time it takes to connect to a specialist also dropped from 38 to 27 seconds.
"The more calls we can answer in-state the better, because that means more localized support," Muckler said.
Missouri also added a statewide 988 text and chat service in November operated by DeafLEAD in Columbia, Mo., so those services can be handled locally. The chat feature can be accessed through 988lifeline.org.
To support its crisis line operators, Missouri in October launched MOConnect, an online portal showing available beds, crisis intervention teams and treatment programs in real time. Counselors can use the portal to more quickly and easily connect callers to care. Data can be used to highlight areas of need.
Improvements continue
Other efforts include expanding and standardizing the use of mobile crisis intervention teams and training crisis specialists in meeting the unique needs of youth, elderly, LGBTQ and minority populations.
That includes maintaining a robust database of providers who work with different groups, and seeking training from groups such as the St. Louis Queer+ Support Helpline. Veterans can call 988 and press 1 to be connected to counselors specializing in care for vets.
Missouri is also planning to use federal grants to expand its number of community behavioral health crisis centers from 10 to 18, Muckler said.
The centers are currently mainly located in urban areas of the state, including three in the St. Louis area: SSM Behavioral Health Urgent Care in Bridgeton, Dunnica Sobering Support Center in St. Louis and Compass Health Network Crisis Access Point in Wentzville.
The 24/7 centers provide a place where law enforcement can take individuals in crisis, or where individuals needing immediate resources can seek care.
Such centers provide needed alternatives to in-patient care, Andrews said: "Missouri has plenty of hospital beds, we are just filling them up with people who shouldn't be in the hospital. … That makes it hard for people who really need to be."
While crisis services have gotten a jolt in funding and improvements with the launch of 988, Andrews said it's a "tiny, tiny drop in the bucket" of what is needed to shore up the entire behavioral health and substance abuse system, especially for those needing medication prescribed.
"That's why the crisis line is so important, because 24/7 you are going to get somebody," Andrews said. "No matter what else is going on, at least we've reinforced the crisis system."
Future funding
The Biden Administration has allocated nearly $500 million to get 988 up and running, but how the crisis line will be funded going forward remains in question. Less than half of states have enacted legislation to either add a fee to phone bills or appropriate funds to cover costs.
Muckler said the Missouri House Interim Committee on Veterans Mental Health and Suicide recently recommended at least $27 million in state funding for the operation of the crisis line and mobile crisis response teams.
"We hope to have details for the potential funding of 988 in the near future," she said.
Meanwhile, with new hires in place, the state mental health officials are preparing to soon launch a marketing campaign to get the word out about 988. Officials hope to push the local answer rate to over 95%.
"We know we will see an increase in calls with the campaign and an increase in diversity and types of people calling," Andrews said.
As the 988 number becomes more ubiquitous, Andrews said, reaching out for help will become normalized.
That may help one group that providers have long struggled to reach: white men, who make up nearly 70% of suicides.
Wilson encouraged those who aren't sure their situation warrants a call to 988 to still make the call.
"I think the biggest message I'd put out there is, if you have any questions, just call," he said. "You are not bothering people. They are waiting for your call. They want to talk to you, and they want to help you find a solution. So make the call."