New Lancet study explores youths' psychological response to twin crises of pandemic, climate change; experts weigh in
What is the psychological impact of climate change on young Indians? Are they taking enough…

What is the psychological impact of climate change on young Indians? Are they taking enough action towards introducing sustainable practices in their every day life? On the occasion of World Earth Day, observed on April 22 every year, a new study explores the psychological reactions of young people to the twin crises of the Covid-19 pandemic and climate change.
Published in The Lancet Regional Health – Southeast Asia, the study titled Psychological responses to the climate and Covid-19 crises in young people, and their agency to build the world they hope to see, found that although most people felt that they had the power to make a difference when it comes to climate change and Covid-19, it did not necessarily translate into action.

The study analysed that tangible experiences of extreme weather events that were personally experienced or affected their family members had a negative impact on the respondents' lives, while action around improving the environment had a positive impact. As such, loss of income, loss of mobility and loss of social contact due to Covid-19 had negative impacts on the respondents, while indulging in leisure activities and bonding with the family had positive impacts. Although the majority of the participants reported having both climate and Covid agency, it did not translate into action to improve the environment, the study noted.
The study conducted in July 2021 further noted that most people continued their usual behaviour towards the environment during the pandemic, or even did less than before. The George Institute for Global Health study authors then concluded that this aligns with the general belief that people may have an emotional response to climate change, but that does not always lead to changes in their behaviour towards the environment.
Explaining this observation further, the lead scientist Dr Pallab Maulik said in a press statement, "While individuals may feel a sense of responsibility for addressing these societal issues, they do not take decisive action. This suggests that broader societal factors may be at play, such as systemic barriers or a lack of collective action, that are preventing individuals from fully realising their sense of agency."
The study, conducted in the city of Faridabad in north India and Jubilee Hills, Hyderabad in south India, covered slums purposively selected based on population size, accessibility and proximity to regional field offices. The study used a cross-sectional survey method to understand people's feelings regarding climate change and Covid-19. The scientists aimed to investigate the changes people hoped for after the Covid-19 crisis and their role in bringing about these changes. Their focus was on how individuals can contribute towards addressing the Covid-19 and climate crises.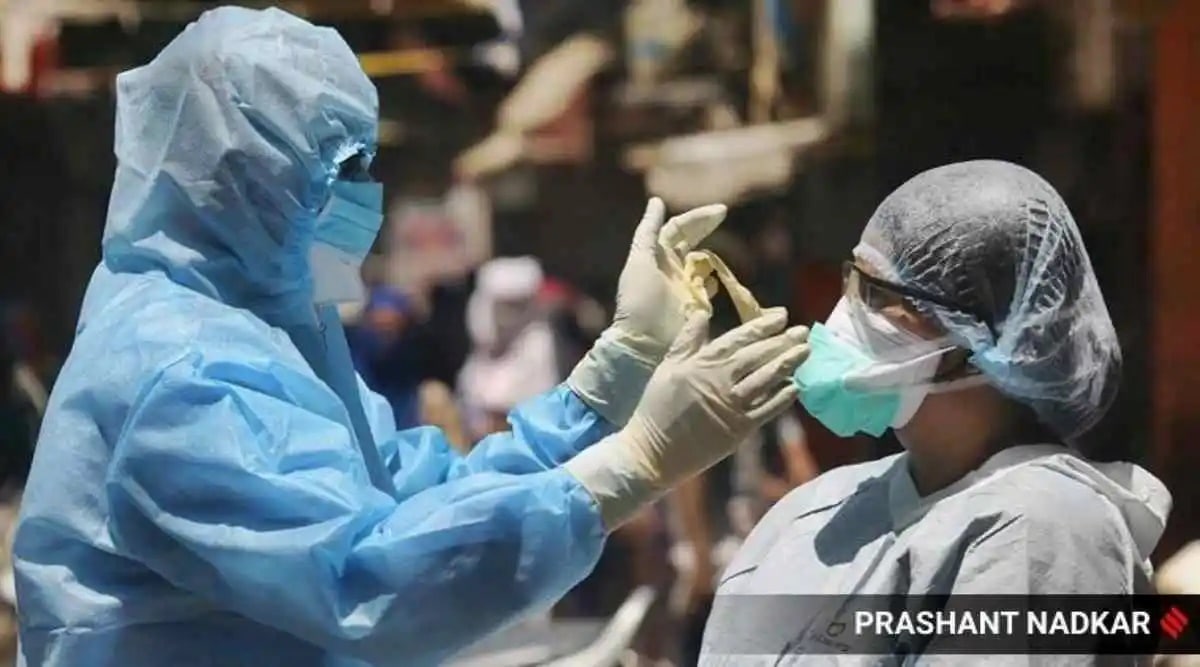 Even pandemic had a role to play in affecting people's mental health (Express Photo by Prakash Nadkar)
Commenting on the need for such a study, lead author Dr Sandhya Yatirajula said, "While Covid-19 has affected daily life and health on an immediate level, climate change has been silently damaging the planet with adverse impacts that are not immediately apparent. The loss of agency and hopelessness that may result from climate change is concerning, particularly for vulnerable populations who are already at risk due to the Covid-19 crisis."
The interpretation of the study read that young people's activism on climate change and Covid-19 has a positive impact on their mental well-being, hence more opportunities and platforms must be provided to enable young people to take action on both these crises. The authors also pointed out the importance of collaboration between policymakers and citizens to create a country that is not just resilient to the negative impacts of pandemics and climate change, but also proactive in preventing them.
How does climate change affect one's mental health, and their sense of agency?
Stressing that climate change has lasting consequences on mental and physical health, Manish Thakre, Head Urban Programme and Policy, Bal Raksha Bharat (Save the Children) expressed that 'climate anxiety' is complex.
Dr Sonal Anand, psychiatrist, Wockhardt Hospitals, Mira Road, Mumbai elucidated that people who have experienced damage, loss and displacement may develop a variety of mental health issues, ranging from anxiety and feelings of powerlessness to post-traumatic stress disorder (PTSD). "People closest to the epicentre of these occurrences suffer the most. Extreme weather events can also have an influence on some of the social and economic determinants of mental health by causing unemployment, homelessness or a lack of food and water. This, in turn, can have a negative impact on mental health," said Dr Anand.
Further, the pandemic has caused "increased anxiety and stress related to health and economic concerns, which may exacerbate existing climate-related mental health issues," said Dr Shuchin Bajaj, Founder Director, Ujala Cygnus Group of Hospitals. Nevertheless, he is hopeful considering that the pandemic has also resulted in "reduced emissions and a greater awareness of the need to prioritise public health and the environment", which could lead to more action being taken to address climate change and its mental health impacts.
📣 For more lifestyle news, follow us on Instagram | Twitter | Facebook and don't miss out on the latest updates!