New Mexico is training civilians to answer mental health calls. Will it reduce tragedies? | New Mexico
It was just after 6.30 one evening last April when Las Cruces police officer Jared…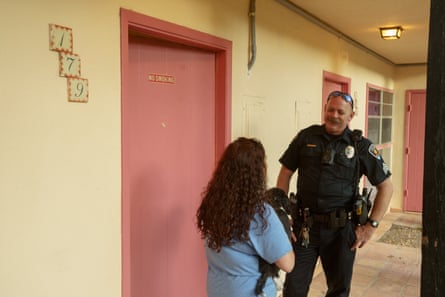 It was just after 6.30 one evening last April when Las Cruces police officer Jared Cosper responded to a mental health call. The family of Amelia Baca, a 75-year-old grandmother with dementia, had called 911, saying she appeared to be off her medication and was threatening them. They needed help.
Cosper, trained in crisis intervention, according to a subsequent lawsuit, arrived at the Bacas' front door and instructed family members to step outside. Police body camera video shows Baca's granddaughter thanking the officer and asking him to "be very careful with her".
The elderly woman – who spoke only Spanish – came to the door, a kitchen knife in each hand.
"Drop the fucking knife," Cosper shouted. As the family begged and screamed in protest, he shot and killed her.
Now, nearly a year after Baca's tragic death, Las Cruces has launched an "alternative response" program, designed to send social workers and paramedics instead of armed officers to the scenes of 911 calls for mental health crises, drug overdoses and threats of suicide. Project Light (for "lessen the incidence of grief, harm and trauma") has won $1m in federal support, secured by Senators Martin Heinrich and Ben Ray Luján.
It's a model that's been embraced by other locales in New Mexico and across the country, driven in part by a rise in homelessness, a national mental health crisis and this chilling statistic: people with untreated mental illnesses are 16 times more likely to be killed by police, according to the Treatment Advocacy Center, a nonprofit that promotes reforms in psychiatric care.
The trend falls within a broader cultural reckoning with systemic racism, one that comes on the heels of high-profile police killings, including George Floyd in Minneapolis and Breonna Taylor in Louisville. And the subject is receiving renewed attention this week, as Virginia sheriff's deputies stand accused of murdering a handcuffed and shackled man in a psychiatric hospital by pinning him to the floor for roughly 11 minutes.
But civilian response efforts have had only varying success. Denver's Star program, launched in 2020, is often credited with lower crime rates, while Cahoots, in Eugene, Oregon, has been credited with saving millions of dollars each year. Civic leaders broadly praise programs like these for reducing the number of of police shootings.
A program in Albuquerque, on the other hand, has struggled to effect such change. In 2020, the city announced a new civilian department, Albuquerque Community Safety (ACS), to respond to a increase in mental health crises. The announcement came just days after police shot 26-year-old Max Mitnik in the head after his family called for help.
Albuquerque bet big on the new department, supporting it with a nearly $12m annual budget, a large vehicle fleet and scores of new hires, who respond to low-risk 911 calls for mental health issues, homelessness and overdoses.
But despite that investment, Albuquerque police shot and killed at least four people last year who were experiencing mental health crises, compared with two such shootings in 2021. Overall, the department hit a 10-year high for police shootings, records obtained by Searchlight New Mexico show. Albuquerque police fired at people 18 times in 2022, killing 10.
The impact of the new program in Las Cruces has yet to be seen. But while the two cities are very different, they share a common problem: an acute dearth of mental health care.
Of the growing number of civilian response efforts in New Mexico, leaders acknowledge, it's difficult to measure success. People in the throes of a mental health crisis are still likely to be met with an armed police response, and advocates say that leaves them highly vulnerable.
A history of problems in Albuquerque
The Albuquerque police department (APD) introduced crisis intervention teams as far back as the 1990s. Their presence didn't put a dent in fatal police shootings, however.
Albuquerque's police department is one of the deadliest in the country. It's been under a federal consent decree and monitoring since 2014, when officers killed James Boyd, a homeless man with schizophrenia who was camping in the Sandia foothills. According to the watchdog group Police Scorecard, the APD has logged more police shootings per arrest than 76% of all other departments in the nation.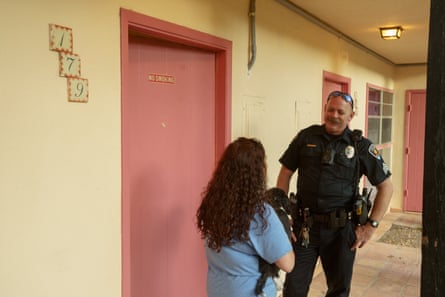 The 2014 consent decree mandated that 40% of APD officers receive specialized training in "enhanced crisis intervention".
Still, problems remained. Demands for reform culminated in 2020, after an officer shot 26-year-old Max Mitnik, who was experiencing a "schizoaffective episode".
Mitnik, who lived with his parents in Albuquerque, had recently stopped taking his medication, according to a lawsuit filed by his family. He expressed a desire to be hospitalized but feared he would hurt his parents if they drove him, so his father called 911 and asked for a crisis intervention team.
The family's lawsuit describes what happened next:
When the two officers arrived – both trained in advanced crisis intervention techniques – Mitnik asked them to drive him to the hospital but had second thoughts after they handcuffed him. He was later uncuffed, then went back inside the house, grabbed a paring knife and locked himself in a bathroom, where he cut himself in the neck. He eventually came out of the bathroom, clutching the knife, and looked at responding officer Jose Ruiz. "I am going to suffer a lot if I don't kill myself," Mitnik allegedly told Ruiz. "Will you please kill me, sir? Kill me."
Ruiz responded only by saying, "OK," the lawsuit alleges, and then shot Mitnik twice – in the head and in the hip. Mitnik needed to have a portion of his skull replaced and is now partially paralyzed, his family said in court.
Less than two weeks later, Mayor Tim Keller announced the launch of Albuquerque Community Safety.
Unlike many cities with civilian responders, ACS is its own separate, fully fledged department, operating alongside the city's police and fire departments. It employs about 70 responders, who answer calls seven days a week. And it's drawn credit from national experts for "jumping in with both feet".
When ACS began answering calls in 2021, dispatchers were inundated. They still are. Calls have spiraled from a few hundred a month to up to 2,000-plus. In the past two years, civilian responders have gone to the scene of nearly 27,000 calls, a report concluded. Responders help connect people with resources, such as mental health providers or homeless shelters, and give out packs of food and water. They can also transport people to medical care facilities.
The recent police shootings in no way reflect poorly on ACS, police officials say. Instead, they link the shootings to Albuquerque's increased gun violence and homicides – 120 last year, up from the previous record of 110 in 2021.
Advocates offer other reasons. They point to Denver, where nearly a third of calls for civilian responders are referred by a police officer. If officers arrive on the scene of a nonviolent call and see that it is a mental health crisis, they can reassign the call to a social worker or behavioral health professional.
That kind of handoff has rarely happened in Albuquerque, both ACS and police officials acknowledge.
A sister killed
Elaine Maestas has seen the system's flaws first-hand. Bernalillo county sheriff's deputies shot her sister to death nearly four years ago.
Elisha Lucero, 28, had been living in an RV outside her uncle's South Valley home when she had an outburst. She had been suffering symptoms of psychosis ever since the removal of a brain tumor two years earlier. Family members dialed 911.
In the past, whenever they had called for help, Bernalillo county's mobile crisis team had responded and taken Lucero to the hospital. This time, however, two sheriff's deputies showed up. Incident reports said the young woman charged at them with a kitchen knife. They shot her 21 times.
"She was shot until she was no longer a recognizable person," said Maestas. She has become one of New Mexico's most prominent voices for police reform – helping to create a billboard campaign with her sister's face and the message: "What if emergency responders came armed with compassion instead of guns? Elisha Lucero, 1991-2019. #Justice4Elisha."
In 2020, Maestas started volunteering with the American Civil Liberties Union of New Mexico, hoping to make a difference by advocating for policies that could salve the damage brought on by police violence. She joined the ACLU staff a year later, but when a job opened at ACS in 2022, she jumped at the opportunity to be a responder.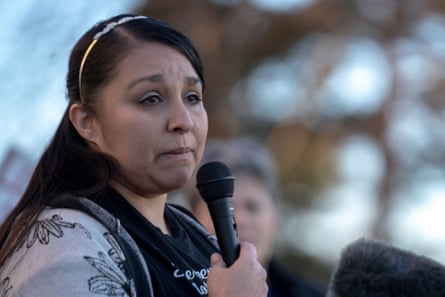 These days, her frustration is palpable. After years of fighting, Maestas looks at New Mexico's police reform as little more than "putting a Band-Aid on a gaping wound". Despite Albuquerque's massive investment in civilian response, she says police continue to respond to the "gray calls" – suicide threats, nonviolent mental health calls, family requests for help – with guns loaded.
Reform advocates echo her concern.
"God forbid you have a mental health crisis in New Mexico," said Loren Gomez, an organizer with the social justice nonprofit Southwest Organizing Project. "Because you're going to get shot."
This story was originally published by Searchlight New Mexico and is posted here as part of an ongoing collaboration with the Guardian.