Novel Type 2 Diabetes Drugs Incur High Costs in Medicare
Switching Medicare beneficiaries who have type 2 diabetes to one of the novel glucose-lowering medications…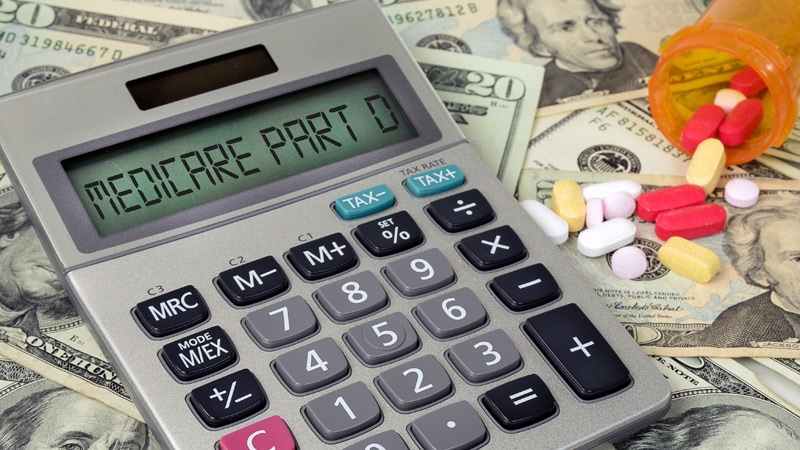 Switching Medicare beneficiaries who have type 2 diabetes to one of the novel glucose-lowering medications could dramatically raise their out-of-pocket costs, thereby potentially hindering adherence, new research suggests.
The researchers examined price and cost-sharing data for six classes of glucose-lowering drugs in a total of 3323 stand-alone and Medicare Advantage Part D plans.
Out-of-pocket costs for the novel glucose-lowering drugs ― sodium-glucose cotransporter-2 (SGLT2) inhibitors, glucagon-like peptide-1 (GLP-1) agonists, and dipeptidyl peptidase-4 (DPP-4) inhibitors ― were three to eight times higher than for older, generic agents such as metformin and the sulfonylureas and thiazolidinediones (TZDs).
This is important because recent guidelines endorse some of the novel drugs, which are predominantly brand-name and more costly, as preferred second-line agents after metformin for patients with type 2 diabetes who have established or increased risk for atherosclerotic cardiovascular disease, heart failure, and/or chronic kidney disease.
For SGLT2 inhibitors and GLP-1 agonists, the increase in out-of-pocket costs "could effectively divide Medicare beneficiaries with diabetes into 2 groups: those who can afford guideline-directed therapies with cardiovascular or kidney benefit and those obligated to use lower-priced alternatives for cost reasons," say Colette DeJong, MD, of the University of California, San Francisco, and colleagues in a research letter in JAMA Internal Medicine.
"Because higher copayments lead to poorer adherence and worse health outcomes, clinicians should discuss affordability with patients when changing diabetes regimens," they stress.
"Part D Plans Should Cover at Least One Effective Drug per Class"
Their analysis of Medicare Part D data for the first quarter of 2019 included calculations based on the average monthly price and out-of-pocket cost for each drug across all plans nationwide, along with the costs of metformin, atorvastatin, and lisinopril.
They projected out-of-pocket costs across the four phases of a standard 2019 Part D plan. The projected costs were as follows: an up-front $415 deductible; an initial coverage phase, with costs up to $3820; a coverage gap during which beneficiaries pay 25% of brand-name drug costs up to $5100 out of pocket; and a catastrophic phase with 5% cost-sharing for the remainder of the year, with minimum copay $3.40 for generics and $8.50 for brands. Premiums were not included in the calculations.
Overall, monthly list prices for commonly covered GLP-1 agonists, SGLT2 inhibitors, and DPP-4 inhibitors ranged from $434 to $935, compared with $3 to $11 for metformin, sulfonylureas, and TZDs. Projected monthly copayments for the newer drugs varied from $53 to $65 during the initial coverage phase to $116 to $186 during the coverage gap.
Annually, total costs for the novel agents ranged from $5202 to $11,225, compared with $31 to $136 for the older drugs. Estimated annual out-of-pocket costs for the newer drugs were $1231 to $1981, vs $250 to $355 for the older agents.
Furthermore, out-of-pocket costs varied throughout the year, exceeding $400 in January and increasing further in the coverage gap.
"Although recent proposals to cap out-of-pocket spending at $2000 would address Part D enrollees' overall financial burden, benefit redesign for the program should also target consistent, predictable monthly copays, as the month with the highest copay of the year may be a barrier to continuing therapy," DeJong and colleagues emphasize.
Because out-of-pocket costs for a single diabetes drug can approach the proposed $2000 cap, the authors also say that "broader cost containment efforts should be considered, such as allowing Medicare to negotiate prices with pharmaceutical manufacturers.
"Part D plans should be able to cover at least 1 effective diabetes drug per class at a reduced, fixed monthly copayment," they conclude.
DeJong reports being deposed as an expert witness in a legal action pertaining to drug and device marketing to physicians.
JAMA Intern Med. Published online September 14, 2020. Abstract
For more diabetes and endocrinology news, follow us on Twitter and Facebook.