Nurse Assistant Program Gives Students Hands-on Training
ROCKVILLE, MARYLAND —  Sometimes, the best way to learn is by doing. That's what a…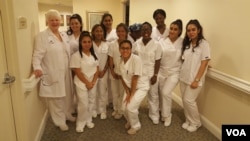 ROCKVILLE, MARYLAND — 
Sometimes, the best way to learn is by doing. That's what a dozen high school students in Rockville, Maryland, are doing, as they explore the real world of nursing. They are participating in a certified nursing assistant (CNA) program that prepares them to take and pass certifying exams and begin a career in health care.
Twenty skills
This is the third year that Linda Hall, nursing professor at Montgomery County College, has led the program, which covers every aspect of the profession. The four-day-a-week course, which takes place outside school hours, combines 88 hours in the classroom with 60 hours of clinical training, learning skills nursing assistants use every day.
"It's teaching them skills such as brushing teeth, brushing dentures, giving a bath, putting someone on a bedpan, doing nail care, feeding someone," she explains. "All of those skills are part of the 20 skills they need to know before they can graduate. There is also a passing grade of 80. They can't even take the final exam if their average grade is not 80 or above."
She says completing the program and passing the CNA exam open a whole new horizon for these students. "When the class is completed and the grades are in, they get a license from the state of Maryland to be a certified nursing assistant. Then, they prep for the geriatric nursing assistant license, which is an extra step up for them."
Hands on nursing
The students practice everything on each other, from greeting a patient to taking their pulse and checking their blood pressure. Then, they move on to the second part of their training: meeting real patients for a chance to put what they've just learned into practice.
The CNA training program takes place inside Ingleside at King Farm, a retirement community that has an assisted-living home on site. Natalia Estrada Aguirre says she enjoyed getting to know the residents better as she helped them.
"I wasn't really sure," she admits. "I thought they were all fragile and you got to be very careful, but honestly, they love it when you help them, they love when you give them a hand because they always need it. So I learn more to connect with them and interact with them in a better way. I think you need to be patient, be driven."
Ingleside's health care administrator, John Holly, says residents welcome the young people."They enjoy having the young, enthusiastic students and they enjoy the additional attention that they get because there are more students here."
Young People Help Old People
The CNA training program was founded by neurologist William Leahy, who serves on Ingleside's board of directors.
"He cares about people," Holly says. "His vision is simply to provide individuals an opportunity and to provide the best care people can receive."
Aguirre, who dreams of becoming a nurse, says it's a priceless opportunity. "Ever since I had been little I wanted to do something in nursing and helping others, because I really love to do that," she says. "So, I found out about the CNA program and I thought it was an opportunity since, you know it's free. So, this is kind of a first-hand experience on my nursing and helping people out."
Her classmate, 17-year-old Kelli Wilson, who wants to become a physician, says she joined the CNA program to learn more about the health care profession.
"I think one of the most important things I've learned is about one-patient care, how to treat patients," she adds. "Even if I want to take it further not just as a nurse, as a doctor, it's always important to keep your patients – their mental, emotional and physical body – in mind and make sure you treat them respectfully and well."
It's a win-win situation — for the residents, the students, and the health care system as well.