Overcoming 2020: A wedding, a new house, a layoff, cancer relapse and a pregnancy during a pandemic | News
Getting married. Buying a house. Learning of a pregnancy. Some of life's biggest moments can…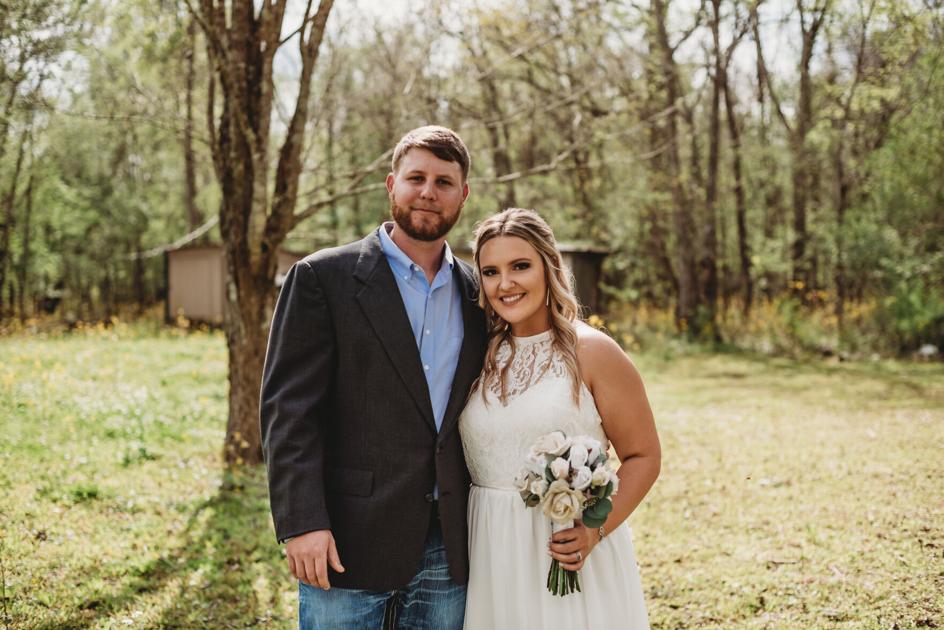 Getting married. Buying a house. Learning of a pregnancy.
Some of life's biggest moments can also be some of the most stressful, especially during a pandemic.
Throw a cancer relapse and a job layoff into the mix, and it's almost unimaginable. Yet this is the reality a Lafayette couple is facing this year.
"It's a lot," said Tobi Sims. "It's a lot to go through, but you just have to hustle through it."
Tobi and Erin Sims have embraced 2020 and all its curveballs with an optimism that's hard to come by these days.
"It's a big mindset thing," said Erin Sims. "If you focus on the bad, that's all you're going to focus on. That's all you're going to see. You just have to be open-minded and look for the small victories."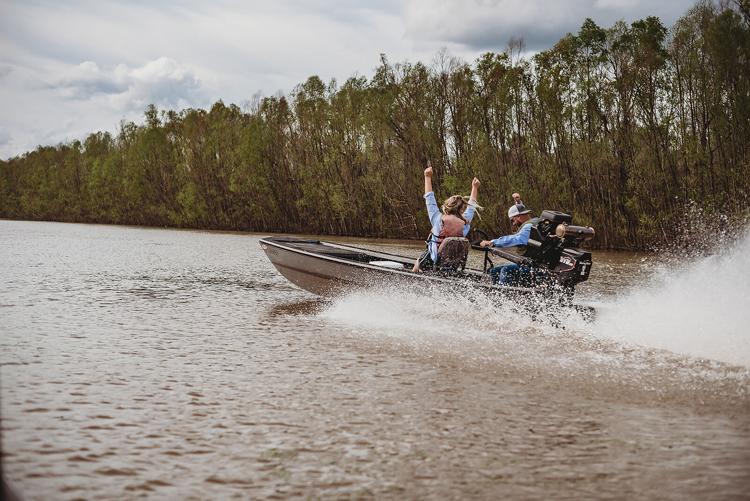 They got married March 14, one day after Louisiana Gov. John Bel Edwards closed schools and two days before he announced the closure of restaurants and bars to slow the spread of the novel coronavirus. Two weeks earlier, they'd put an offer on a house.
Tobi Sims, 25, would learn on March 17, just three days after their wedding day, that his cancer had returned and spread.
He'd been diagnosed with testicular cancer in January 2019. He'd had surgery to remove the cancerous mass last year, and his routine checkups had been fine.
"When we found out it was testicular cancer, it was a touchy subject," Erin Sims said. "People talk about breast cancer all the time openly. It's no big deal to hear people talk about it, but you don't hear people talk about testicular cancer, even though it's very common, especially in young men."
At a routine checkup in March, Tobi Sims learned of two spots on his chest and elevated tumor markers in his blood.
He was scheduled for surgery two weeks later, but it was pushed back by two months because of COVID-19 precautions.
In the meantime, he was laid off from his oilfield position at the end of March.
The couple worried about their medical insurance coverage because the surgery had been pushed back, but they were relieved to learn that Erin Sims could add Tobi Sims to her insurance plan because they'd recently gotten married.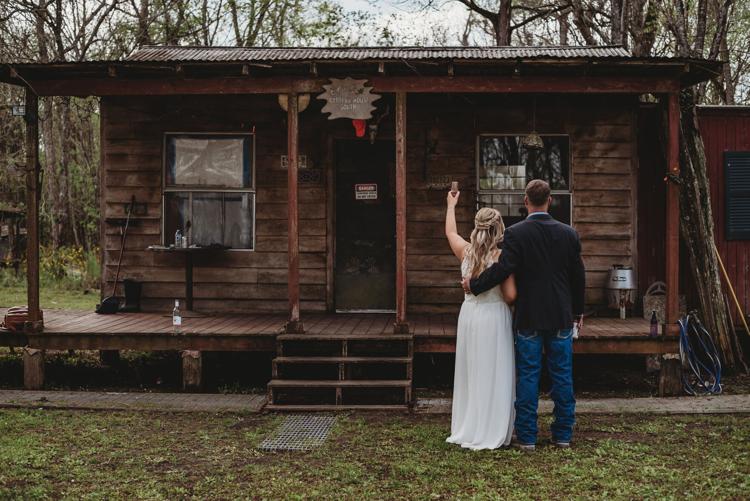 "There were just a lot of unknowns with insurance and surgery and chemo and the timing of everything," Erin Sims said.
They moved into their new home on April 9.
At the end of April, Erin Sims, 27, would take a pregnancy test while her husband was hunting and fishing at his camp in Butte LaRose. He'd been telling her she was pregnant, but she was convinced her symptoms were just a side effect of stopping hormonal birth control pills.
"She wanted muffins and watermelon," Tobi Sims aid with a laugh. "That was a dead giveaway. And the mood swings. She would cry for no reason."
Erin Sims took three pregnancy tests that weekend. They were all positive. 
She got pink, blue and white balloons and a onesie that said "Best news ever" to pair with the pregnancy tests as a surprise for her husband when he returned home from the camp. He was overwhelmed with excitement, despite their circumstances.
"I screamed like a little girl," Tobi Sims said.
On May 15, Tobi Sims underwent surgery for the masses on his chest. Although imaging only showed two, the surgeon located and removed four. Two of the four were cancerous.
Tobi Sims would stay at Our Lady of Lourdes Regional Medical Center for almost a week. No one was allowed to visit because of coronavirus restrictions.
"It sucked," he said. "It sucked so bad. Imagine having a water hose sticking out of your chest for four or five days. I hated it."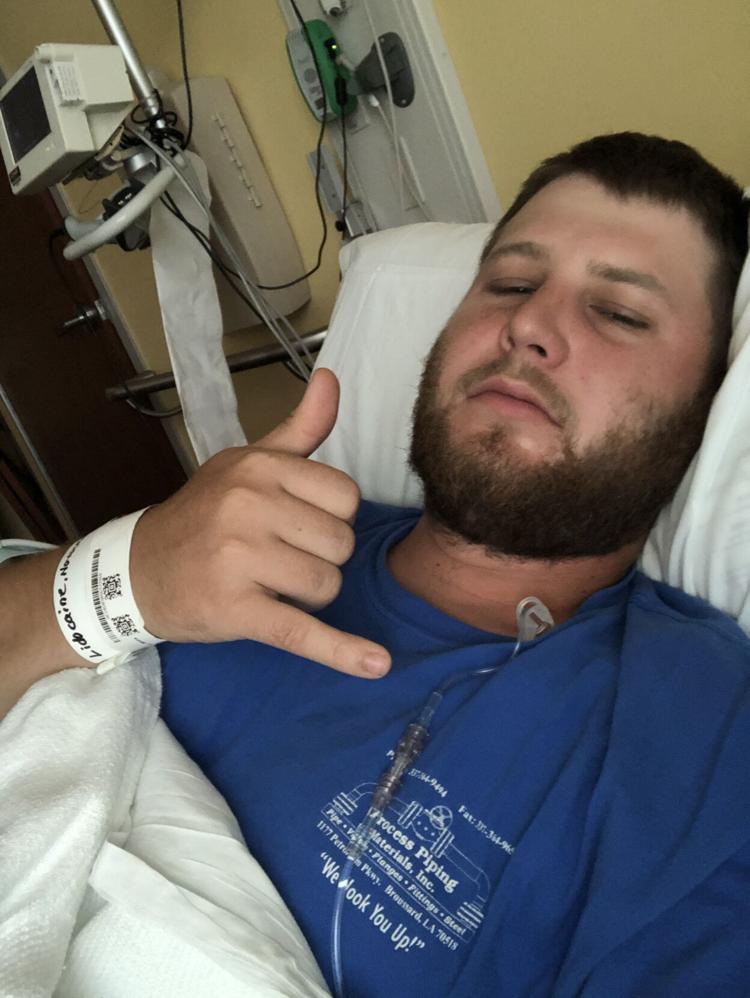 Erin Sims also struggled, only able to see her husband through video calls when she wanted to be by his bedside. 
"We'd FaceTime, but it's not the same as being there in person," Erin Sims said. "I was constantly wondering, 'Is he getting the care he needs? Are they spending too much time on the COVID unit?' It was not a good few days."
Tobi Sims began chemotherapy in mid-June and completed his fourth and final round in late August.
Although Erin Sims couldn't be at her husband's side during the five-day stays in the hospital, her employer gave her flexibility to take time away from her job at a small pharmacy to take him to and from appointments and care for him between rounds of chemo. His follow-up appointments with his oncology team in the weeks since have been favorable.
Financially, the year has been a struggle for the young couple.
"It's been a pretty big setback," Tobi Sims said. "We've had a hefty bill from the hospital and the anesthesiologist. A truck note. A house note. Thankfully, unemployment paid a little more for a while. But the bills don't stop coming just because of a pandemic or just because of cancer." 
"We didn't want to spend a lot of money on a wedding or a honeymoon," Erin Sims added. "We didn't want to start our marriage off in debt to a wedding. Instead, we started our marriage off in debt to a hospital."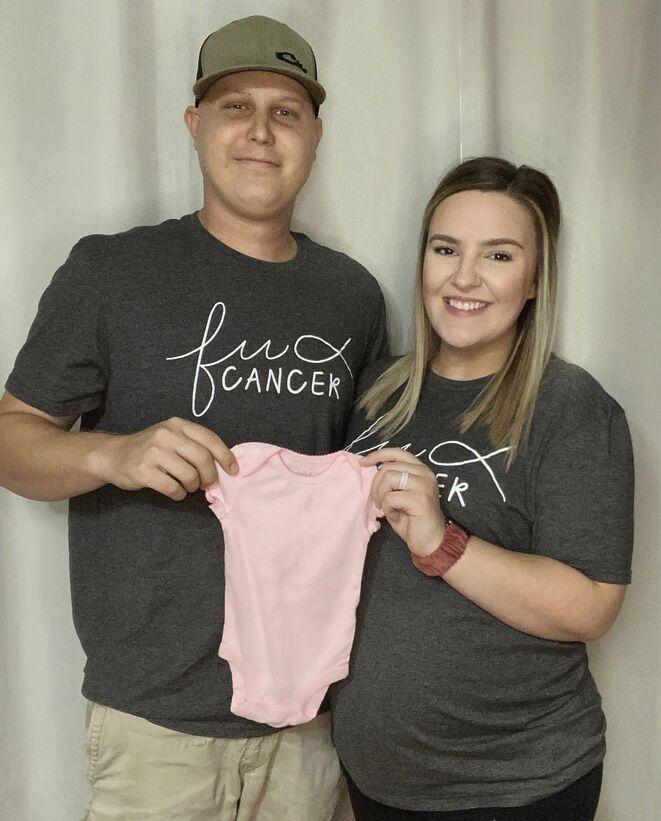 Tobi and Erin Sims continue to be thankful for their health and everything they do have. Family and friends have helped to ease their financial burden through hosting blood drives and fundraisers, including one about a month ago at Pizza Village that brought in $6,000.
"I've had to learn to accept the help that people are willing to give," Erin Sims said. "You don't have to go through everything alone. I don't know if it was a pride thing or what, but it took a little while for us to realize we didn't have to do everything ourselves. There's nothing wrong with accepting the help that people offer. That was probably the biggest lesson through all of this.
"Nobody wants to throw a pity party, but everybody needs help at some point."
Erin and Tobi Sims are expecting to welcome their first child, a daughter, on Christmas Eve. It's kept their hope alive while facing physical and financial hurdles.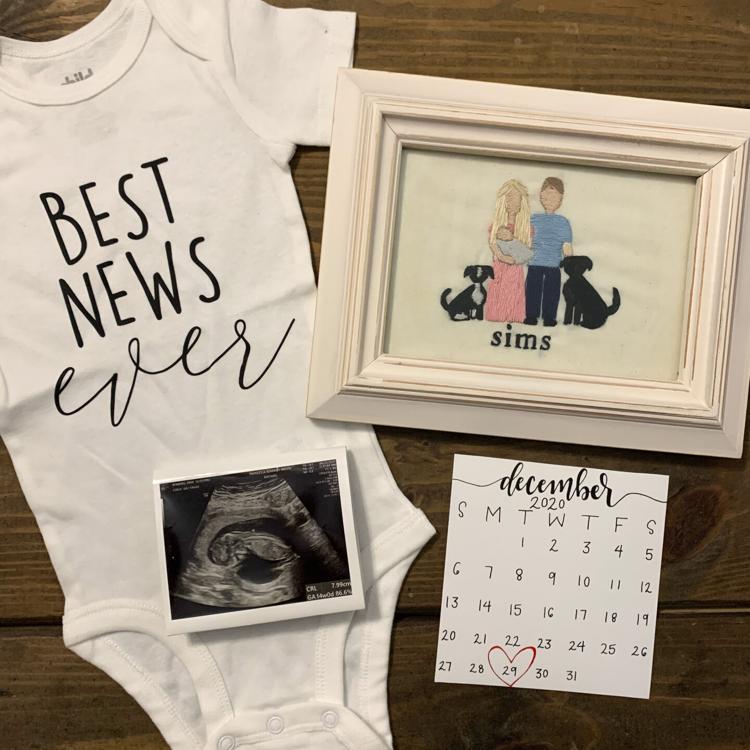 For anyone struggling to find hope during a year that's been difficult for so many, Tobi Sims has some simple advice.
"It's not going to be bad forever," he said. "There's light at the end of the tunnel. Keep your head up. Look for the good and not the bad."