Ten Years of 56 Dean Street, the Pioneering Clinic for LGBTQ+ Healthcare Appointments
Photos via Alamy (left) and The Gender Spectrum Collection. Four years ago, Phil, 31, was…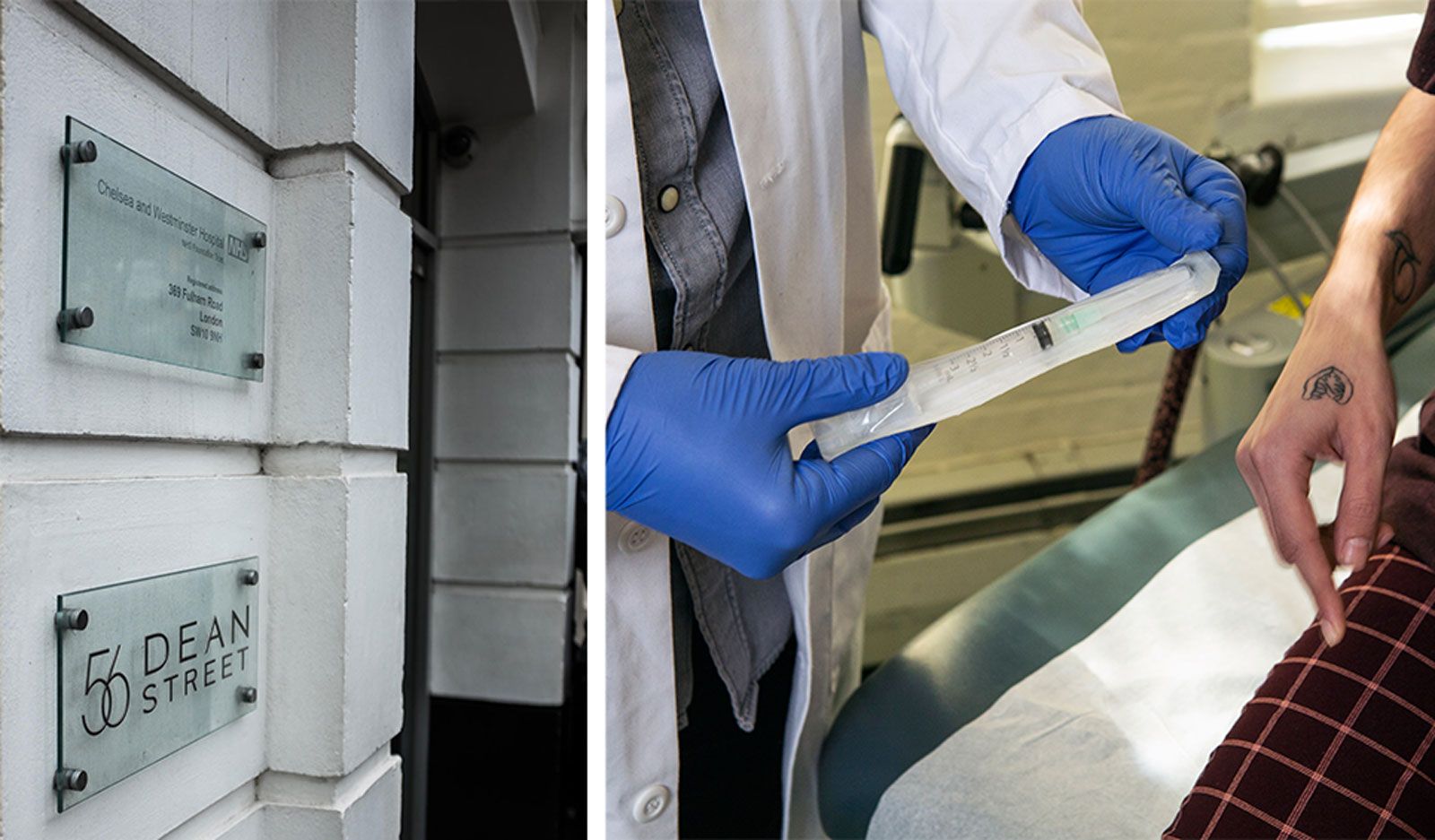 Photos via Alamy (left) and The Gender Spectrum Collection.
Four years ago, Phil, 31, was told over the phone that he had tested positive for HIV. "I'd been using crystal meth at that time, and my self worth was at an all-time low," he tells me. Following treatment at 56 Dean Street, the clinic where he'd been diagnosed, Phil is now HIV-undetectable. To him, 56 Dean Street has been more than just a sexual health service. "It's been a huge part of helping me turn my life around," he says. "Their services are very much tailored to queer people like me, but they've also helped me with my mental health and self-worth issues by getting me therapy."
It's been ten years since 56 Dean Street first opened its doors in the heart of Soho. The clinic now sees around 11,000 visitors every month, the majority being gay and bisexual men, making it the biggest MSM-focussed clinic in Europe. With world-leading services and a community focus, Dean Street has quickly become an integral part of LGBTQ+ life in London, offering free and anonymous sexual health checks with results in just six hours and HIV results on the spot. It also pushes for greater access to PrEP, a drug that reduces the risk of contracting HIV and is available in England only as part of medical trials.
"I couldn't imagine going anywhere else," says Steve, 38. "I grew up in a small village in Yorkshire in the 80s, so having access to a sexual health service that's tailored to the needs of people like me is something I'll never take for granted."
"There was a time where I was behaving recklessly in terms of my sexual behaviour and drug use," says Jack, 32. "The nurse at Dean Street, who I'd known for a few years, was one of the first people to offer me help."
Before Dean Street, London's largest gay-focussed sexual health clinic was in a cramped building that had failed health and safety checks. Soho was the natural choice of location for a new clinic, after anonymous testing of men in the area's gay bars revealed that one in 20 was living with undiagnosed HIV, but inspiration for the service came from San Francisco's Metro Center – a community centre which, once a week, would be visited by a sexual health service.
"Obviously, we're an NHS clinic, not a community centre," says Dr. Alan McOwan, lead clinician at 56 Dean Street, "but a combination of the two what we were aiming for."
The dream of turning Dean Street into a 'hub' for the community has been fully realised in the decade since it opened. It offers support groups for HIV positive people, victims of sexual violence, and those who perceive a conflict between their religious beliefs and their sexuality. The team also visits community groups to bring demographics who are less likely to use Dean Street's services into the fold. "A lot of clinics will open their door and see who comes in, but there are some people we particularly want to come in," Dr. McOwan explains. "So we're going to try to get you to come in, rather than wait and hope that you do."
Alexander Leon, 27, remembers being struck by the concept of Dean Street when he arrived from Sydney. "The fact I could go into a clinic, register quickly and be tested almost instantaneously was pretty novel to me, but the fact it was situated in a queer-friendly area like Soho was what stood out," he tells me. "It felt like something I'd always subconsciously wanted but never thought could be true – a healthcare service that was genuinely catered to the needs of my community."
But Dean Street isn't just a space for gay or bisexual men. The clinic now offers a service for sex workers that runs once a week, where test results can be given in just 90 minutes. Porn star Rebecca More – a.k.a. one of the two Cock Destroyers – says the service was a "game changer" for the industry in the UK. "I used to have to wait a whole week to get my results, but it's so good for having a fast turn around and you can have a super fresh test and shoot with a performer and feel at ease," she explains. "The staff are so friendly and professional, people travel all up the country just to use their service. Everyone in the industry instantly gives the thumbs up to a test from Dean Street."
The clinic's trans services are another evolving area. 56T is a trans-led sexual health and wellbeing service for all trans/non-binary people, their partners and friends. Jamie Windust, 22, first visited 56 Dean Street two months ago. At first, they were put off visiting Dean Street, having had difficult experiences in other NHS services as a non-binary person. Thankfully, Dean Street were prepared.
"It was really fulfilling in terms of experiencing and accessing it as a non-binary person. When you fill in your personal information, there's a non-binary option on the form. This meant that when I was actually with the nurse, he went straight to the non-binary information and I didn't have to explain anything or worry about that," Jamie explains. "They also asked whether or not I would be interested in the new trans-specific counselling services, or a trans-specific service for victims of sexual violence. That was really great because, as a non-binary person who's lived in London for a few years, I'm still not necessarily aware of spaces where I could access free therapy or trans-specific support groups."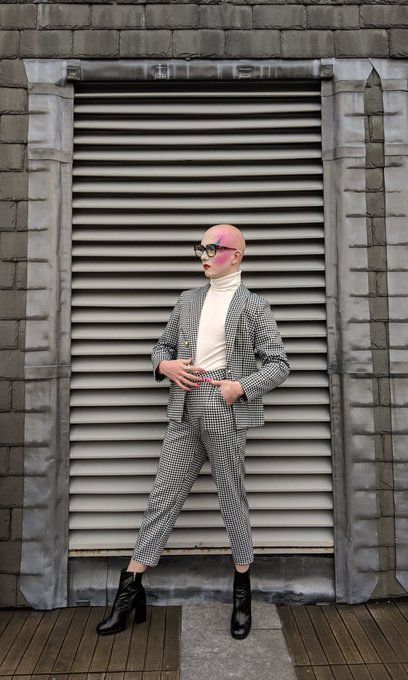 "Dean Street really understood that the way to improve the sexual health of the community is to improve their general wellbeing," says Greg Owen, 39. "It's about more than just pills and treatments. When someone very close to me was diagnosed with HIV, they offered me counselling. All those extra pieces really matter."
In 2015, Greg was diagnosed with HIV at Dean Street's Express clinic, which opened in 2014 and was the first clinic in the world to have an on-site Infinity machine, enabling results to be given within six hours. Greg grew up in Belfast in an Irish Catholic household and lived through Section 28 during his school years, so for him, sex and sexual health was still steeped in shame and fear. He remembers giving a fake name the first time he visited the clinic, but publicly revealed his status for the first time at Let's Talk About Gay Sex and Drugs – an event run by Dean Street. "I really don't think I would have had the confidence or the security to make that announcement in any other setting," he says.
Greg has since thrown himself into HIV activism, co-founding the website iwantPrEPnow that facilitates the safe purchase of genuine generic PrEP and provides information about the drug. This month, it was reported that 15 men had tested positive for HIV while waiting for a place on NHS England's PrEP trial, which is due to be expanded next year after several delays. There are currently few spaces available on the trial, and whenever they do open up they're taken rapidly. This forces many people to self-source PrEP from overseas, paying for the drug out of their own pockets. Dean Street now supports half of the people in England who take PrEP, the overwhelming majority of which are gay or bisexual men, prompting the clinic to relaunch its Express service to focus on PrEP users.
"There's a saying in health activism that you've got to 'find people where they are', and Dean Street continues to set an example by spreading their message in new and interesting ways," Greg says.
Before the trial made the drug more widely available, Dean Street pioneered a service which enabled people who were buying PrEP from overseas could monitor its effects on their body and test their drugs to ensure their veracity. They have also offered rapid HIV testing in nightclubs, setting a world record for the most professional HIV tests conducted one night, and most recently developed a web series called The Grass is Grindr, which aims to educate audiences about Chemsex, HIV and PrEP. Still, the clinic faces significant challenges.
Dean Street is funded by local authorities, which have seen their budgets slashed under Tory austerity, and financial pressures make it more difficult to provide their vital and life-affirming health services. Last year it was reported that appointment numbers were being cut in favour of home testing, which is worrying considering the rise in HIV transmission rates among young gay men.
Leigh Chislett, Dean Street's senior nurse and clinic manager, worked on wards in the mid-80s and early 90s. "I've seen quite a lot of brutal death," he says. "That was a big motivator to try to stop this. You can only imagine what it's like for somebody like me to see an 80 percent drop in HIV after what we saw in the 80s."
After years of hard-won advances in sexual health, these challenges are what motivate Leigh to keep working to end HIV. "No matter how horrendous the 80s was, it was one of the first times I saw what people coming together," he says. "Our communities took on governments and drug companies – and won."
The arrival of more spaces like 56 Dean Street can't come soon enough, but we also have to defend the ones we have."Someone said to me recently, 'when we hear about cuts to Dean Street, we get angry and it hurts us because it's our clinic'," Chislett says. "After everything, no one's going to take it away from us.'"