This auxiliary nurse quit her job with a heartbreaking letter
KATLEHO SEISAGetty Images We all know the NHS and healthcare teams, not just in the…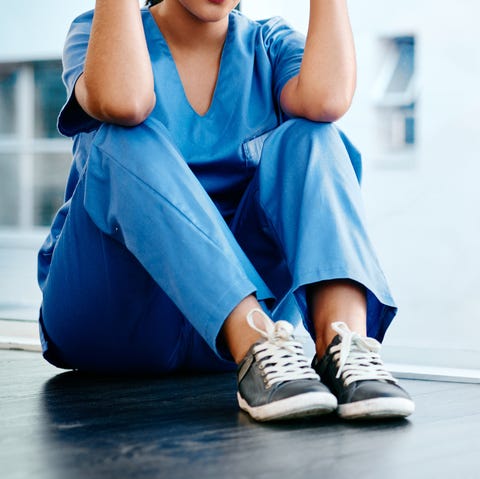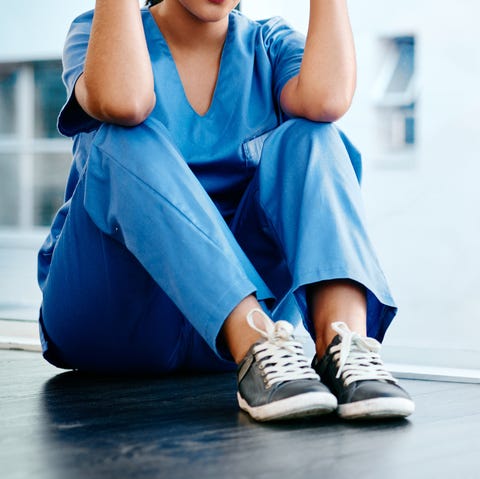 KATLEHO SEISAGetty Images
We all know the NHS and healthcare teams, not just in the UK, but around the world, are hugely struggling to cope with the coronavirus pandemic (Prime Minister Boris Johnson is currently in intensive care with the virus). There's a lack of resources, staff are falling sick themselves and there's a shortage of protective gear.
The problems are outside of work too – take the emotional video of a nurse crying after visiting an empty supermarket, that went viral recently, for example.
Now, it seems healthcare workers are so concerned for their safety (and that of their families) that they're actually choosing to walk away from their jobs instead. Tracy Brennan, a healthcare worker (who are sometimes referred to as auxiliary nurses) in London's The Hillingdon Hospitals NHS Foundation Trust, wrote a moving letter of resignation after being told she couldn't wear a protective mask she'd brought in from home.
In the poignant letter, Tracy explains that at first, while reluctant to, she adhered to her manager's requests to remove the mask, but then later, when she was taking blood from a patient, who coughed directly in her face, she had second thoughts. "I told you what had just happened, however, you informed me I was still unable to wear my mask."
The letter in full, which was first printed by The Guardian, reads:
"I am writing to inform you of the recent issues over the last two days. As you are aware, I have been in self-isolation for the past 14 days due to my daughter having symptoms of Covid-19 and, upon returning to work, I have attempted to wear a surgical mask, which I have supplied myself. The reason for wearing the mask is to reduce the risk of me potentially spreading the virus to patients and colleagues whilst also protecting myself from contracting the virus from said patients and colleagues.
Whilst carrying out my duties on Monday, I made sure to ask the patients if they felt comfortable with me wearing the protective mask and all gave their consent, with some also stating that they felt more comfortable with me wearing it due to being in such close proximity.

Upon arriving to work on Tuesday morning, whilst still wearing a mask, you asked me for a word in your office. You outlined to me that wearing a mask wasn't following the trust policy and asked me to remove it. I responded stating that I wasn't pleased with this instruction and defended myself stating that I was uncomfortable not wearing a mask while dealing with patients who may be carriers of Covid, however I adhered to the request.
Later that day, whilst taking blood from one of our patients, they accidentally coughed in my face. I told you what had just happened, however, you informed me I was still unable to wear my mask.
With a heavy heart and sadness. I feel I have no alternative but to hand his letter in as my formal resignation and will be unable to work my notice due to not being allowed to wear sufficient PPE for the duties I perform. I love my job and have loved working with you and the girls in the ward and miss you all dearly."
Like this article? Sign up to our newsletter to get more articles like this delivered straight to your inbox.
SIGN UP
Follow Jennifer on Instagram and Twitter