Town's police chief says department 'many years ahead' of others when it comes to anti-bias, other training | Local News
With calls to defund law enforcement continuing to resound here in Massachusetts and elsewhere, first-year…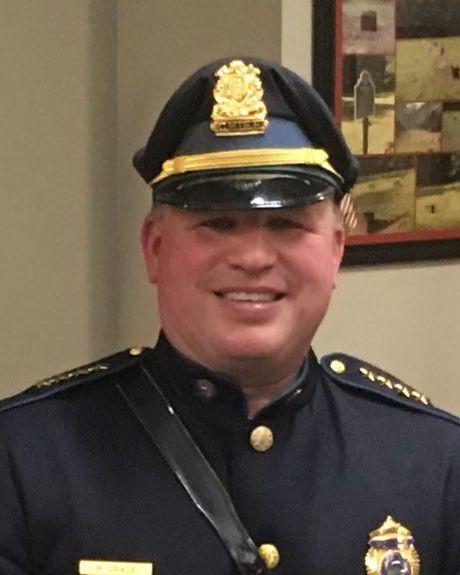 With calls to defund law enforcement continuing to resound here in Massachusetts and elsewhere, first-year Police Chief Michael Grace this week asserted that Foxboro is ahead of the curve when it comes to efforts at improving transparency, accountability and police-community relations.
Meeting with selectmen on the first anniversary of being named chief, Grace on Tuesday night predicted that a police reform bill currently pending on Beacon Hill, as well as similar measures filed in state legislatures across the country, will have far-reaching effects on law enforcement.
"We don't know how it's going to look," Grace said of these, and other efforts to establish police accountability mechanisms. "But it's going to be a challenge and it's going to be a change."
Largely confining his remarks to the value of training in helping improve law enforcement outcomes, Grace suggested that Foxboro police have already stepped up training programs in restricting excessive use of force, de-escalation techniques and improving public safety.
"We are many, many years ahead of what you're probably seeing on the news," Grace said, referring to mandates invoking anti-bias training, internal affairs and the citizen complaint process.
"Those processes are already there," he said, adding that all department policies are reviewed by the town manager, town counsel and selectmen before being implemented. "They exist."
Grace also maintained the subject of "implicit bias" — instruction in awareness about biases and prejudices about race, class and gender — is now standard curriculum at many police academies.
"Every police officer coming out of the academy for the past four years has already been trained in that," he observed. "We hear about this training and it's not new to us. It's been eight years in our in-service model.
"So we're ahead in so many ways of the rest of the country, and I don't think that gets said enough."
In addition, Grace said the local department is embracing the "One Mind" campaign, which focuses on improving police responses involving persons affected by mental illness. Developed by the International Association of Chiefs of Police, the program certifies law enforcement professionals in mental health first-aid and provides intervention team training.
In fact, Grace said the primary obstacle to even more comprehensive training programs has been a lack of funding — an irony given calls to reduce law enforcement budgets.
"Funding for police training almost non-existent in the Commonwealth," he told selectmen. "Police training is so low on the totem pole they had to add a surcharge on rental cars to train the cops in Massachusetts."
Lastly, Grace responded indirectly to calls for demilitarizing police agencies — another objective of the defund movement — by decommissioning several "military-grade weapons" obtained in the wake of Operation Desert Storm and replacing them with firearms that meet internal training guidelines.
Grace's remarks on police reform were made in context of a broader progress report requested by selectmen that touched on budgeting, personnel stadium issues and operational changes prompted by the COVID-19 outbreak.
Explaining his professional philosophy, Grace the department has embraced a community policing model developed under the Obama administration that emphasizes six key considerations: building trust in the community, policy and oversight, technology, community policing, training and officer wellness and safety.
"As I review this list with my staff we make sure we're hitting all of those, all the time," he said. "We can always do more, but as of today we're meeting this agenda for a 21st century police department."
Grace stated that Foxboro police have a $5.1 million operational budget to support 39 officers, over three-quarters of whom were either born and raised in Foxboro, attended schools here or currently reside in town.
"When things happen in our community they care because they're vested," he said. "If affects their kids. It affects their family."
Nowhere was this local connection felt more strongly than in the early days of the coronavirus pandemic.
"COVID-19 doesn't feel as scary today as it felt in February and March," Grace said of a time when shift commanders were concerned about being able to sustain services to the community.
"Based on the information we were hearing, one exposure could have wiped out a large portion of the department," he recalled.
In short order, Grace said the department started developing new policies, realigning shifts and building up inventories of personal protective equipment.
"If you can imagine, we were at Home Depot buying masks," he recalled. "I won't call it a lack of planning because no one expected this. No one would store those kids of supplies."
Grace confirmed that COVID-19 exposures required quarantining police personnel and praised the dedication of rank-and-file officers in responding to the crisis.
"Sick time was non-existent," Grace said. "They didn't question or hesitate when many people went home to work. We came in every day and didn't miss a beat. Everybody felt like we were keeping Foxboro safe."
Grace ended the briefing by thanking townspeople for supporting local police and closing with a plea for unity.
"We have been through such an interesting time," he observed. "I think we all could use a little more niceness in this world."