Type 2 Diabetes Remission Can Restore Pancreas Morphology
The size and shape of the pancreas can be restored in individuals with type 2…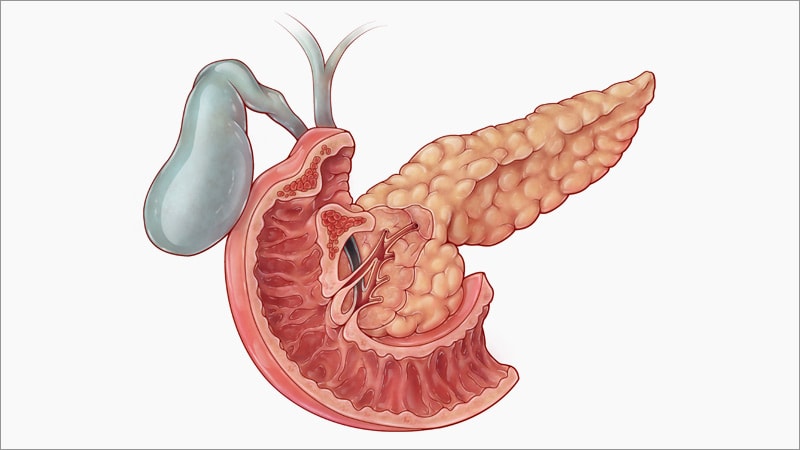 The size and shape of the pancreas can be restored in individuals with type 2 diabetes who achieve remission as a result of an intensive weight loss and weight loss maintenance programme, shows a new analysis from the landmark DiRECT trial.
The research was presented at the EASD Virtual Meeting 2020 on September 22, held online due to the COVID-19 pandemic.
As reported by Medscape Medical News, DiRECT, which involved a calorie-restricted liquid diet followed by gradual food reintroduction and a weight loss maintenance programme, enabled 36% of patients to achieve remission of their diabetes and sustain this remission for 24 months.
Retrospective Analysis
Roy Taylor, professor of medicine and metabolism, Newcastle University, Newcastle upon Tyne, and colleagues conducted a retrospective analysis of 64 patients from the trial, and 64 non-diabetic controls, using a novel imaging technique.
The researchers found that among people who were responders in DiRECT, at 24 months after the initial weight loss pancreatic volume had increased.
Moreover, the irregular border seen at baseline normalised, the fat content of the pancreas decreased significantly, and insulin secretion rose to the levels seen in the controls.
"Our previous research demonstrated the return to long term normal glucose control, but some experts continue to claim that this is merely 'well controlled diabetes' despite our demonstration of a return to normal insulin production by the pancreas," Professor Taylor said in a news release.
"However, our new findings of major change in the size and shape of the pancreas are convincing evidence of return to the normal state."
He added: "Type 2 diabetes is a simple disease occurring when an individual has more fat inside their body than they can cope with.
"The solution to the huge and growing problem of type 2 diabetes in the population lies in the hands of politicians. Legislation on supply of high calorie foods is essential to change our environment."
More Questions
Dr Elizabeth Robertson is director of research at Diabetes UK, which funded the study. She said: "Our landmark DiRECT trial has revolutionised thinking about type 2 diabetes. We no longer consider it to be a life-long condition for everyone, and know that remission is possible for some people."
She added: "These new findings help to build a clearer picture of the biology behind remission, and how the health of the pancreas can be restored by weight loss.
"However, we still have questions to answer, such as why remission isn't possible for everyone."
Dr Robertson said: "As NHS England begins its trial of a DiRECT-inspired weight management remission programme, it is key that we continue to explore these questions to make remission a possibility for as many people as possible."
Study Details
The researchers note that the volume of the pancreas is reduced and its shape is abnormal in individuals with type 2 diabetes.
However, it is not clear whether these changes are the result of, or the cause of, the disease state. If it is the former, then the return of beta-cell function during remission of type 2 diabetes "would be expected to correct the abnormalities".
To investigate further, the team studied 64 participants from the DiRECT trial over 2 years and compared them with 64 age-, weight-, and sex-matched non-diabetic controls.
Individuals with type 2 diabetes were classified as responders if they achieved an HbA1c <6.5% (48 mmol/mol) and a fasting blood glucose <7.0 mmol/l while off all anti-diabetic medication.
A novel magnetic resonance imaging technique was used to obtain anatomical and fat fraction images of the pancreas, from which pancreatic volume, intra-pancreatic fat content, and the irregularity of the borders of the pancreas were quantified.
In addition, the Stepped Insulin Secretion Test with Arginine was used to measure insulin secretion, and thus beta-cell function.
Pancreatic volume at baseline was significantly smaller in all type 2 diabetes patients, at an average of 63.8 cm3 versus 79.8 cm3 in non-diabetic controls (p<0.0001).
Irrespective of remission status, pancreatic volume did not change between baseline and 5 months post weight loss.
However, at 24 months, the volume of the pancreas increased by an average of 12.6 cm3 in responders, which was significantly more than the 4.5 cm3 seen in non-responders (p<0.0001).
The pancreatic borders were also significantly more irregular in type 2 diabetes patients versus non-diabetic controls (p<0.0001). By 24 months, however, they had normalised in responders, and the difference with non-diabetic controls was no longer significant (p=0.92).
Importantly, responders lost significantly more intra-pancreatic fat than non-responders over the course of the study, at a reduction of 1.56% versus 0.51% (p<0.05).
Finally, 5 months after the initial weight loss, first phase insulin increased significantly from baseline but only in responders, to 0.11 mmol/ml/min (p<0.0001), an increase that was maintained at 24 months.
Downhill, Uphill
Prof Taylor said in his presentation of the results that the 50% loss of beta cell function in type 2 diabetes patients "has been reproduced by many studies using different methodologies, and often coupled with the gloomy message: It goes downhill, always".
"Well, here, we can see it going uphill, not just uphill but entirely back to normal, and with maintained weight it remained normal up to the 24 months of DiRECT."
In the post-presentation debate, Dr Harald Sourij, Medical University of Graz, Austria, asked Professor Taylor about the mechanism by which pancreatic morphology and volume was restored in these patients.
"We have to remember that insulin is a very potent stimulator of growth," Prof Taylor replied.
He pointed out that insulin and insulin-like growth factor 1 "have identical effects on their respective receptors, at about a 10-fold difference in concentration".
"Now consider insulin," he said. "After a meal, your plasma insulin will rise up to 10-fold from baseline. Just imagine what the local concentration is around the islet. That must be fairly considerable."
Prof Taylor continued: "The trophic effect of insulin is probably the most likely reason for this [normalisation of pancreatic morphology].
"We're seeing a return to normal of parenchymal cells of the pancreas and I would just draw your attention to the fact that when insulin secretion is lost in that very different condition, type 1 diabetes…then the pancreas also shrinks.
"By the time of the presentation of type 1 diabetes, it is about 30% of normal size. So perhaps we shouldn't be surprised, knowing that the acute response to meals in type 2 diabetes is very poor, that the pancreas may shrink because of the lack of the continuing trophic effects of insulin."
The study was funded by Diabetes UK.
Professor Taylor declares: Employment/Consultancy; Wilmington Healthcare; Grants; Diabetes UK. Lecture/other fees; Lilly and Novartis. No other relevant financial relationships declared.
EASD Virtual Meeting 2020: Abstract 18. Presented September 22.