USM Professors Team Up to Produce 3D Tracheas for Military Training
Fri, 03/17/2023 – 09:46am | By: Van Arnold From left to right Dr. Stephanie Parks…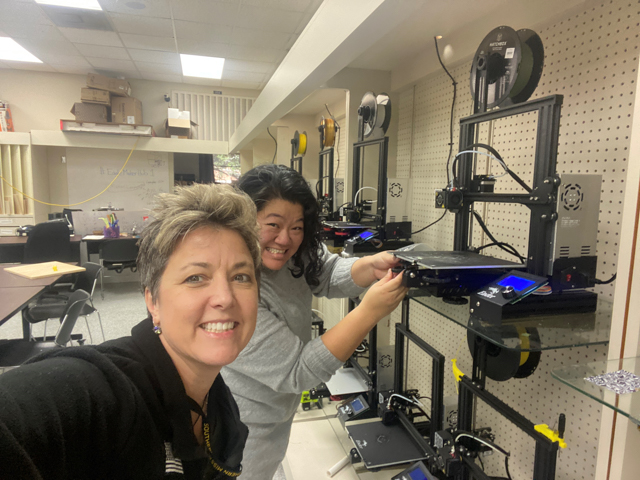 Fri,
03/17/2023 – 09:46am | By: Van Arnold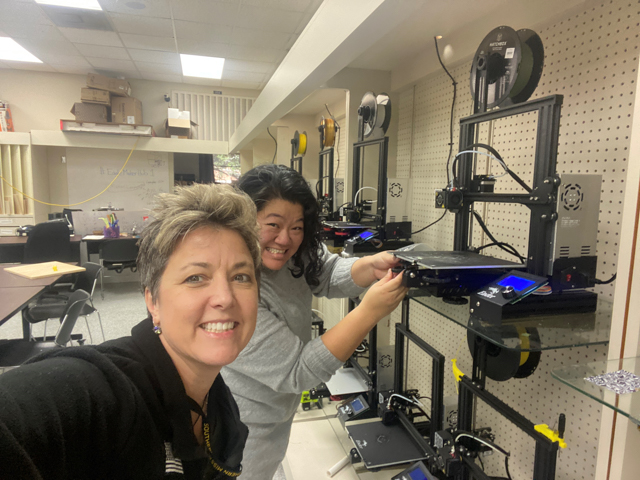 From left to right Dr. Stephanie Parks with Dr. Anna Wan
One might contend that University of Southern Mississippi (USM) nurse anesthesia Professor
Stephanie Parks breathes a whole lot easier knowing her colleague, Dr. Anna Wan, is
part of the USM team.
Parks, Assistant Professor in USM's Nurse Anesthesia Program, collaborated with Mathematics Professor Wan to create a 3D printed trachea now being
used as part of Parks' medical training thousands of miles away in Syria. In addition
to her academic duties, Parks serves as a major in the United States Army Reserves.
The innovative device was produced at USM's Eagle Maker Hub, the first public makerspace
available at a Mississippi university, providing access to tools for digital fabrication,
rapid prototyping, and coding. Wan developed Eagle Maker Hub six years ago with the
support of faculty and staff.
Last December, Parks approached Wan with a simple question: "Can you print something
for me?" For her deployment to Syria, Parks needed a way to maintain airway proficiency
for herself and other medical team members. She serves on a forward-deployed surgical
team where medical training relies on the ingenuity of team members and on-hand supplies
from the environment.
"We often have more than one casualty, and I must ensure everyone knows my job and
how to assist me when faced with multiple casualties or a complex patient," said Parks,
the team's only anesthesia provider. 
Wan explained that once Parks provided the framework for the proposed trachea the
production process proved seamless.
"Dr. Parks sent me the file she wanted to print. All I had to do was adjust it for
printers in the Eagle Maker Hub," said Wan. "The more detail you want on a print,
the longer it takes. Since Dr. Parks' use for these was mainly for training and the
3D print would replace the trachea bone, how it looked did not matter. Thus, these
prints took roughly four hours each."
Wan notes that this particular request marked the first time Eagle Maker Hub printed
material to mimic bone for medical training purposes.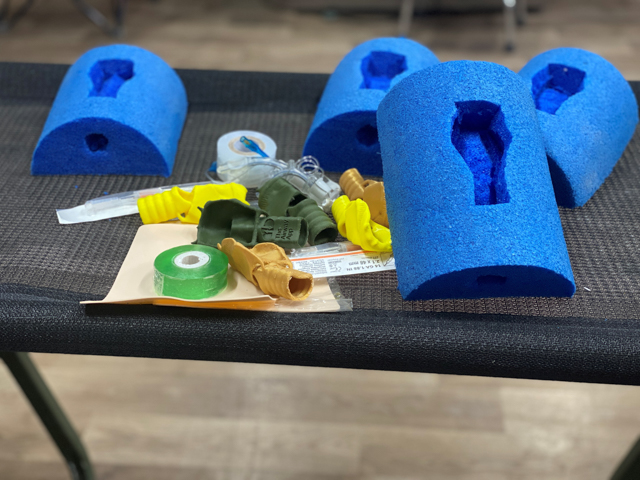 Parks carried a dozen of the 3D tracheas with her upon deployment and Wan shipped
another 72 to the deployment zone soon thereafter. Parks has conducted emergency cricothyrotomy
training with all medical personnel at her base using the tracheas and other on-hand
materials.
"It is a critical skill to master since most emergency airways occur from traumatic
injuries, as often seen in deployed environments due to blood in the airway or when
the patient has facial fractures," said Parks.
Her work as an anesthesia training supervisor has not been solely confined to in-person
instruction. Recently, Parks conducted a class via Zoom with a different surgical
team. "I packed up some tracheas and put them in a helicopter that was flying to another
surgical team. A week later, we had an emergency airway class online using the tracheas
that arrived in a Blackhawk," said Parks.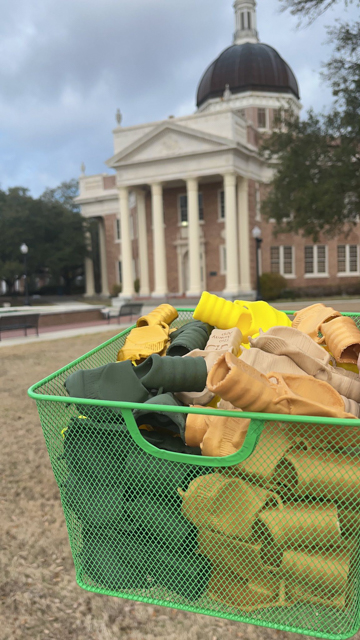 During the early stages of the COVID-19 pandemic in April 2020, Wan and her Eagle
Maker Hub team created a 3D respirator mask for Hattiesburg-area health care organizations.
Thousands of the masks were eventually produced and distributed to area healthcare
professionals.
Wan professes that her love for the USM community, particularly those with whom she
collaborated during the pandemic, makes assignments like the 3D trachea print especially
rewarding.
"I will do what's needed to support goals to better serve others," said Wan. "These
(tracheas) were made for training purposes, and they seemed like a need for Dr. Parks'
training goals. I have worked on drone and artillery projects before, and they were
less desirable to work on. This is a positive aspect of the combat zone to work on."
Though she is constantly on guard in a hot and hostile part of the world, Parks continues
to feel a unique kinship with colleagues like Wan who embody the University's core
values of service to the community and to deployed servicemembers.
With that, Parks offers a sincere sentiment: "Hooah to you Dr. Wan!"