Wellness travel is still in demand, bringing new resorts to bloom: Travel Weekly
With demand for wellness experiences showing no signs of slowing, pioneering players in the destination…
With demand for wellness experiences showing no signs of slowing, pioneering players in the destination wellness space are finding the category ripe for expansion.
The Ranch, Sensei and Amrit are opening expansive new properties in the next year. And according to wellness experts, it's a category in which new product has historically been in short supply. 
Jill Radin-Leeds, founder and president of Florida-based Just Spas & Adventures, said that some clients who checked existing wellness meccas off their lists have been waiting for the next great wellness hot spot. 
"Those that have already been to a Canyon Ranch or Miraval and enjoyed those experiences [tend to be looking] for something a little bit different that they haven't experienced before," said Radin-Leeds. "And as far as those types of destination spas go, people are sometimes surprised when they say, 'I've been here, here and here; where else can I go?' and they find out there are really only a handful of those destinations in the U.S."
Radin-Leeds cited the upcoming opening of the Amrit Ocean Resort & Residences on Singer Island in Palm Beach, Fla., as a highly anticipated property in the destination wellness space. The resort, which will be anchored by a 100,000-square-foot spa and wellness facility, is on track to debut sometime next year.
Roger Allen, group CEO of RLA Global, an advisory firm specializing in hospitality, leisure and well-being tourism, said part of the reason that purpose-built, large-scale wellness destinations remain few and far between is that they're inherently difficult to scale.
"There are some very good wellness brands, but we haven't really seen them move across the global market like traditional hospitality brands," said Allen. "It's very hard to replicate their DNA in other markets. Based on Miraval's DNA, for example, Miraval needs a very large site. So there are a lot of challenges in replicating those brands."
Miraval opened its first East Coast resort, and its third property, in western Massachusetts in mid-2020. The Ranch, which has long cultivated a cult following around its Southern California flagship, the Ranch Malibu, and specializes in highly regimented fitness retreats, partnered with the Palazzo Fiuggi Wellness Medical Retreat in Italy earlier this spring to launch the Ranch Italy at Palazzo Fiuggi retreat program. This summer, the brand also said it plans to open an East Coast location, the Ranch Hudson Valley, in upstate New York next summer.
Alex Glasscock, the Ranch's founder and CEO, said the pandemic played a key role in accelerating the company's plans to extend its reach. After Covid caused the Ranch Malibu to pause operations for most of the first half of 2020, it ended up with a lengthy waitlist and plenty of pent-up demand. 
"And we noticed that people were booking out further in advance, so we were booked out for a full six months, which was upsetting to a lot of our guests, because they typically don't want to wait that long," said Glasscock. "So that really motivated us to open the Ranch Italy and then look at additional locations."
Also in expansion mode is Sensei, the cutting-edge wellness brand co-founded by tech mogul Larry Ellison. Known for its science-backed, hyperpersonalized wellness approach that takes measure of everything from a guest's heart rate to REM sleep, Sensei offers its programs at the Sensei Lanai, a Four Seasons Resort in Hawaii and, come November, will open a new outpost, the Sensei Porcupine Creek in Rancho Mirage, Calif.
Like the Ranch, Sensei has enjoyed what Kevin Kelly, Sensei's CEO, describes as "very strong demand" throughout the pandemic.
"Over the last two years, what we've found is that our wellness customer spends 50% more when they're with us versus the traditional luxury traveler," said Kelly.
New locations fit the brands
Both the Ranch Hudson Valley and Sensei Porcupine Creek will be unique from a site perspective. In order to offer the Ranch's signature hiking-heavy programming, the Ranch Hudson Valley will be set on an estate that includes more than 200 acres of forest and touts proximity to two state parks.
The 22-room Sensei Porcupine Creek, meanwhile, will occupy what was once Ellison's 230-acre private estate, which Kelly said will ensure the property "meets the same luxurious requirements" set by the brand's Lanai-based outpost.
Both properties are also using their expansions to not only cater to existing customers but tap into new demographics and travel occasions.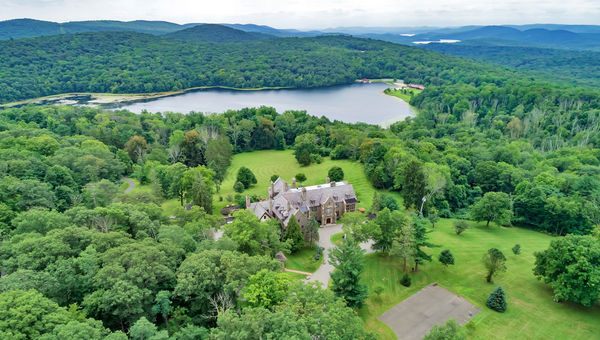 A view of the upstate New York estate that will soon be home to the Ranch Hudson Valley. Photo Credit: The Ranch
At the Ranch Hudson Valley, for example, the brand will offer three-day and four-day programs — dubbed the Ranch 3.0 and 4.0, respectively — that provide a shorter, more accessible alternative to the core seven-day retreat available at the Ranch Malibu. 
"Not only have these programs received interest from an individual level, but our intention was to also attract groups with the Ranch 3.0, whether it be corporate groups or groups of friends," said Glasscock. "We've determined that the shorter stay is perfect for groups or companies looking for a wellness backdrop for their brainstorming or planning sessions."
Sensei's mainland debut, meanwhile, will give the brand a chance to attract guests from drive markets. 
"There are a lot of people waiting to be able to drive to this property versus fly to Lanai," said Kelly. "But there's also the [fly-in demand] from all the major hubs, like New York, Chicago, Dallas, Atlanta and Washington."
Dawn Oliver, a wellness travel specialist and founder of Florida-based Well Xplored, views new product from the likes of the Ranch as a sign that interest in more serious, results-oriented wellness offerings is on the rise. 
"I'm very excited about the new Ranch that's opening up," Oliver said. "And the fact that it's a rigorous wellness program shows that when it comes to something more rigorous, well, there's definitely a demand for that."