WH Live+ | Fitness Communities That Empower Women
Remember dripping sweat in a dark yoga studio filled with the smells, sounds —and most…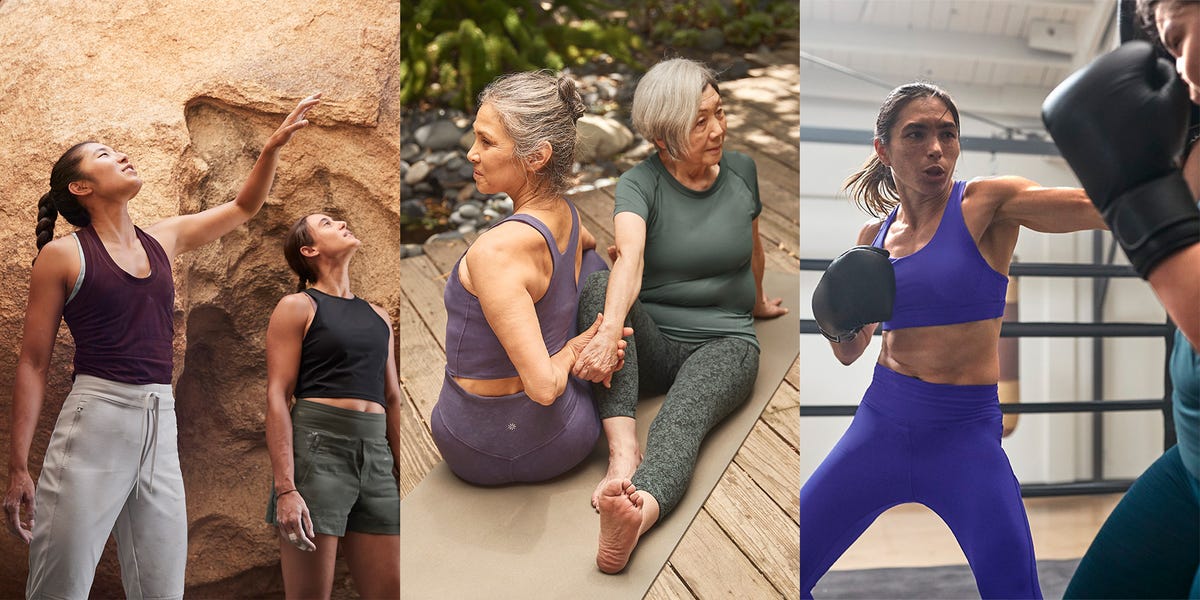 Remember dripping sweat in a dark yoga studio filled with the smells, sounds —and most importantly, energy—of 10+ other yogis powering through one last flow? What about the buzz in the lobby after your favorite fitness class, with a chorus of "that kicked my ass" and "I need the playlist from that class" commentary?
There's something to be said about the connection that's built among a group of mostly strangers who move together—whether it's the women running on the treadmills beside you, hiking the same trail, or learning choreography in a dance class. A community built around fitness has always been important—but arguably even more so today—to allow us to continue to feel that powerful sense of togetherness, even as we move our bodies separately in our safe, socially-distant environments.
This idea of strong women learning from and empowering one another is central to Athleta's Power of She initiative, which focuses on fostering connections and establishing communities of women moving (and moving forward) together. "Athleta's mission of fostering connection among women and girls to unleash their limitless potential is more important than ever during this time of physical separation," says Athleta CEO, Mary Beth Laughton.
That's why we partnered with the brand for two upcoming WH Live+ events that will bring the community to you (in your living room, bedroom, or wherever you're working out these days) with fitness classes led by leaders who exemplify what it means to live by the Power of She. Our WH Live+ leaders below are relatable, optimistic, and authentic, and they use their platforms to create supportive communities for women. Check out info on the events and the strong women leading them below and mark your calendars to experience it for yourself.
---
Just Keep Going
---
In this special session of WH Live+, actress and fitness entrepreneur Amanda Kloots will lead us in one of her signature AK Dance! cardio workouts that'll elevate your mood, work allll the muscles, and leave you sweaty and (gasp!) happy.
Afterward, she'll join WH editor-in-chief Liz Plosser for an intimate discussion about the importance of leaning on health and wellness for mental health, the power of positivity in trying times, and how she's cultivated resilience and grit in 2020. Believe us, you don't want to miss this emotional hour.
---
Know Your Power
---
In this special session, we'll be joined by mother/daughter fitness superstars Denise and Katie Austin for a Cardio Booty sculpt workout. Afterwards, Denise and Katie will come together with Liz Plosser for a powerful conversation about the women that have meant the most to them in their lives, the lessons they've learned, and insight into how anyone can cultivate these special relationships to propel them forward.