Justin Fields' diet, leadership change for Buckeyes in offseason
Justin Fields is on a mission this year. After spending his offseason fighting for…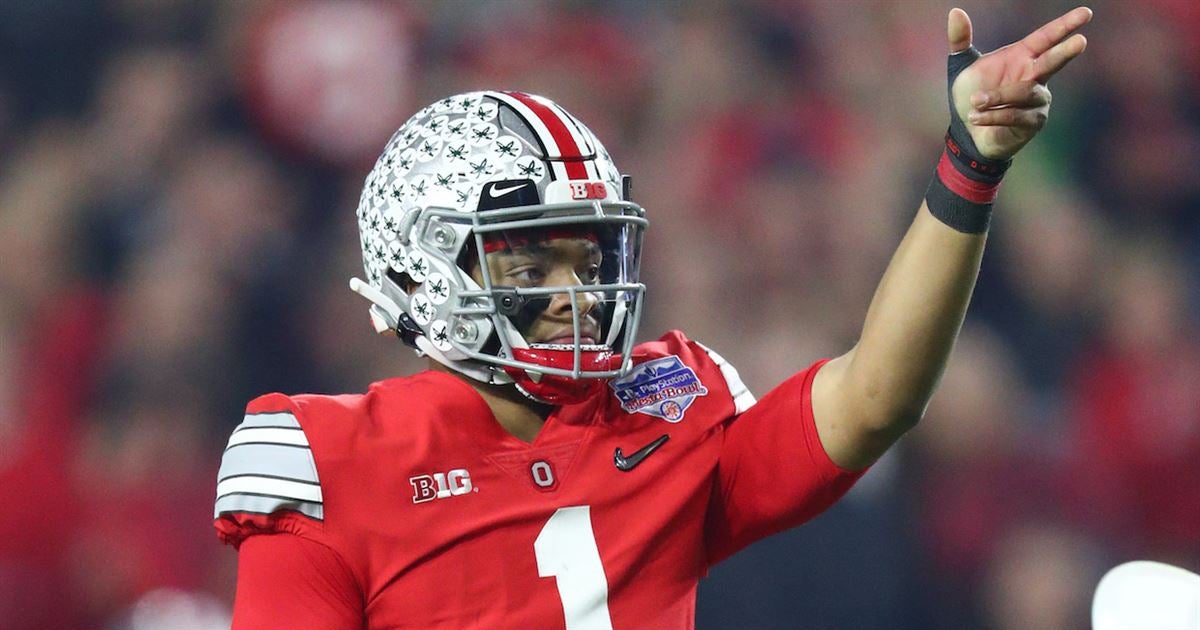 Justin Fields is on a mission this year. After spending his offseason fighting for football to be played this fall, and winning, the Ohio State quarterback wants to make sure he takes advantage.
Earlier this offseason, Fields made it clear he was doing whatever it took to have success in the 2020 season, using his time wisely to improve his game. Included in that, as he stated in early August, is a change in his diet.
"(I'm) just doing the little things and kind of doing as much as possible to become a better player each and every day," Fields said. "So, I feel great right now. My body feels great and I'm ready to go."
On Wednesday, Buckeye offensive coordinator Kevin Wilson expanded a bit on what changes Fields has made. The quarterback's diet involved joining Wilson's wife as a vegan.
"Here's a kid that wanted to become a great player," Wilson said of Fields. "Part of that, he knew, was taking care of his body.
"He made a commitment because he wanted to be a little bit leaner, wanted to take care of himself even better, wanted to be faster. He just made a commitment to a style of diet – not that that's the perfect diet, that was the one he wanted."
Fields is far from the only football player to commit to the vegan lifestyle. New England Patriots quarterback Cam Newton, former Pats signal caller Tom Brady and Super Bowl-winning Kansas City Chiefs safety Tyrann Mathieu are among those who have converted to veganism to help their careers.
The Buckeye quarterback is now part of that club and is supported by those at Ohio State.
"What's neat is that our nutrition people here were also able to complement, where every day even within our program, we might have steaks and chicken or whatever going on for a meal, he has the meals set for him that we're able to provide, which I think is pretty cool," Wilson continued. "We have a couple kids that are actually doing that. That's just how they want to eat. I think that's awesome."
Fields' offseason work has been well-documented. The quarterback took the winter workouts as seriously as any member of the football team after the 29-23 loss to Clemson in the College Football Playoff semifinal. Fields also stated this offseason his desire to win the Heisman Trophy as the best player in college football after coming in third in the voting for the award a year ago.
With very little spring football, Fields took action into his own hands, working out with personal trainers while he was at home in Georgia during the quarantine. This work ethic impressed head coach Ryan Day, who called Fields' offseason "off the charts."
But physically isn't the only way Fields has improved this offseason. The quarterback embraced his positional role as a leader when he was on the field and did the same off it. Fields was the Scarlet and Gray and the Big Ten's leading voice in the fight to play this fall, starting a petition and appearing on multiple national television programs to plead his case.
When Ohio State returned to the practice field, even before the team knew when it would next play, the likely first-round NFL Draft pick was with his teammates. Once the Buckeyes learned of their eight-game conference slate, Fields took control of his team.
Prior to the schedule announcement, Fields was named captain, a designation Day wasn't willing to give the quarterback a year ago. In the offseason, Field showed his development in the leadership department.
"A year ago, he came in as a quarterback, but as a new guy, I don't think he tried to force being a little bit more of a leader," Wilson said. "Now that he's had a great year and he has some great leadership skills, I just think he's doing a really good job of being a little bit more of what you think that quarterback's going to be as a strong leader. So he's had a great offseason. It's been a weird offseason. But it's been great."
What's next for the Buckeyes? Make sure you're in the loop — take five seconds to sign up for our FREE Buckeyes newsletter now!
Want the latest scoops and news on the Buckeyes? Try our 7-DAY FREE TRIAL AND BECOME A BUCKNUTS SUBSCRIBER!
Last season, Fields was scary talented, helping to make the Scarlet and Gray offense one of the better groups in the country. As a second-year starter, running this year's Ohio State offense, Fields is determined to push the Buckeyes, and himself, over the top and is doing whatever is required to reach these heights.
"He's done a great job taking care of himself. He's a more complete player," Wilson said of the quarterback. "I think he's more comfortable being one of the strong leaders of this football team and of this offensive unit."