Talking mental health as Denver students get mental health day
In the aftermath of the shooting that injured two administrators at Denver's East High School,…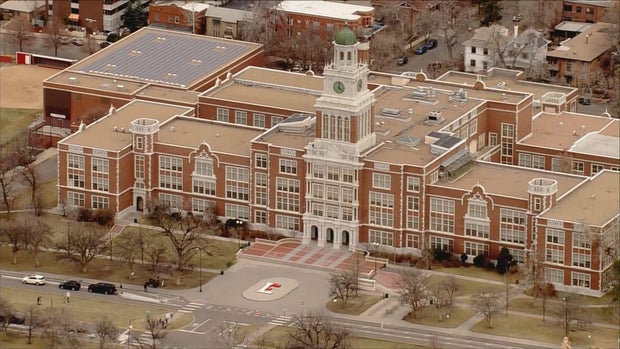 In the aftermath of the shooting that injured two administrators at Denver's East High School, the District dismissed classes one day early for Spring Break Friday, giving students and staff a mental health day. 
All across the district Thursday there was talk about the violence at East High School. At North High School, students met in an assembly to discuss what happened at the school they sometimes compete with, but now share sorrow with.  "We're so close to graduation I feel that right now it's been hard having to deal with all of this," said senior Mason Ramirez.
"It's starting to take a toll on our kids," said trauma and addiction counselor Alex Castro Croy, who had just left a meeting with other experts on how to help young people handle the violence. 
Young people are under a lot of stress. Calls for help are up. Organizations like the Second Wind Fund that provides connections to counseling to help prevent suicide, are seeing rising requests for help. There were more requests this January than any other in the organization's 22 year history. 
"It's a summary of things that have been adding up. Everything from the pandemic, mental health, emotional health and safety," said Castro Croy. "And how are we going to deal with the trigger factors and the stresses that are coming up for the kids as well as the parents?"
"When you see your teachers being carried out on a stretcher with no real idea of what's going on it was. It's very hard to see," said Hadley Hageseth, senior student body President at East High School. 
Instead of learning at school they are demanding to be heard by the school board and political leaders. 
"Personally I feel extremely distracted these past six weeks. I have been focusing more on summits and conversations rather than homework. We marched, we walked. I thought I did everything I could have done as a student," said Hadley. 
"When they don't feel heard, they put their hands up, they give up," explained Castro Croy. "And so that's where you see increased depression, anxiety, school dropouts, lack of attendance. Because, if I'm not going to be heard, why should I even show up?" 
Creating an answer he believes needs to include a wider discussion of what's going on in the community around our schools as well. And an answer is likely beyond the schools, staff and leadership. 
"And it has to be a community conversation and a community approach," said Croy.  
Without it fears Castro Croy, the problems young people in need of help are experiencing now, will end up with them as adults. 
"Trauma not transformed, is trauma transferred. So I'm going to transfer this to my work. I'm going to transfer this in my family. I'm going to transfer with my peers," Croy explains. 
And it is costly to society in many ways. "We're going to see a lot of complex post-traumatic stress disorder, a lot of depression, a lot of suicide ideation, a lot anxiety, a lot of individuals having paranoia. What transferred from high school is going to transfer to the university the workplace, etcetera," Croy said. 
Young people however can be resilient and there is hope for effect, if there's help. "East is a good school. This does not define us. But it should create change," said Hadley Hageseth. "You wouldn't think something like this has happened. Because We just keep going. But we're extremely strong too."
|Reminder| Help is always available 24 hours a day at the 988 suicide and crisis lifeline. Just call 988.